Please note that the browser you are using is either outdated or not supported by this website. For a better browsing experience, try one of the following:
This Week's Tasting
Wine Puzzles, Tasty Answers
April 6, 2022
The April Federal Case. "The brothers LeLievre, whose name means 'the hare,' had to put a rabbit on their label. Unfortunately, they picked one in hallucinogenic bilious green. BUT there is real artistry in the bottle's contents...""
&nbsp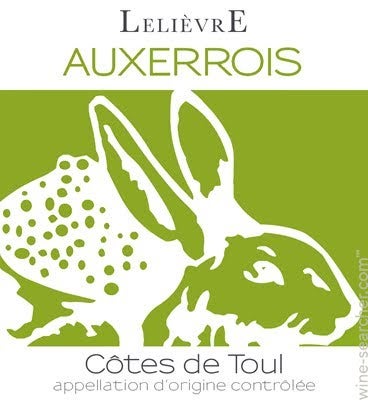 Would You Buy a Wine from this Rabbit? Yes!
White
Weird Rabbit, Happy Wine
2020 Domaine LeLievre Cotes de Toul Auxerrois
The brothers LeLievre whose name means 'the hare,' had to put a rabbit on their label. Unfortunately, they picked one in hallucinogenic bilious green.
BUT there is real artistry in the bottle's contents. Auxerrois is the most succulent clone of Pinot Blanc. This wine is that on steroids The Cote de Toul is an up-and-coming area just to the east of Alsace. Many an Alsatian winemaker would have been proud to have made this wine. Serving suggestion: Drink with anything that would call for a livelier partner than chardonnay. Face the label away.19.99 Case, 16.99
A Loire Valley Dry Chenin
2018 Domaine Guilloterie Saumur Elegance
Soft and fleshy, with an underlying firm minerality, This is a best value in dry Loire Chenin Blanc.
Aroma: firm, mineral, soil, earthy, bright; Mouth: rather broad, firmly mineral, rich, very dense, long; Very Good Plus 21; Case, 17.99
Rose
Whose is That Masked Wine?
2020 Bieler Bandol Rose
The wine hid its maker behind an importer's label. It was obviously Bandol, one of the richest of the Provencal Roses, with all the depth and spice that the Mourvedre grape gives. A year in the bottle had only deepened it and anneal its quality. It was better than its label. That brought out our inner Hercule Poirot. Sifting the evidence and some deduction led to the respected Bandol estate Moulin la Roque. Question answered then wine enjoyed, With a meal more than for sipping.
Color: darkish orange; Aroma: sweet & spicy, full in the mouth; Mouth: juicy and round good spice, bright acid rounded, full, nice bottom and depth; Very Good Plus 18.99; Case, 15.99
Red
Must a Good Wine Shout?
2019 Allegrini Valpolicella
The Quiet One
A wine's highest calling is to be an interesting and delicious partner to some good food. Veronese Valpolicella fits that bill perfectly.
The 2019 Allegrini Valpolicella is medium-bodied, goes with everything and makes everyone happy. Over. This particular wine shows that The centuries-old Allegrini family understands very well the value of a wine that effortlessly helps the meal be perfect without making a lot of noise.
Deep bright ruby. Very pleasant floral and fruit aromatics. Cherry, spice, and herbs combine in a smooth taste with a nutty character in the finish. Very Good Plus 16.99/ case 173.28 (14.99)
Can You Make Good Cabernet Outside Napa?
2018 City Limits Cabernet Sauvignon
This Columbia Valley, Washington release says a resounding yes. This fills the bill very nicely if you want a lighter, cleaner, and smoother wine with a Bordeaux-like finesse.
Aroma: lightly herbal, nutty, lightly perfumed, pretty; Mouth: deep dark rather firm rather tannic, vary dark plum on entry light rather fine acid, dark finish, very dark without being tannic; Very Good Plus 19.99 Case, 16.99
Can You Make good Pomerol outside Pomerol?
2018 Ch de Roquebrune
Merlots from Pomerol have become some of Bordeaux's most sought after and expensive because of their appealing soft succulence.
When we tasted this wine from Lalande de Pomerol, Pomerol's less chi-chi neighbor, we found it delivered just what we wanted from Pomerol. It is very, very gratifying for both nose and mouth. While not a heavyweight, it has that unique soft succulence that you usually get only in far more expensive Pomerols.
Color: very dark black opaque; Aroma: lovely cherry, heady ripe intense deep, sweet red currant fruit; Mouth: clean rather fine edge, juicy, fine tannins, savory & saline, mouth-filling and succulent without weight; Very Good - Excellent 21.99, Case
April 2022 Federal Case,
If purchased separately, $239
two bottles of each wine $199
April 2022 Federal Pack
one bottle of each $115
or
Mix any 12 at their discounted tasting case prices
Any 6 for 10% off normal
Order by phone at 617.367.8605, or reserve here: order@federalwine.com
&nbsp
Please pass this on to any friends who are wine enthusiasts!
&nbsp
- Len Rothenberg
---
&nbsp
FREE DELIVERY!
downtown on orders more than $75;
in Greater Boston on orders more than $175
&nbsp