Please note that the browser you are using is either outdated or not supported by this website. For a better browsing experience, try one of the following:
This Week's Tasting
Rosés, from the Ridiculously Cheap to the Sublime
June 26, 2019
Seven rosés this week, mostly French and Italian, from an extraordinarily well-priced little southern French quaffer to a bonus wine to one of Provence's most prestigious rose.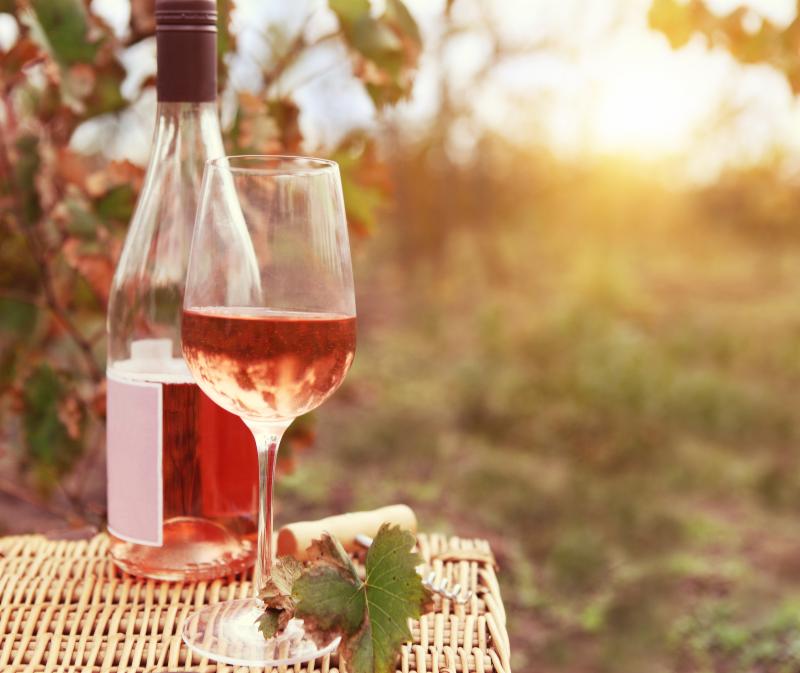 Patrick Hareng's 2018 Rose le Petit Balthazar is all Cinsault, grown in Languedoc. It's soft enough to sip on its own, crisp enough to accompany light summer meals, and at $10 inexpensive enough to stock by the case.
Pierre Marie Chermette is one of the iconic growers in the revival of Cru Beaujolais. We are inordinately fond of his concentrated, richly fruited Beaujolais and St. Amour. His Gamay based Beaujolais Rose echoes Griottes, the dark morello cherries that inspired its name. It has also echoes of granite minerality, and a fish and chicken-friendly crisp acidity.
Once owned by the family of the princes of Monaco, Ch des Demoiselles lies in the Esclans Valley in central Provence. They vinify their 2018 Cotes de Provence Rose, a blend of Cinsault , Grenache, Syrah, Mourvedre and Tibouren into firm, finely tuned and feminine style rose.
Ch. Roquefort Côtes de Provence Rose Corail has been our most popular rose for the last few years. Organic and biodynamic, gives a lot of character and body for a very reasonable price. The 2018 is if anything a fuller and richer version than previous years.
From the slopes of Mt Etna in Sicily, Terre Nere Etna Rosato comes from the Pinot Noir-likeNerello Mascalese grape. The wine is beautifully layered, with rich plum fruit that grows in the glass. Over a distinctive volcanic minerality this is crisp and piquant.
The 2018 Montenidoli Toscana Rosato is even more layered and complex. This Tuscan estate, near San Gimignano makes its rose from Canaiolo, a grape that adds heft and depth to Sangiovese in the Chianti blend. Using the lighter skinned Canaiolo Rosa clone, they make an intriguingly delicious rose that is layered and very subtly complex, very satisfying with richer dishes.
And a Bonus;
Provence is the iconic locus for French roses. Within Provence, Domaine Ott's estates are the most iconic Roses. We will taste one of the, their Bandol estate Ch. Romassan. There Mourvèdre is the primary grape variety, blended with Grenache, Cinsault and Syrah. The vineyard's unique soils, chalk, sandstone and marl underlain with gravel, this singular land with its sun-drenched and particularly dry microclimate produces sophisticated and very powerful wines.
Rose
2018 Patrick Hareng Cinsault Rose le Petit Balthazar; Aroma: heady, light rather full, lightly spicy; Mouth: clean fresh fleshy low toned, spicy acid full in the mouth, a touch of zing; Good Plus - Very Good9.99; Mixed Case, 8.99; Case, 8.49
2018 Pierre Marie Chermette Beaujolais Griottes Rose; Color: pale gray rose; Aroma: heady rather sweet lightly mineral, rounded; Mouth: bright ripe clean rather herbal, rather fine, fleshy, settled acid finish; Very Good Plus17.99; Mixed Case, 16.19; Case, 15.29
2018 Ch des Demoiselles Cotes de Provence Rose; Color: very pale rose; Aroma: light pretty, rather sweet clean, lean; Mouth: clean pretty lightly sweet light fine acid, firm, nice acidity. clean some lemony length, long; Very Good Plus 18.99; Mixed Case, 17.09; Case, 16.14
2018 Ch. Roquefort Côtes de Provence Rose Corail-Organic,Biodynamic; Aroma: Fresh pretty rounded nicely fleshy & floral; Mouth: Clean bright a nice concentration, nice intensity, rather broad sweet fruit, a light mineral undertone, finishes vibrant and deep; Very Good Plus16.99; Mixed Case, 15.29; Case, 14.44
2018 Terre Nere Etna Rosato; Color: very pale tan; Aroma: lightly fruity, softly pretty, extraordinarily flowery plum; Mouth: clean acid rich sweet fruit, light in aspect, bright acid rather mineral finish, long; Very Good Plus 21.99; Mixed Case, 19.79; Case, 18.69
2018 Montenidoli Toscana Rosato Canaiolo; Aroma: initially closed, some rosy depth, opens slowly to a full heady musky nose with a touch of flint; Mouth: fleshy rather juicy ripe overlying an appley acidity, with deep low toned fruit and underlying minerality, broad and firm on the long stony finish; Very Good - Excellent24.99; Mixed Case, 22.49; Case, 21.24
6-26 Rose Case: Special, two each of the above wines - $189
Instore only 6-26 Rose Pack: Special, one each of the above wines - $100
2018 Domaine Ott Ch Romassan Bandol Rose; 59; Mixed Case, 53.1; Case, 50.15
mix any 6- 11 above in stock wines for 10% off
any 12 or more for 15% off
Too little to put into the tasting but highly recommended
New Notable, Not Much of It
2018 Domaine Tempier
We have just gotten our allocation of one of the most sought-after Provencal roses. Low yields make for concentration and fruit intensity. Its base of Mourvedre gives character, balance and complexity. This full bodied, food friendly rose for this season and the next two or three.
2018 Domaine Tempier Bandol Rose 52; Mixed Case, 46.8; Case, 44.2
two cases only.
Order by phone at 617.367.8605, or reserve here: order@federalwine.com
Please pass this on to any friends who are wine enthusiasts!
&nbsp
- Len Rothenberg