Please note that the browser you are using is either outdated or not supported by this website. For a better browsing experience, try one of the following:
This Week's Tasting
Pinot Chardonnay
June 19, 2019
Pinots and Chardonnays this week. Older readers will see a pun in the title. Until about 50 years ago, Chardonnay was often labeled Pinot Chardonnay because people thought wrongly that it was a member of the Pinot family. None of this week's whites could be mistaken for that.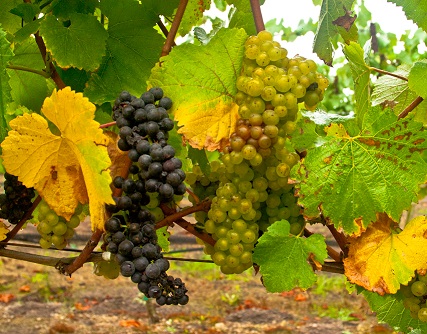 They begin with pretty, then go to sleek, and finish with complex.
2016 Talbott Chardonnay Kali Hart is a blend of Sta. Lucia and Arroyo Secco fruit. This combination high altitude and cool ocean breezes make for a wine that is soft on the tongue, and lovely in aroma, with pastel shades of tropical fruit, citrus and wood.
We loved the 2016 St. Innocent Chardonnay Freedom Hill, for its clean food friendly acidity. Its fine minerality and soft texture, so we bought the last of it. The 2017 is coming but will be much more expensive.
After William Fevre sold his eponymous Chablis estate, he invested in higher altitude vineyards overlooking Chile's Maipo Valley. The wine is New World ripe but has a layer of Chablisienne chalk and structure. It is unexpectedly complex and layered for a very, very reasonable price. We found it intriguing and extraordinary value.
The reds;
Nielson come from a Sta. Barbara estate, and was formerly a label for Byron. Unlike many at its price, it is all Pinot Noir and shows it with rich berry and plummy juicy notes, a very good and solid basic Pinot.
Monterey's 2017 Diora Pinot Noir comes from Sta. Lucia Highlands and a single vineyard at their base, to give a more complex and layered wine. Soft and sensual in the mouth, it shows blackberry and plum notes with a nice food friendly structure.
Many Willamette winemakers are appreciating the difference between the wines made from grapes grown in volcanic soils from those made from sedimentary. Jay Somers' 2015 J Christopher Pinot Noir Volcanique is a perfect expression of the higher toned finesse of volcanic wines. A judicious admixture of oak and fruit ripeness gives it poise and elegance. We loved it.
White
2016 Talbotardonnay Kali Hart; Aroma: lightly herbal, firm, rather clean, nice mineral acid; Mouth: clean & rich, juicy, fine acid nice balance, mouth clinging, light clean acidity; Very Good Plus19.99; Mixed Case, 17.99; Case, 16.99
2016 St. Innocent Chardonnay Freedom Hill; Aroma: very dense rather firm, rounded pretty, sweet ripe fruit, pure clean, lightly steely, with fresh fruit; Mouth: fleshy soft rather full, no oak, mouth filing, plummy grape, soft texture, long; Very Good Plus 24.99; Mixed Case, 22.49; Case, 21.24
2018 La Mision Chardonnay (William Fevre); Aroma: heady some chalky notes, rather rich very full; Mouth: clean bright acid, earthy mineral fleshy rather full, fat textured good acidity, rather firm;Very Good - Excellent 16.99; Mixed Case, 15.29; Case, 14.44
Red
2016 Nielson Pinot Noir; Color: medium dark; Aroma: deep fat juicy rather bright berry notes, cola; Mouth: juicy forward & fleshy, clean plummy very juicy, nice balancing acidity, long dark berry notes;Very Good Plus 17.99; Mixed Case, 16.19; Case, 15.29
2017 Diora Pinot Noir; Color: very dark hue, medium depth; Aroma: heady full, aromatic, rather clean, a touch closed; Mouth: clean rather deep plum, very black fruit, dense fine acidity rather rich, full, fine tannins, fine acid; Very Good Plus 21.99; Mixed Case, 19.79; Case, 18.69
2015 J Christopher Pinot Noir Volcanique; Color: light red black; Aroma: very pretty, very fresh, pretty fine acid, firm, clean, lifted pretty; Mouth: clean lightly oaked sweet fruit, bright acid lively and balanced, nice texture, rather fine & poised; Very Good - Excellent 32; Mixed Case, 28.8; Case, 27.2
6-19 Pinot Chardonnay Case: Special, two each of the above wines - $229
Instore only 6-19 Pinot Chardonnay Pack: Special, one each of the above wines - $121
mix any 6- 11 in stock wines for 10% off
any 12 or more for 15% off
Order by phone at 617.367.8605, or reserve here: order@federalwine.com
Please pass this on to any friends who are wine enthusiasts!
&nbsp
- Len Rothenberg