Please note that the browser you are using is either outdated or not supported by this website. For a better browsing experience, try one of the following:
This Week's Tasting
Love, Love, Love - an Eclectic Assortment of Wines for Lovers
February 12, 2020
Despite appearances we are not unmindful of romance. So we've collected a sextet of wines with which you might woo your friend or lover this Valentine's week.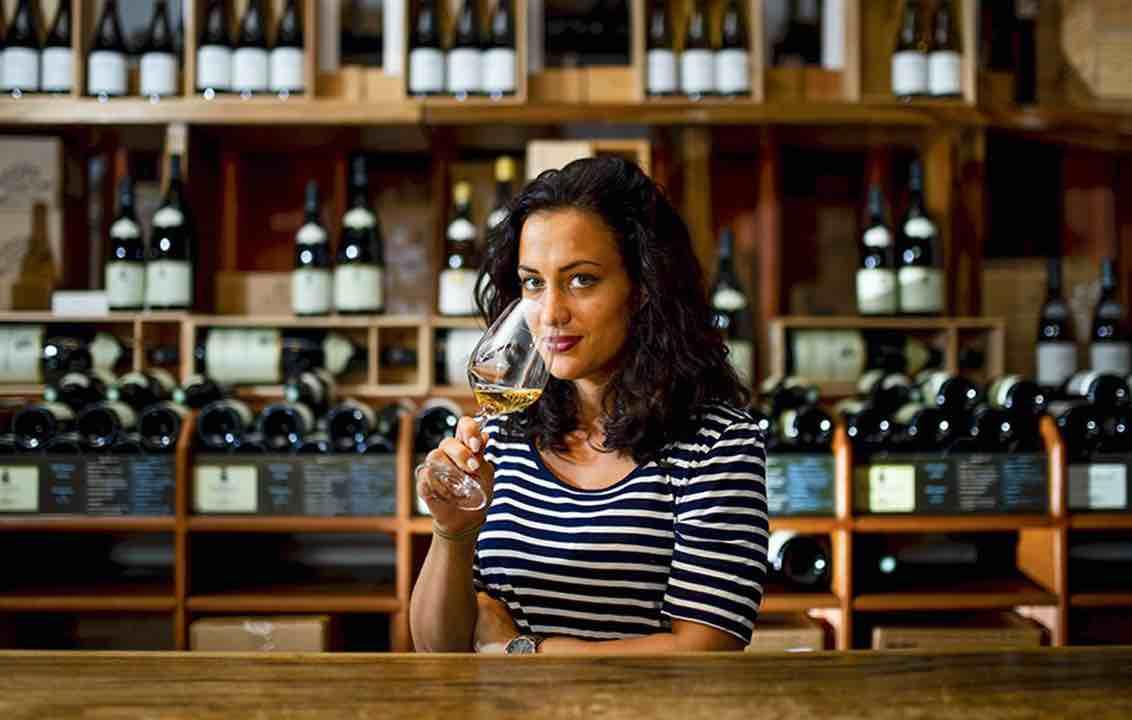 Mathilde Chapoutier
Champagne is certainly for lovers so we have reduced the price of one of our more sensual offerings that had already been at a very good price before. Le Mesnil Grand Cru Blanc de Blancs comes from the town of that name one of the best of the Grands Crus in Champagne's famous Cote de Blancs. It's all Chardonnay, and has a sensuous creaminess that you and your loved one will find inspiring and delightful.
If you feel that bubbles look prettier in pink we have just the sparkling wine for you. Lucien Albrecht Cremant d'Alsace Rose comes from one of the better estates in Alsace. It is all Pinot Noir and combines a singularly creamy and sensuous fruit of that grape with a tongue-tingling bright brightness. It's the best pink sparkling wine that we have found under $20. If you want something to impress your significant other we have also put all our rose champagnes in stock on sale - Look for the list below.
On a similar theme if you are giving roses for Valentine's Day why not pair them with a rosé? Mathilde Chapoutier, the daughter of the famous Rhone house, selected a juicy, spicy rose from the coat to Provence. Her 2018 Cotes de Provence Rose Grand Ferrage is sure to tingle the pallet and perhaps the libido too.
2018 Loveblock Sauvignon Blanc will certainly not do what its name implies. If oysters are the masculine stuff of love, then this is theirperfect accompaniment crisp and herbal with New Zealand freshness but not to excess. Itt is a fine wine of moderation for those who prefer it on this holiday.
In the same way that St. Valentine's Day is now more about eros than martyrdom, 2017 Domaine de Vissoux, Chermette St. Amour Champs Grilles is more about sensuality than saintliness. Pierre Marie Chermette's cru Beaujolais from the town of that name is caressingly thick and plush with a wonderful herbal granite back that speaks to the the soil of its place. We now have a little over a case left the last of the wonderful 2017 vintage.
Chocolate is seductive on Valentine's Day. To go with it we have 2018 Marenco Brachetto d'Acqui Pineto a light and lively Italian sweet Brachetto is the grape. Michele Marengo draws his from the best grapes of the Pinbeto Valley. The red Brother of Moscato, it is pleasantly sweet lightly sparkling, and low in alcohol.Incidentally the label has the of figure of two mallards in full flight. Canoodling, we are sure.
Make it Sparkle
Le Mesnil Grand Cru Blanc de Blancs Brut; Aroma: Heady very dense rich heady full; Mouth: Clean rather tight firm, sweet rich forward; Very Good Plus Reg 43 till Friday 40; Mixed Case, 36; Case, 34
Lucien Albrecht Cremant d'Alsace Pinot Noir Rose; Color: Very pale pink; Aroma: Rather clean racy fresh; Mouth: Light, herbal on entry, fresh with the lightest touch of sweetness fullish., clean and fleshy; Very Good Plus 19.99; Mixed Case, 17.99; Case, 16.99
A Pretty Pink
2018 Cotes de Provence Rose Grand Ferrage; Mouth: Red berries and stone fruit abound on the nose, followed by a medium-bodied wine that's silky-textured and ripe, with an appropriately dry, stony finish. Nicely done!" - Wine Advocate; 14.99; Mixed Case, 13.49; Case, 12.74
A White
2018 Loveblock Sauvignon Blanc- Organic- Biodynamic; Color: light green gold; Aroma: fresh, clean more tropical; fruit, f fresh, , mineral, ; Mouth: clean juicy pretty, very fresh, rather bright, lively firm, lifted and joyful, , lemony ; Very Good Plus 22.99; Mixed Case, 20.69; Case, 19.54
Red is for Passion
2017 Domaine de Vissoux, Chermette St. Amour Champs Grilles; Color: Dense ; Aroma: more structured, rather fresh, mineral granite; Mouth: Clean very dark plum and leather fruit, light background tannins tannic, firm, layered, rich , fine acid ; Very Good - Excellent 32; Mixed Case, 28.8; Case, 27.2
Ain't (S)he Sweet
2018 Marenco Brachetto d'Acqui Pineto: Bright red. Aromatic, with roses and raspberries. Very harmonious. Very Good Plus 21; Mixed Case, 18.9; Case, 17.85
Or Mix any 12 for 15% off
Any 6 for 10% off
Rose Champagnes on sale through Friday
Take 10% off the prices below.
Dumont Rose Brut $48
Lanson White Label Brut Rose $59.99
Bereche Campania Remensis Brut Rose $95
Mouzon Leroux Extra Brut Rose $72
Bourdaire-Gallois Brut Rose $47
Gusbourne Brut Rose England $77
&nbsp
Order by phone at 617.367.8605, or reserve here: order@federalwine.com
&nbsp
- Len Rothenberg