Please note that the browser you are using is either outdated or not supported by this website. For a better browsing experience, try one of the following:
This Week's Tasting
Intriguing Flavors from Less Usual Wines
May 29, 2019
Monte Rosso Vineyard rolls across steep, rugged terrain in the Mayacamas Mountains nearly 1,300 feet above the Sonoma Valley on its border with Napa. Owned by the Louis M. Martini Winery since 1938, it is named for its rich, red volcanic soils and has produced award winning wines for three generations.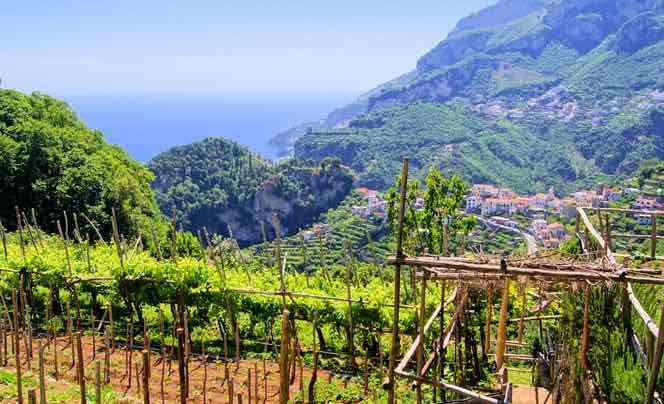 Wittmann is one of the best winemaking estates not only in their Rheinhessen but in all of Germany. Case in point, their 2017 fromScheurebe (pronounced shoy ray beh), a Riesling cross. In lesser hands it is often rendered with the grace and subtlety of an oompah band. This version is more like being in a springtime alpine meadow. One taster sensed elderflower, others finely rendered lime and currant. It is a joy to drink.
When Marilisa Allegrini decided to expand her operation to Tuscany the Corsican clone of Vermentino was one of the things most on her mind. She found a lovely old vine planting, a vineyard now called Poggio Al Tesoro. The 2017 Poggio Al Tesoro Vermentino Solosole is a remarkable dry Tuscan white. The wine has a lot going on now, including food versatility, and will also age well for many years.
In the Rhone, the Marsanne grape often makes a flat broad wine. Micro-negociant Julien Pilon's Le Bruit des Vagues (the sound of waves) has a lemon spice that gives life to creamy, nutty breadth, a very satisfying wine with white fish and light meat dishes.
The red wines are not heavy but lightly spiced for the grill.
Gaillac is a small region above Toulouse in southwest France's Massif Centralwhich has preserved its aboriginal grape varieties. There Domaine des Terrisses blends Braucol, cousin to Cabernet Franc and parent to Carmenere, with Prunelart, father or mother to Malbec. The former has cabernet's finesse and power which the Prunelart supports with a Merlot-like roundness. The resulting wine is surprisingly elegant for a country wine, precise and flavorful with intriguing herbal notes.
If you drive straight up from the Amalfi coast you will eventually reach Tramonti. Here we find brothers Gigino and Gaetano working with ancient century-old prephylloxera, Piedirosso and Tintore vines. The 2015 Azienda Agricole RealeCardamone Costa d'Amalfi is a blend of these two varieties. The wine is rich and complex with a very old world flavor profile. This can handle anything off the grill in a beautiful way.
The Petit Verdotgrape is coming into its own. It was long the bratty little brother that gave color and spunk to many a Bordeaux's cabernet and merlot. Now winemakers around the world are taming its sass into a more rounded but still robust wine. Matchbookmakes a particularly pleasing example at a very pleasing price. It is a sturdy wine, akin to a muscular Cab, nicely rounded by a touch of oak.
White
2017 Wittmann Scheurebe2- Organic- Biodynamic;Aroma: elderberry, lime currant, Rather lifted and enchantingly herbal and vibrant; Mouth: light on its feet, rather clean herbal balanced, fresh and refreshing, lively & graceful; Very Good - Excellent23.99; Mixed Case, 21.59; Case, 20.39
22017 Poggio Al Tesoro Vermentino Solosole:2 Bright green straw. Flowery aromas of green apple and pear with very good structure. Long pleasant finish and lots going on as the wine opens. Very Good to Excellent21; Mixed Case, 18.90; Case, 17.85
2017 Julien Pilon Marsanne Le Bruit des Vagues; Aroma: very fresh lively, lemon spice, a floral; Mouth: fleshy rather dense smooth, a nutty herbal note., softly caressing texture, autumnal, sweet long finish; Very Good Plus; 21; Mixed Case, 18.90; Case, 17.85
Red
2014 Domaine des Terrisses Gaillac Terres Originelles; Color: rather dark; Aroma: fruity, marked by oak, rather dense, fresh, very pretty; Mouth: clean fresh very hearty base rather dense lightly clean pretty layered, elegant and prettily ripe, fine tannins tight clean, firm; Very Good - Excellent 23.99; Mixed Case, 21.59; Case, 20.39
2015 Azienda Agricole Cardamone Costa d'Amalfi: Deep ruby. Where do we start with the aromas of dark fruit and spice accented by flowers. It all comes together on the palate with great complexity and structure. Long spicy finish. Very Good to Excellent 26.99; Mixed Case, 24.29; Case, 22.94
2016 Matchbook Petit Verdot;Color: very dark opaque; Mouth: smooth, lighter in the attack, brown spice, & dense fruit, herbal finish; Very Good Plus 17.99; Mixed Case, 16.19; Case, 15.29
5-29 Intriguing Case: Special, two each of the above wines - $213
5-29 Intriguing Pack: Special, one each of the above wines - $113
mix any 6- 11 in stock wines for 10% off
any 12 or more for 15% off
Order by phone at 617.367.8605, or reserve here: order@federalwine.com
Please pass this on to any friends who are wine enthusiasts!
&nbsp
- Len Rothenberg