Please note that the browser you are using is either outdated or not supported by this website. For a better browsing experience, try one of the following:
This Week's Tasting
Distinctive BBQ Wines and a Special Pinot
August 28, 2019
Last January we sold out of a distinctive white that we offered at a great price, but just got a few cases more. The 2016 Cave Mont Blanc Extreme is for the adventurous and those who admire a good solid wine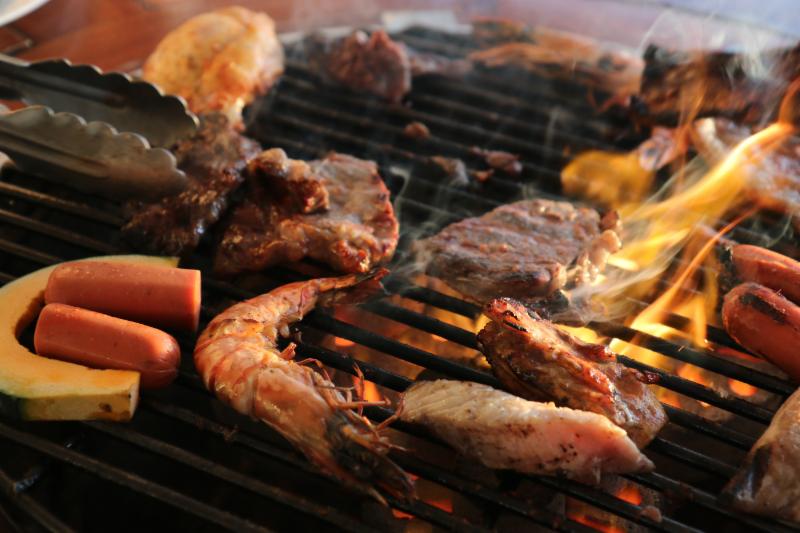 . It comes from the communes of Morgex and La Salle in the Val d'Aoste, Italy's francophone province high up and hard by the Alps. The grape is the "famous" Prie. Climate and variety make this much like a mountain savagnin from the Jura, with good depth, solid acidity, and richness. No intervening oak though, and only 11 per cent alcohol.
Azienda Agricola Reale is a two brother operation on the Amalfi coast way up the mountain in Tramonti. . The ancient grape varieties Piedirosso and Tintore around their little Osteria are very old and make the 2018 Reale Getis Rosato rich and expressive, great with seafood, chicken and pork. This is a very special place and these guys make very special wines.
Ch Ste Cosmeis famous for its Gigondas. Louis Barruol, its proprietor has expanded his reach by buying Syrah from select Northern Rhone appelations and growers. He sourced his 2016 Crozes Hermitagefrom the commune of Gervans, which has particularly granitic soils. It' was among the most successful in the fine vintage and already drinking well—and should do so for at least another 4-5 years. Only two cases
The 2015 Rocca di Castagnoli Chianti Classico is a layered and textured wine. It is amazing for the price and will also age well. The property dates back to the 1700s and is still family owned. There is great respect for tradition here and also a passion to always work to find even better ways to let the wines express a sense of place.
Feudo Montoni is a magical farm and winery, dating back to 468 AD in the heart of Sicily's central mountains. Fabio and Melissa Sireci are its current guardians. Their ancestors bought it in the late 1800s. Their 2016 Feudo Montoni Perricone del Core is a classic example of a great wine produced from Perricone, Sicily's oldest red grape variety. It requires careful attention to attain the proper maturity which Fabio and Melissa do extremely well. "Core" means heart in Sicilian and this vineyard, seen from above, is actually shaped like a heart.
Marietta defiantly makes its Californiathe way they usta in the middle of the last century; big, brash, and brimming with flavor. They have garnered praise, not scorn for this atavistic behavior. big. Robert Parker: "Marietta Cellars = high quality, modest prices, and considerable pleasure. Their North Coast 2015 Cabernet Sauvignon Arme bears its strong eucalyptus as a badge of honor, also great for the grill.
&nbsp
White
2016 Cave Mont Blanc, Blanc de Morgex et de La Salle ExtremeVery Good PlusWas $22 Now 16.99; Mixed Case, 15.29; Case, 14.44
Rose
2018 Reale Getis Rosato: Deep rose pink. Fresh red fruit flavors and aromas with a floral, spicy note. There is some nuttiness in the long finish. One of our best roses. Very Good to Excellent. 23.99; Mixed Case, 21.59; Case, 20.39
&nbsp
Red
2016 Saint Cosme Crozes Hermitage smoky and refined, with cherry and cassis fruit underscored by hints of dried herbs and meaty elements. Ample fruit and fine-grained tannins, Wine Advocate24.99; Mixed Case, 22.49; Case, 21.24
2015 Rocca di Castagnoli Chianti Classico: Ruby red. Aromas and flavors of deep cherry, olive blossom and spice. Fine layered texture which recharges every sip. Very balanced finish. Very Good to Excellent 21; Mixed Case, 18.9; Case, 17.85
2016 Feudo Montoni Perricone del Core: Ruby red with violet highlights. Plum, red fruits with notes of spices, cocoa and licorice. Fresh and round palate with a very attractive balanced finish. Excellent 25.99; Mixed Case, 23.39; Case, 22.09
2015 Marietta Cabernet Sauvignon Arme; Aroma: a touch of menthol, clean, rather dense, full, rather low toned; Mouth: bright acid, eucalyptus, deep fruit, dense, long finish; Very Good Plus 22.99; Mixed Case, 20.69; Case, 19.54
&nbsp
8/28 BBQ Case: Special, two each of the above wines - $232
Instore only 8-28 BBQ Pack: Special, one each of the above wines - $123
mix any 6- 11 above wines for 10% off
any 12 or more for 15% off
&nbsp
and a bonus… We will open a bottle of yesterday's special Pinot Noir offer.
2016 Elk Cove Pike Road Pinot Noir Fairsing Vineyard
Wine Advocate -" Ripe red and dark berry, baking spice and vanilla aromas, along with a smoky mineral nuance on the powerfully scented nose. Concentrated black raspberry, cherry cola and spicecake flavors show excellent clarity and become sweeter on the back half. Hangs on with strong tenacity on the dark-berry-driven finish, which is framed by fine-grained, slow-building tannins. (22% new French oak) "
Was $50, Now $35
Special case $359.88 (29.99), Half case $191.94 (31.99)
Order by phone at 617.367.8605, or reserve here: order@federalwine.com
Please pass this on to any friends who are wine enthusiasts!
&nbsp
- Peter Hemenway