Please note that the browser you are using is either outdated or not supported by this website. For a better browsing experience, try one of the following:
This Week's Tasting
Loire Winemaker Arnaud Lambert
August 15, 2018
In a little over 10 years of working his domaine Arnaud Lambert has become acclaimed as one of the most electrifying of the new breed of Loire winemakers.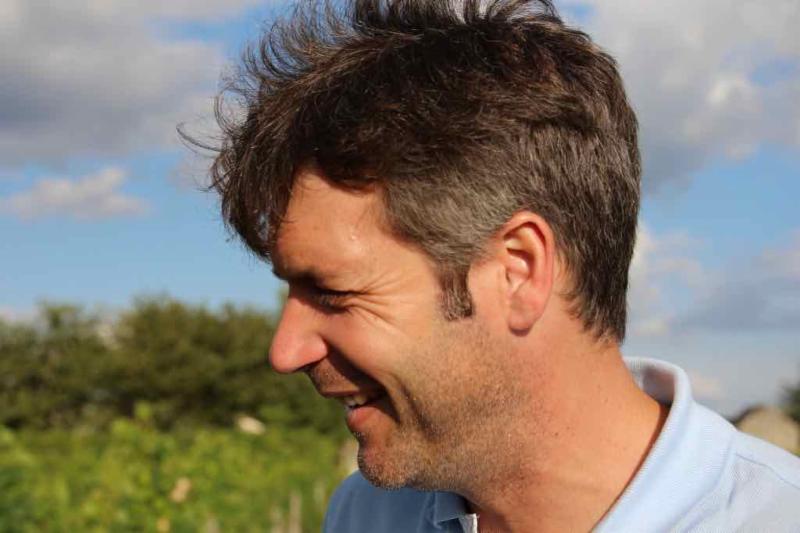 Bettane and Desseauve, a respected French wine journal, put it this way, calling him "one of the most talented winemakers in the Loire - he farms his 40 hectares in a method close to biodynamic. His whole range of wines have drive, and are regularly among the best wines in and around Saumur. The whites have remarkable finesse and are extremely delicate. Also, they are chenins that are agreeable young, which is sufficiently rare as to be emphasized. His reds are at the same level. Good vine age counts for a lot, his talent just as much. A benchmark winery!"
Their exclamation mark sums up how I and others reacted to his wines at a trade tasting on Monday. He has managed a difficult feat, keeping an expression of grape and soil while making pretty, ingratiating wines.
He is a thoughtful man, in the best sense of the word a student; of soils, of plants, of biochemistry and of barrels. He knows that learning is a never-ending process,
With his father he farmed the St. Just estate in St. Cyr en Bourg to the east of Saumur. In 2009 they took control of the historic Château Breze io the west which has a variety of soils ranging from the chalky to fine sandy silica. Since 2012 they have farmed in an organic regime that is close to biodynamic.
The style of his wines is more Monet than Cezanne with no hard edges. Minilalist intervention and deft adjustments to the vagaries of weather and soil make for nuanced wines with vivid and nuanced coloration.
His sparkling wines, a Chenin Blanc Crémant de Loire white and Cabernet -based Crémant de Loire Rose show striking purity and balance They are more graceful than most heavier, hard edged Loire sparklers from those grapes.
Arnaud studied winemaking in Dijon and brings a Burgundian sensibility to his winemaking. As is the custom in Burgundy we'll taste the reds before the more strongly acid whites. The 2016 Saumur Clos Mazurique is a juicy and sensuous wine from a single plot from Breze, It is a very appealing, easy to drink, and easy to love but not scanting the Cabernet Franc character that keeps it alive and interesting on the palate. His 2015 Saumur Champigny Montée des Roches from St. Cyr en Bourg comes from older vines and is made with even lower sulfur than the Lambert mean. Barrel matured, it's a richer deeper wine that shows a lot of depth with a very light oak accent.
Lambert whites shine in subtle complexities and power. Well taste a new vintage of a Breze wine that was a Federal favorite last year. The 2015 Clos David is fermented in barrel and foudre shows both breed and depth . The 2014 Saumur Coulée de St-Cyr comes from 70-year old vines is aged in older barrels and foudre. It has a fascinating complexity and depth.
Arnaud Lambert is well above the mean not only for the quality of his wines but how the story he tells illustrates thought and talent it took to make them. It will be well worth your time to taste and listen to him.
&nbsp
Domaines Arnaud Lambert
&nbsp
Sparkling
Arnaud Lambert Crémant de Loire- Organic; Aroma: Light pretty, fresh fruit, light clean; Mouth: Fruity, fleshy fine mousse, fine acid, clean long finish; Very Good Plus 23.5; Mixed Case, 21.15; Case, 19.98
Arnaud Lambert Crémant de Loire Rosé- Organic; Color: Very pale salmon; Aroma: Fleshy soft, clean ; Mouth: Rounded fruity, firm background of franc, fleshy rather fruity, rounded interpretation of the grape, fine, long acid on the finish; Very Good Plus 23.5; Mixed Case, 21.15; Case, 19.98
Red
2016 Arnaud Lambert Saumur Clos Mazurique - Organic; Color: Medium dar; Aroma: Clean rather mineral rather fresh pretty, rosy, fine edge; Mouth: Cleanness sweet thrust, racy very clean very fine, pretty & forward, nice sweet finish, lithe and round; Very Good Plus 19.99; Mixed Case, 17.99; Case, 16.99
2015 Arnaud Lambert Saumur Champigny Montée des Roches- Organic; Aroma: very black cherry plum, ripe; Mouth: Juicy forward rather smooth pretty dense thick, easy drinking; Very Good Plus 35; Mixed Case, 31.5; Case, 29.75
White
2015 Arnaud Lambert Saumur Clos David- Organic; Aroma: Fresh, almond, mineral, clean, ; Mouth: Clean rather bright fresh, food-friendly acidity, lean racy fine, tight clean finish, long; Very Good - Excellent 40; Mixed Case, 36; Case, 34
2014 Arnaud Lambert Saumur Coulée de St-Cyr- Organic; Aroma: Very deep dense Green plum, rather deep, lower toned tropical fruit notes; Mouth: Clean smooth rather finely delineated, deep, dusty herbal finish, long ripe; Very Good - Excellent 37; Mixed Case, 33.3; Case, 31.45
&nbsp
Lambert Loire Case: Special, two each of the above wines - $305
Lambert Loire Pack: Special, one each of the above wines - $162
Or mix your own
Any six - 11 bottles of the above for a 10% discount
Any twelve bottles of the above for a 15% discount
&nbsp
Order by phone at 617.367.8605, or reserve here: order@federalwine.com
&nbsp
Please pass this on to any friends who are wine enthusiasts!
&nbsp
- Len Rothenberg