Please note that the browser you are using is either outdated or not supported by this website. For a better browsing experience, try one of the following:
This Week's Tasting
John Duval Wines with Tim Duval
September 19, 2018
John Duval has had an illustrious career in winemaking. He spent 29 years at Penfolds, rising from apprentice to become Chief Winemaker in 1986. Under his stewardship the winery received numerous awards; IWS Winemaker of the Year in its London competition in 1989; in 1991 and 2000 IWC Red Winemaker of the Year there, and in 1995 having the 1990 Penfolds Grange, which he oversaw, named as the Wine Spectator's Wine of the Year.
&nbsp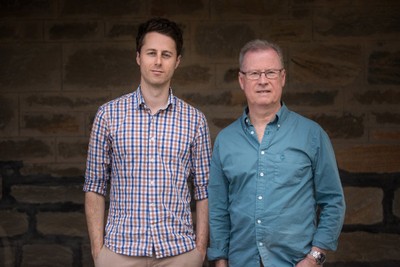 not at all dour in person
&nbsp
He is now a consulting winemaker on three continents. In 2003 he established his own eponymous winery, drawing on several of the best grape sources he had used at Penfolds.
His first wine was Plexus, a Rhone style blend of Shiraz, Grenache and Mourvedre. In 2006 he released his first Shiraz, Entity. He calls his reserve Shiraz, Eligo, his pure grenache Annexus, and has added a Rhone style white under the Plexus label.
He doesn't intend John Duval Wines to be another Penfolds. The Duval style is purer, more modern, more lifted and precise. He wants to showcase what he belives to be some of the best fruit in the world.
We have folowed John's wines since the 2004 Plexus was the first wine to reach this market and haver found them consistently to be smooth textured, ripe, and precise. We are very happy to welcome Tim Duval, John's son and co-worker to the store this evening. We think his wines will change many a perception of the quality and style that fine Australian wines can attain.
&nbsp
White
2013 John Duval Plexus Marsanne Viognier Roussanne: "notes of apricots, poached pears and allspice with hints of honeysuckle and white pepper. Medium-bodied, there is a pleasant touch of oiliness to the texture with a great concentration of fruit, finishing with lingering anise and baking spice notes." Lisa Perrotti-Brown Wine Advocate 32; Mixed Case, 28.8; Case, 27.2
&nbsp
Red
2013 John Duval Plexus; Aroma: plump dense, full, rich, smoky, heady smoky, rich; Mouth: clean smooth full, earthy, clean, firm, spicy rounded; Very Good - Excellent 37; Mixed Case, 33.3; Case, 31.45
2014 John Duval Entity Shiraz; Aroma: Thick leather & plum; Mouth: Clean smooth heady rich but not heavy, lightly delineated plummy finish; Very Good - Excellent 37; Mixed Case, 33.3; Case, 31.45
2015 John Duval Annexus Grenache; Color: Medium dark; Aroma: Heady sweet rather dense, heady ; Mouth: Clean herbal, smooth, fine acid plummy, rather smooth, good length; Very Good - Excellent 65; Mixed Case, 58.5; Case, 55.25
2014 John Duval Eligo Shiraz; Aroma: light elegant clean, very pretty, thick restrained richness; lightly elegant, very pretty; Mouth: smooth, getting older, tight acid restrained, rather firm, very clean, fine pretty, balanced & poised; Excellent 99; Mixed Case, 90; Case, 85
&nbsp
Tasting Discounts
Any six - 11 bottles of the above for a 10% discount
Any twelve bottles of the above for a 15% discount
&nbsp
Order by phone at 617.367.8605, or reserve here: order@federalwine.com
&nbsp
Please pass this on to any friends who are wine enthusiasts!
&nbsp
- Len Rothenberg