Please note that the browser you are using is either outdated or not supported by this website. For a better browsing experience, try one of the following:
This Week's Tasting
Beaujolais Crus
October 3, 2018
Most people know Beaujolais only as the light innocuous red found on supermarket shelves. There is another fuller range in the upper level "Villages." Thten best of these villages are the elite "Crus" where artisans, many of a newer generation, use the gamay grape to make heady, savory, and complex wines.
&nbsp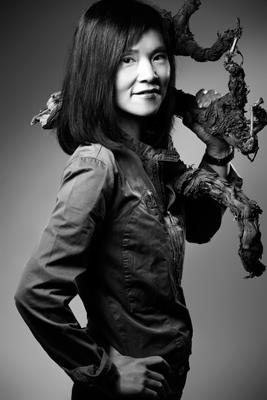 Mee Godard, the New Face of Beaujolais
&nbsp
Most are medium weight and very easy to drink and enjoy.
Cru Beaujolais' are as complex as many Burgundies to the north. Well made Moulin a Vent differs from Brouilly as much as Gevrey Chambertin does from Volnay. Some of our savvier customers have been getting the same sort of pleasure from Cru Beaujolais that they get from more expensive Burgundy. The fruit can be darker and richer but its articulation and complexities very much the same.
Last April I attended a fair in Beaujolais where 100 producers showed off their wares. This week ,six among the best.
Stephane Aviron runs a micro-negociant business with partner, noted burgundy winemaker Nicolas Potel. They buy grapes from selected properties and fashion wines that show Beaujolais' defining granite in a sparer, more articulate style. Their Moulin a Vent is a creature of layered complexity, while theCote de Brouilly is incisive and refined. Both are pleasures to drink. The Moulin a Vent can age for a decade.
Wines from Regnie tend to be broader and rather rich with less tannin and mineral. Domaine Capreoles is a newer organic winery whose wines exemplify this character. Their Chamodere, made with carbonic maceration and partially destemmed grapes, is open and accessible, and a pleasure to drink.
Pierre-Marie Chermette is famous for his smooth, succulent single vineyard Domaine VissouxFleuries. At the fair he showed a newer addition to his estate, a St. Amour Champs Grilles. In it he transmuted a wine that in the hands of others is often rustic and tannic into a dark-hued wine of depth and beauty. I was entranced. It is delicious.
Anne-Sophie Dubois learned her craft in Burgundy and with it makes wonderful organic wines inFleurie. Her Alchimiste, from older vines and destemmed, is a forward and drink and drinks well now and shows a sprightly, lively crispness.
Mee Godard works in Morgon, which has the reputation of making the biggest and densest most tannic and long-lived of the crus. Her 2016s have garnered extravagant press for their purity and dynamic freshness. Corcelette is the most forward of her wines, but shows the freshness and structure of the commune.
&nbsp
Cru Beaujolais
2016 Stéphane Aviron Cote de Brouilly Vieilles Vignes; Color: Light red black; Aroma: Heady rather clear see, dense; Mouth: Clean firm, sweet acid, juicy nice body firm; Very Good Plus 19.99; Mixed Case, 17.99; Case, 16.99
2016 Domaine Capreoles Regnie Chamodere - Organic; Color: medium dark; Aroma: clean edge, rather dense, heady fruit, very rich, purple rather dense; Mouth: clan bright acid , clan fine acid line nicely buttressed by fruit, plummy and a dark both racy and full, light acid finish; Very Good Plus 21; Mixed Case, 18.9; Case, 17.85
2016 Anne-Sophie Dubois Fleurie Alchimiste; Aroma: Heady very full, deep; Mouth: heady juicy very forward clean acid , lively & long long; Very Good Plus 26.99; Mixed Case, 24.29; Case, 22.94
2016 Stéphane Aviron Moulin-à-Vent Vieilles Vignes; Aroma: Bright fresh , clean rather pretty; Mouth: Very juicy at her pretty, fruity, juicy forward; Very Good Plus 25.99; Mixed Case, 23.39; Case, 22.09
2017 Domaine Vissoux St. Amour Champs Grilles; Color: Dense; Aroma: more structured, rather fresh, mineral granite; Mouth: Clean very dark plum and leather fruit, light background tannins, firm, layered, ather rich , fine acid; Very Good - Excellent 32; Mixed Case, 28.8; Case, 27.2
2016 Mee Godard Morgon Corcelette; Color: very dark; Aroma: bright, fine acid, spice, red back fruit, very rich; Mouth: deep fine acids rather broad, brown herb & granite, mouth clinging acidity, deep long finish; Very Good - Excellent 32; Mixed Case, 28.8; Case, 27.2
&nbsp
10-3 Beaujolais Cru Case: Special, two each of the above wines - $269
Instore only 10-3 Beaujolais Cru Pack: Special, one each of the above wines - $143
Any six - 11 bottles of the above for a 10% discount
Any twelve bottles of the above for a 15% discount
&nbsp
Order by phone at 617.367.8605, or reserve here: peter@federalwine.com
&nbsp
Please pass this on to any friends who are wine enthusiasts!
&nbsp
- Len Rothenberg