Please note that the browser you are using is either outdated or not supported by this website. For a better browsing experience, try one of the following:
This Week's Tasting
Wines from M Chapoutier with Lambert Rollat
January 22, 2020
Although the Chapoutier estate dates from the late 19th century, it really gained in reputation of its reputation in the late 20th when Michel Chapoutier took over. He converted the estate into organic and biodynamic and practice and gained a reputation for his single parcel wines are ranked among the best in the Rhone and all of France and have prices to match.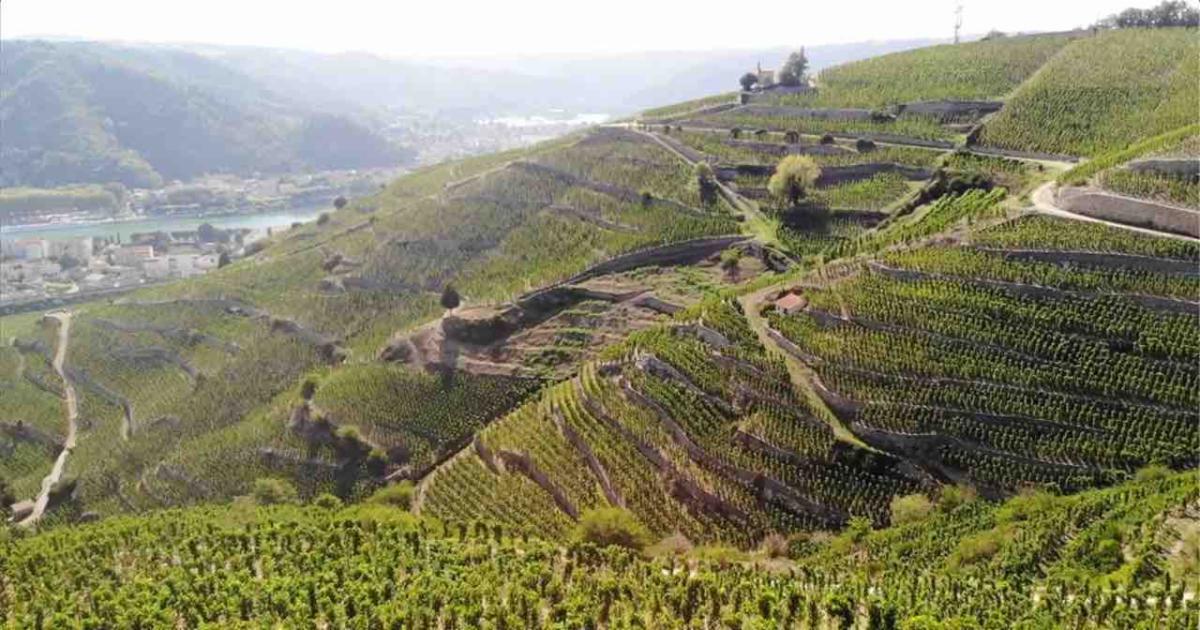 He has been one of the most energetic of winemakers in France, expanding his activities from his Rhone base into Provence Beaujolais and the Maconnais, Roussillon in in France's southwest, and abroad into Spain, Portugal , and Australia
Lambert Rollat from the winery will present six Chapoutier wines from the more affordable to the iconic, Rhone with one exception all crafted in the meticulous Chapoutier manner.
Two whites from the northern Rhone: La Combe Pilate Blanc is a regional wine, made from aromatic Viogjnier, grown on schist, and fermented in large wood vats, . It has floral notes of bergamot and peach. The Crozes Hermitage Blanc Petite Ruche is an appelation wine from Marsanne grown on alluvial soils. It is fermented clean in vats, with malo blocked to preserve crispness.
The reds: The 2016 Crozes Hermitage Rouge Petite Ruche is the red equivalent of the Crozes Blanc. All Syrah, it is made to be fresh and fruity.
2016 Chateauneuf du Pape" La Bernadine is a one 0f the Chapoutier Classics Grenache for forward fruit , is supplemented with Syrah for structure and Mourvedre for spice. fruit for spice.
Hermitage is one of the great wines of France . Chapoutier's Sizeranne is one of its classic expressions. All Syrah, it is a blend of three separate sub vineyards within the Hermitage bowl to provide a complete expression of the site.
Banyuls is Roussillon's answer to port with a Mediterranean softness while port has an Atlantic rigor All Grenache, it is lower in alcohol than port and a perfect companion to chocolate – think Valentine's Day
&nbsp
Chapoutier
&nbsp
White
2017 La Combe Pilate Blanc Viognier Wine Advocaate "aromas of struck flint, floral notes, hints of tobacco and fresh apricot. Only medium-bodied, it's fresh, lively and varietally distinct, with a fast-fading finish" 29.99; Mixed Case, 26.99; Case, 25.49
2017 Crozes Hermitage Blanc Petite Ruche Wine Advocate a great sense of freshness for such a warm vintage. Pineapple and melon notes add intriguing hints of white pepper on the medium to full-bodied palate, and there's a chalky-zesty feel to the finish. 29.99; Mixed Case, 26.99; Case, 25.49
&nbsp
Red
2016 Crozes Hermitage Rouge Petite Ruche Wine Advocate Tar and black black olive notes accent the ripe black cherries on the nose .... It's medium to full-bodied, with an easygoing, open-knit feel and plenty of blackberry fruit on the finish. 29.99; Mixed Case, 26.99; Case, 25.49
2016 Chateauneuf du Pape" La Bernadine Wine Advocate "Loaded with black cherry fruit, it's full-bodied, rich and velvety yet not overdone, showing subtle dried spice notes and a long, fresh finish. It should drink well for a decade. 65; Mixed Case, 58.5; Case, 55.25
&nbsp
&nbsp
2017 Banyuls 28.99; Mixed Case, 26.09; Case, 24.64
&nbsp
Chapoutier Case: Special, Three each of the whites two each of the others above wines - 396
Chapoutier Pack: Special, three whites one each red and Sweet above wines - $210
Or Mix any 12 for 15% off
Any 6 for 10% off
&nbsp
2012 Hermitage " la Sizeranne" Jeb Dunnock Outstanding stuff, it has lots of smoked herbs, saddle leather, pepper and minerality to go with a solid core of raspberry/blackberry fruit. Fleshy, ripe and textured, with fantastic purity, it's a pleasure-bent effort to drink over the coming 7-8 years."$179 Special $149 NET
We have also have a few bottles of two of Chapoutier vaunted Selection Parcellaire wines
2014 Chateauneuf du Pape Croix de Bois Jeb Dunnock "Another smoking good 2014 … which like always, is 100% Grenache that comes from a site on the eastern side of the appellation, near the village of Bédarrides. Completely destemmed and aged 16 months in concrete, it offers the expected forward, fruity style of the cuvée as well as classic notes Bing cherries, blackberries, spring flowers and hints of leather." $125 Net
2015 Ermitage Le Meal Wine Advocate "When in the course of a tasting session one is confronted by a wine that stands above the others, I find it impossible to give more than a single perfect score. So the 2015 Ermitage le Meal gets a "consolation prize". Full-bodied and intense, loaded with blackberry fruit that pushes the limits of ripeness and richness, this incredible wine retains such fine details as hints of crushed stone, cinnamon, clove and nutmeg. Unless it shuts down, it should be drinkable by 2025 and give pleasure for many years to come." $275 Net
&nbsp
Order by phone at 617.367.8605, or reserve here: order@federalwine.com
&nbsp
- Len Rothenberg