Please note that the browser you are using is either outdated or not supported by this website. For a better browsing experience, try one of the following:
This Week's Tasting
Wines for Your Feast
November 6, 2019
From some of the best wines we tasted over the past year, we selected six great companions for your holiday table.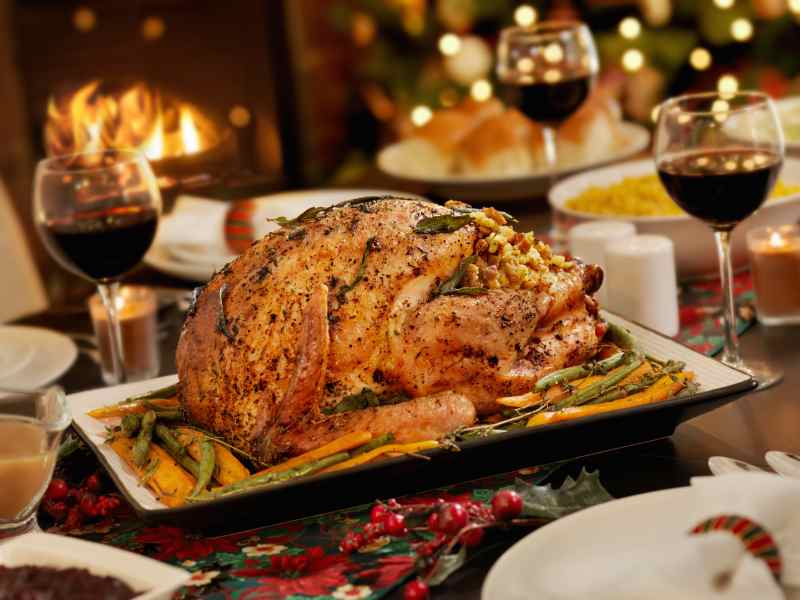 Two intense, imposing white blends, a classic Zinfandel, an intriguingly complex Pinot Noir, and two aged wines, a versatile Piemontese blend, and a mature Bordeaux from the fine 2000 vintage. Warning: Some are in very limited quantities.
The 2017 Terlan Nova Domus Riserva is from one of the truly great white wine operations in the world. This is a blend of Pinot Bianco, Chardonnay and Sauvignon Blanc. Here we find pear, apple, citrus with an underlying tropical component. This wine gets fermentation and aging in large oak barrels. Even in today's ridiculously high-speed world, see if you can find your way to put a few bottles of these down for the next 10 or so Thanksgiving dinners.
If Château Simone were in Bordeaux, Burgundy, or the Rhone it would be widely known as one of France's best estates. It is out of the way in Palette in Provence. Moreover, the best of its fine wine range is white so its greatness has been recognized only by a cult of devotees. The complexity of the Château Simon Blanc reflects its century old field blend of 11 grape varieties, followed by long aging in foudre and barrel. It is at the same time floral and deep, evoking the body and depth of a top White Hermitage or Pessac-Leognan, with different, more exotic flavors. We are opening the 2014, the oldest vintage we could get. We also have some of the more opulent 2015 as well as its highly reviewed 2013 red.
Geyserville is the premier wine from Ridge, the emblematic Zinfandel producer. It's a field blend with Alicante, Carignan and Petite Sirah. Its aroma of Zinfandel spice jumps out of the glass at soon as the cork is pulled. It is medium bodied with softly tuned, but nicely rounded flavors and good structure; the most elegant rendering of the grape(s) we have tasted.
Jean Nicolas Meo manages and is the artist behind his family's Meo-Camuzet, one of grand cru burgundy's iconic makers. Jay Boberg is a talented ex music impresario. Together they make beautifully harmonious Pinot Noir in Willamette Valley. Their 2016 Nicholas-Jay Pinot Noir is. The wine is distinctly Oregonian, wonderfully rich and layered for now or the future. Nonetheless it has something of Meo- Camuzet's suave textual character. It is delicious now and will extend into the future.
We were lucky to find a small trove of Clos René from the great 2000 Bordeaux vintage. It has been in an impeccable cellar since release. This small estate in Pomerol is nearly all Merlot, but Merlot with the spice and character you get in France. Critic Robert Parker called it "a seductive, classic. a lush, medium to full-bodied, dark ruby-colored wine with good flesh, low acidity, and excellent purity." More recent tasters' notes have called it "outstanding" with "amazing body." It is certainly a rarity.
Giorgio Pelissero makes fabulous wines in Treiso in Barbaresco. In addition, he flies around with an artistic and comic flair. His 2005 Long Now blends Nebbiolo and Barbera. It's dedicated to the Long Now Foundation, an organization dedicated to promoting the elongation of human thinking. The two grape varieties form a two sided coin to make a very versatile wine with food. One side slices through the elaborated meats and the other side handles the secondary dishes. And it does so with perfectly mature aromas and flavors.
White
2016 Terlan Nova Domus Riserva: Majestic, powerful, complex. Full bodied and multifaceted Excellent 68; Mixed Case, 61.2; Case, 57.8
2014 Ch Simone Palette Blanc; Aroma: fresh very pretty lifted clean fine, rather pretty, very clean, heady lifted clean fresh, very pretty; Mouth: clean firm, rather dense, full, sweet very dense tannic, firm a monumental wine of dense body dry affect, imposing; Excellent - Outstanding 60; Mixed Case, 54; Case, 51
Red
2017 Ridge Vineyards Geyserville; Color: medium dark, dense,; Aroma: lightly heady , deep, nicely herbal, very rich, , evocative, ; Mouth: clean b right direct now, mouth not so open as the nose, fruity, forward, bright tight underlying acid, very long; Excellent 52; Mixed Case, 46.8; Case, 44.2
2016 Nicolas Jay Pinot Noir- Organic; Aroma: light clean m rather rich full, fruity, very dense, juicy, oaky, nicely herbaceous; Mouth: smooth textured fine acids, fine grained tannins and bright acid under a cloak of very deep, rich dense; finely delineated, both thick and tensile,; Excellent 79; Mixed Case, 71.1; Case, 67.15
2000 Clos Rene (Pomerol) Excellent (?) 75; Mixed Case, 67.5; Case, 63.75
2005 Pelissero Long Now: Organic Deep violet color. A panoply of fruit, cherry, blackberry and plum with notes of roses and lavender. Open, full bodied and velvety with savor and elegance. Richness, nuance and detail combine in the harmonious finish. Amazing. Excellent 64; Mixed Case, 57.6; Case, 54.4
11-6 Feast Case: Special, two each of the above wines - $677
I11-6 Feast Pack: Special, one each of the above wines - $359
Or mix any 6- 11 of the above for 10% off
any 12 or more for 15% off
and if you want champagne to start
Labruyere Brut Prologue Grand Cru Extra Brut
Regularly $55 per bottle, Special through December $50 per bottle
Six bottle case $259, (43.17)
Order by phone at 617.367.8605, or reserve here: order@federalwine.com
Please pass this on to any friends who are wine enthusiasts!
&nbsp
- Len Rothenberg