Please note that the browser you are using is either outdated or not supported by this website. For a better browsing experience, try one of the following:
This Week's Tasting
Values from Portugal
April 3, 2019
The wines of Portugal have seen a great improvement in quality and marketability over the past decade or so. Augusto Gabriel , who is from the Azores, represents one of the best importers. Tonight we will be tasting a selection of the fine wines he brings in.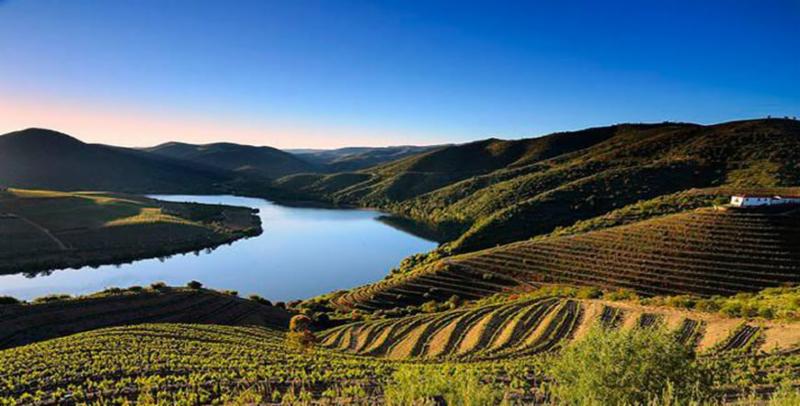 &nbsp
Tourism has been way up lately for Portugal. One of the first drinks you may be served is a White Port Aperitif. So we will begin with the Quinta Val D Maria White Port mixed with some tonic water. Quinta Val D Maria was acquired by Cristiano Van Zeller in 1996. Having worked for many years at the world famous Quinta do Noval, Cristiano set out to own various Quintas in the Douro region and show us all how unique and diverse the wines from this area could be. In this case he is showing us that he can make traditional Porto as well.
In the high altitude Beira Interior zone we find the Beyra winery. Here Rui Roberedo Madeira makes wines from very old vines. The 2017 Beyra White is a blend of Fonte Cal and Siria varieties and gives us a wine of aromatic intensity, minerality and freshness. Ridiculous quality for the price. The Dao in north central Portugal is a more famous region. Nuno Cancela de Abreu owns Boas Quintas and produces Fonte do Ouro wines. The family has been farming in the Dao since the 19th century. The 2017 Fonte do Ouro Dao Branco has rich apple and pear fruit with tropical notes and shows good structure and persistence.
We will go back to these same two wineries to start the reds. The 2016 Beyra Reserva Red Is a blend of Tinta Roriz (Tempranillo) and Touriga Nacional, all high altitude and old vine grapes. The wine is medium bodied and spends 8 months in a combination of American and French oak. We find rich berry fruit, spice, and fresh elegance. The 2016 Fonte do Ouro Tinto Reserva is also a blend of Touriga Nacional and Tinta Roriz, with some Alfrocheiro e Jaen thrown in to confuse you. This is more full bodied with flowers and spices accenting cherry and blackcurrant fruit. We go back to the Douro for the 2015 Castello D'Alba Vinhas Velhas. Castello d'Alba is on the leading front of the new wave of wine production in the Douro. For centuries Port has been the famous wine produced here. Now, ideal conditions in the area are teaching us that they can also produce excellent still wines. This one is highly distinctive, intense and complex.
Speaking of Port, we will begin our bonus round tonight with the Burmester "Jockey Club" 7 Year Tawny Port. Burmester has been around for 250 years and this is everything you want in an aged Tawny. An intense bouquet is followed by full bodied and complex flavors, just sweet enough to be an ideal companion with a diversity of desserts. Who knows, after dessert how about a fine brandy? Mavem Aguardente is crafted by fifth generation distillers in the Tejo valley. The brandy is triple distilled and aged in palm oak barrels for eight years.
White
Quinta Val D Maria White Port (Aperitif) Would you like a lemon with that? Very Good Plus 15.99/bottle 14.39/mixed case 13.59/case
2017 Beyra White: Bright straw. Citrus, grapefruit hints of nettle and wild flowers. Light and fresh with a bright finish. Very Good Plus to Excellent 10.99/bottle 9.89/mixed case 9.34/case
2017 Fonte do Ouro Dao Branco: Straw with green highlights. Clean apple, pear and tropical fruit, with fresh mineral and good structure. Very good volume and complexity. Very Good Plus to Excellent 12.99/bottle 11.69/mixed case 11.04/case
Red
2016 Beyra Reserva Red : Ruby. Cherries and blackberry with discreet minerality. Barrel notes of vanilla and toast with spice. Very good persistent fruit with a fresh finish. Very Good Plus to Excellent 15.99/bottle 14.39/mixed case 13.59/case
2016 Fonte do Ouro Tinto Reserva: Deep ruby. Red wild berries, coffee with violet and bergamot. Blackcurrant and spice with smooth tannins and complexity Very Good Plus to Excellent 21/bottle 18.90/mixed case 17.85/case
2015 Castello D'Alba Vinhas Velhas: Deep ruby. Great aromatic excellence. Berries, roses, hints of violet. Notes of fresh basil and bergamot. Light touch of oak, very smooth and ripe tannins. Long finish. Excellent 24/bottle 21.60/mixed case 20.40/case
Bonus
Burmester "Jockey Club" 7 Year Tawny Port 24/bottle
Mavem Mature Brandy 8 year: 63/bottle
Order by phone at 617.367.8605, or reserve here: order@federalwine.com
Please pass this on to any friends who are wine enthusiasts!
&nbsp
- Len Rothenberg