Please note that the browser you are using is either outdated or not supported by this website. For a better browsing experience, try one of the following:
2019 Perrachon Julienas Roche Bleu - Vignes des Centenaires Cuvee Special
Exciting New Vintage of Two Fine Cru Beaujolais
May 4, 2021
&nbsp
Free Delivery - see below
&nbsp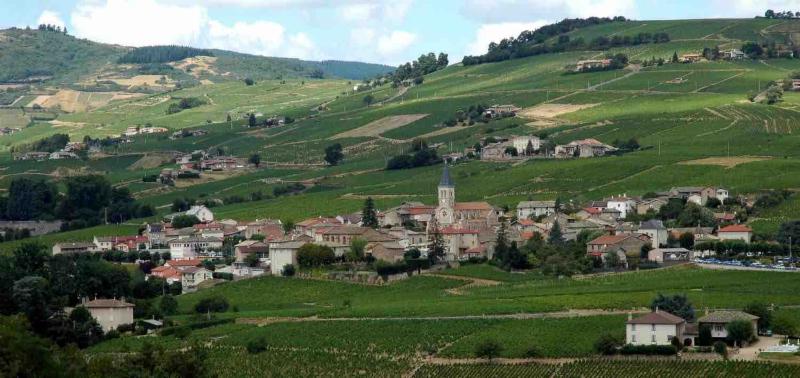 &nbsp
---
&nbsp
The Perrachon family have worked in Beaujolais since the 16th century and been wine growers with the purchase of the La Bottièr vineyard in 1877. Over the last century and a half, they expanded to Fleurie, St. Amour, Morgon, and Moulin-a-Vent. They work sustainably and are moving to a more organic approach in the vineyards.
We have been particularly fond of their poised and rounded Julienas cuvees. Julienas is one of the weightier of the Beaujolais crus, distinguished for its power, earth, and spice. Julienas wines tend to be less tannic than those of neighboring Moulin a Vent. They are more exuberant in their youth.
We are featuring two, in a vintage shaping up to be as elegant for Beaujolais as it is for Burgundy. 2019s are as ripe and ample as 2018 but have a more defined acidity that makes them more classic in style.
Their flagship Julienas Roche Bleu expresses Juleinas' signature blue rock terroir
Alan Meadows, Burghound" has an acute palate for burgundy. He found the 2019 Roche Bleue to have:
"A brooding but appealingly layered earthy and peppery dark berry fruit nose is clearly ripe yet reasonably fresh. There is very good volume to the delicious, round and supple medium weight flavors that possess very good depth and persistence where the only nit is noticeable if not really intrusive warmth. This velvet-textured effort could certainly be enjoyed now but one that has enough underlying stuffing to easily repay 5 to 8 years of cellaring."
I tasted it as more finely linear with no hint of too much warmth. After given some air, it is lithe and lively with a pronounced granite note, excellent with lighter meat dishes, even charcuterie.
The Julienas Cuvee Speciale Vignes Centenaires is the pride of the domain. It comes from a less than a hectare plot of the oldest (100-years) vines in La Bottièr. Selected grapes harvested at yields less than burgundy grand crus, it is treated like them with a year aging in oak followed by ten months in wood vat. It is very, very good. Although Gamay, it has the dark fruit, weight, and richness of a Willamette Valley Pinot Noir in a ripe vintage. Ancient vines, schist, and granite in the soil add a pronounced underlying stony line that gives the wine character and nicely offsets the fruit.
You can drink this young, but it will improve for up to 10 years like fine burgundy.
The 2017 vintage was the hit of our customer tasting of a dozen cru. The 2018 that we offered last fall sold out so quickly that I could not get any for myself. I do not intend to make that mistake with this edition.
&nbsp
2019 Julienas Roche Bleue -
Very Good Plus
18.99, Special Case 191.88, (15.99)
&nbsp
2019 Julienas Vignes des Centenaires Cuvee Specia
l -
Very Good – Excellent?
$28.99 Special Case 299.88, (24.99)
&nbsp
You can assort 12 or more of the two wines at their special case prices
&nbsp
Arrives Thursday, May 6th
&nbsp
Order by phone at 617.367.8605, or reserve here: order@federalwine.com
&nbsp
---
&nbsp
FREE DELIVERY!
downtown on orders more than $75;
in Greater Boston on orders more than $175
&nbsp