Please note that the browser you are using is either outdated or not supported by this website. For a better browsing experience, try one of the following:
This Week's Tasting
Trimbach - An Historic Icon Unveils a New Grand Cru
September 11, 2019
Mike writes, "In 1626, Maison Trimbach was founded in Ribeauville, Alsace. The family's thirteenth generation is now actively involved in the running of the winery. For near 400 years their vision of long lived structured wines of precision, balance, and true to grape variety. has endured."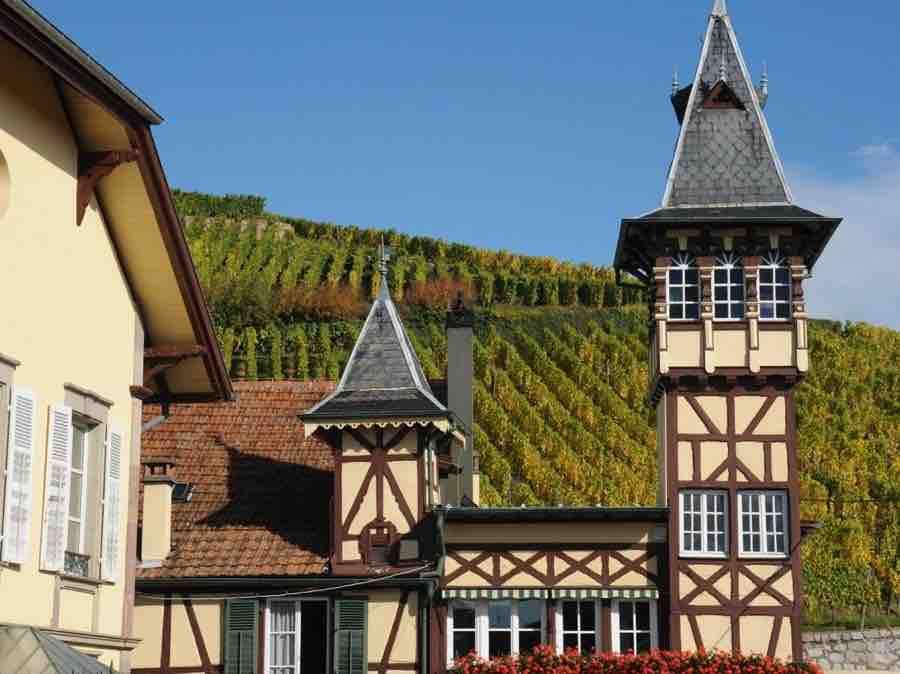 He continues,
This Trimbach style has been earned them universal accolades. All major French wine periodicals consider Trimbach to be among the best wineries not only in Alsace, but all of France. Pierre Trimbach (12thgeneration winemaker since 1979) was named one of the world's Top Ten White Winemakers by DecanterMagazine in 2006 and "Wine Personality of 2016" by Bettane & Desseauve.
We will be tasting a cross section of seven wines that will show you the Trimbach style. To start the 2017 Trimbach Pinot Blanc "Classic is 25% Pinot Blanc enriched by 75% its lusher variant Pinot Auxerrois. It's light golden with notes of flower and fruit. Medium bodied with a clean, fresh acidity.
Three wines show the complexities of Riesling in its progression from general vineyard selection to specific site production. The 2017 Trimbach Riesling Classic is 100% Riesling from a blend of vineyards owned by Trimbach. The wine does not undergo malolactic fermentation thereby preserving acidity. It is straw gold with a fine mineral backing, possessing flavors of pineapple and lemon.
The next two wines come from grand cru vineyards. The 2011 Riesling Frederic Emile is from the grand cru vineyards Osterberg and Geisberg. The grapes are picked late for ripeness but vinified dry in stainless steel with no oak and no residual sugar. Long, complex minerality. Acidity balancing intense fruit.
We will be tasting the 2015 Schlossberg Riesling Grand Cru for the first time with you. New to the Trimbach holdings, it is hand-picked then vinified in stainless steel until totally dry. Incredibly rich, complex, powerful with a balance of fruit and acidity.
The2015 Pinot Gris Reserve Personnelle is hand harvested at very close to vendage tardif (late harvest) levels. It is allowed to ferment naturally in stainless steel with n oak. The resulting wine is rich, complex with a touch of sweet botrytis and ripe pear and mango.
The2016 Gewurztraminer Classic as the other Classic wines does not undergo malolactic fermentation. It shows a balance of fruit and acidity with a spicy, dry finish. Decanterdescribed the 2011 Gewurztraminer Seigneurs Ribeaupierre as "An absolute stunner of a Gewurz… a showstopping fragrance of fresh apricot, lychee, mango, beeswax, rosewater and spice". Drop the mic!!!!
White
2017 Trimbach Pinot Blanc; Aroma: bright rather fresh, clean forward; Mouth: rounded light lemony, rather fleshy & ripe, juicy, clean bright acid, long; Very Good Plus 15.99; Mixed Case, 14.39; Case, 13.59
2017 Trimbach Riesling Classic;Aroma: light diesel rounded , rather fine rounded sweet rather intense, ; Mouth: clean racy firm, sweet fruit, juicy fine acid, tangy fine, clean, lemon oily; Very Good Plus 21.99; Mixed Case, 19.79; Case, 18.69
2011 Trimbach Riesling Cuvee Frederic Emile; Aroma: heady older, secondary notes, sift rather dense, , lovely,; Mouth: fleshy almost sweet rather soft, , bright, higher acid with softer notes, complex & forward, a sweet impression; Excellent89; Mixed Case, 80.1; Case, 75.65
2015 Trimbach Riesling Grand Cru Schlossberg 94; Mixed Case, 84.6; Case, 79.9
2015 Trimbach Pinot Gris Reserve Personnelle; Aroma: lean heady herbal rather clean, rather delicately fresh; Mouth: juicy clean bright acid lemony, rather dense, spicy acid, long; Very Good Plus48; Mixed Case, 43.2; Case, 40.8
2016 Trimbach Gewurztraminer Classic ; Aroma: heady dense deep fruit, laden, , dark, low toned; Mouth: fleshy soft, nice edge, fine acid, lifted and long; Very Good Plus22.99; Mixed Case, 20.69; Case, 19.54
2012 Trimbach Gewurztraminer Seigneurs de Ribeaupierre; Aroma: heady rather dense, blood orange, with nice herbal note herb, ; Mouth: dense fine acidity, rich texture but lighter in body with a fine acid line, rather elegant lively and complex; Excellent54; Mixed Case, 48.6; Case, 45.9
mix any 6- 11 above wines for 10% off
any 12 or more for 15% off
2013 Trimbach Riesling Clos St. Hune ranked with the finest white burgundies and bordeaux, will not be tasted, but offered at a special price , normally $340,. $275.00 Net
Order by phone at 617.367.8605, or reserve here: order@federalwine.com
Please pass this on to any friends who are wine enthusiasts!
&nbsp
- Len Rothenberg