Please note that the browser you are using is either outdated or not supported by this website. For a better browsing experience, try one of the following:
The To Ol Advent Calendar Case
Holiday Magic and Mystery
October 25, 2019
&nbsp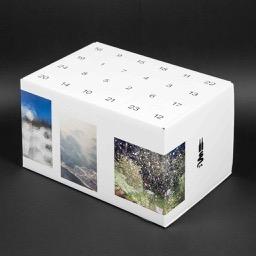 &nbsp
A wonderful holiday offering from the land of Denmark is on the way. Two rabid beer enthusiasts Gynther and Tobias Emil Jensen were not happy with the quality of the beer they were getting from old guard Danish brewers, so in 2005 they began brewing their own after hours in a high school kitchen. They experimented like mad scientists, and 2010 released their first beer for sale under the To Ol label. The two have strived to bring the highest caliber of quality to each unique and flavorful brew they create. Keeping with form over function, the art work on the cans ,bottles and case is minimalist; simple and elegant.
Each holiday season To Ol puts together an Advent Beer Calendar., A magical journey of 24 different beers exemplify the best of the art of brewing. Whether IPAs, strong dark ales, sours, beers for any seasons, summer reminders the range is truly amazing, not one beer repeats, and even repeat styles are different. They come in a case of numbered cubbies whose doors open to reveal each day's liquid treat. The outer packaging has simple and elegant depictions of the season.
The first shipment will arrive in early November. If you'd like to get in on this pre order deal, please respond to this email by Monday 10/28/19 by 4:00pm.
&nbsp
To Ol Advent Beer Calendar Case: $82, special pre order price $77
&nbsp
This year's twenty four will be new creations.
To give you a sense of what potions might lie within the case, here are last year's:
&nbsp
F--- Art, Winter is Coming, a Belgian Tripel 8%
Gose To Hollywood, a Gose 3.8%
Snowball Saison, a Saison 8%
A Peeling Pale, a Pale Ale 5%.
Jule Mælk, a Imperial Sweet Stout 15%
Sur NEIPA - Citra & Mosaic, a Sour Ale 5%
Black Bauble, a Spiced Porter 8%
Velvets Are Blue, a Sour Saison 5.5%
3xMAS, an American IPA 4.7%
Shock Series - B!PA Citra & Simcoe, a Black IPA 7.3%
Totem Pale, a Gluten-Free Pale Ale 2.2%
Frost Bite, an American Pale Ale 6%
Day Thirteen: Raid Beer, a Pilsner 5.2%
Santa Gose F&#% It All, a Gose 5%
Nettles in the Kettles, a Saison 6%
Blizzard (In a Beer Mug), a White IPA 6%
Mr. Blue 2018, a Saison 9%
Stress Test, a Baltic Porter 8%
Santastique!, a Belgian Wit 5.5%
Black Malts & Body Salts, an Imperial Black IPA 9.9%
Let Mælk, a Milk Stout 4.1%
Gose to the Fyrreskov, a Gose 3.8%
Tropical Rumble, a IPA 4.3%
Santa's Secret - Mochaccino Messiah Double Shot, a Brown Ale 8%
&nbsp
Drew Croswell
&nbsp
Order by phone at 617.367.8605, or reserve here: order@federalwine.com
&nbsp