Please note that the browser you are using is either outdated or not supported by this website. For a better browsing experience, try one of the following:
Three New Mortlach Releases
Everyone should have a Morty! Read more here . . .
February 12, 2019
&nbsp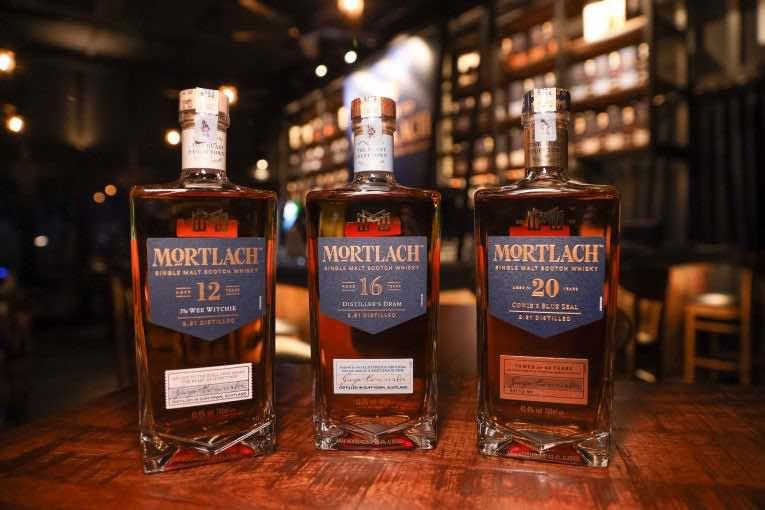 "There is not perhaps a distillery in Scotland that has so many private customers as Mortlach from whisky spirits are sent not only over the three kingdom's to families, but to America, India, China and Australia, in all of whisky Mr. Cowie has customers that prefer his distillation to others." Elgin Current 1868
Mortlach Distillery dates from 1823, But it was not till railroad surveyer George Cowie came in 1853 that its reputation began to soar. He became sole owner in 1867, and began a tradition that continues to this day. George's son Alexander took over in 1897 after studying at the University Aberdeen and medical service in Vienna and Hong Kong. Working with distillery architect Charles Doig he expanded the distillery expanded and and put the 2.81 distillation process in place.
The distillery is in Dufftown, the first of seven in that highland town.
Mortlach Distillery is special as is the whisky, good portion of which goes into Johnnie Walker.
They use worm tubs for body and distill the whiskey 2.81 times. A smaller still is called The Wee Witchie .
It's nice to see that they are releasing so very nice bottling. You will not go wrong with any of them.
&nbsp
The 12 Y.O. is a wonderful sherried single malt is called The Wee Witchie good balance, nice all around, very nice finish. Has a little heat but a few drops of water puts it in a very nice place. Also Good Price.
The 16 Y.O. The Distiller's Dram - Is going to be the sweet spot, it is the heaviest on the sherry, it has the heat as well, not in a bad way,and adding a little water really opens it up, nice balance, the finish is long and inviting, sit back for the ride. - A Cracker
The 20 Y.O. Cowie's Blue Seal - 1973 Glenrinnes Lodge, This is an intricate whisky, recreating Dr. Alexander Cowie's Private Stock, 12 bottles of a deliciously complex dram dating back to 1909 that his daughter found hidden when his house was renovated .
I have a feeling that there are single malts in this bottling older than the 20 Y.O. Statement maybe by 3-5 yrs., maybe even by 5 - 10 years. Could this blend contain whisky up to 30 Y.O.? - I am not sure.
&nbsp
I am sure that all 3 of this distilleries bottling are Very Good - Very Good All Around . You will not regret any of them. I will recommend to you what you will appreciate the most. You would regret having to wait for the next shipment to arrive.
&nbsp
Mortlach 12 Y.O. 43.4% Ex Sherry and Ex Bourbon casks.
Rich, fruity and vibrant with hints of umami, light spice, dark chocolate and cherries, leading to a smooth dry finish. $57.99
Mortlach 16 Y.O. 43.4% 100% Ex Sherry cask
Intense, rich and spicy with hints of clove, nutmeg and dar berries, leading to a lingering, surprisingly sweet yet dry finish. $109.99
Mortlach 20 Y.O. 43.4% Ex Sherry and Whisky Refill
Deep, complex and savory with hints of cedar wood, aromatic citrus, cocoa nibs and berries, leading to a long spicy finish. $214.99
&nbsp
For more info or to reserve yours, email joe@federalwine.com
&nbsp
Please pass this on to any friends who are Scotch enthusiasts!
&nbsp