Please note that the browser you are using is either outdated or not supported by this website. For a better browsing experience, try one of the following:
Rocca di Castagnoli - The ideal in Chianti Classico
2016 Chianti Classico Riserva Poggio A Frati + 2016 Chianti Classico Gran Selecione Stielle
May 17, 2022
&nbsp
Free Delivery - see below
&nbsp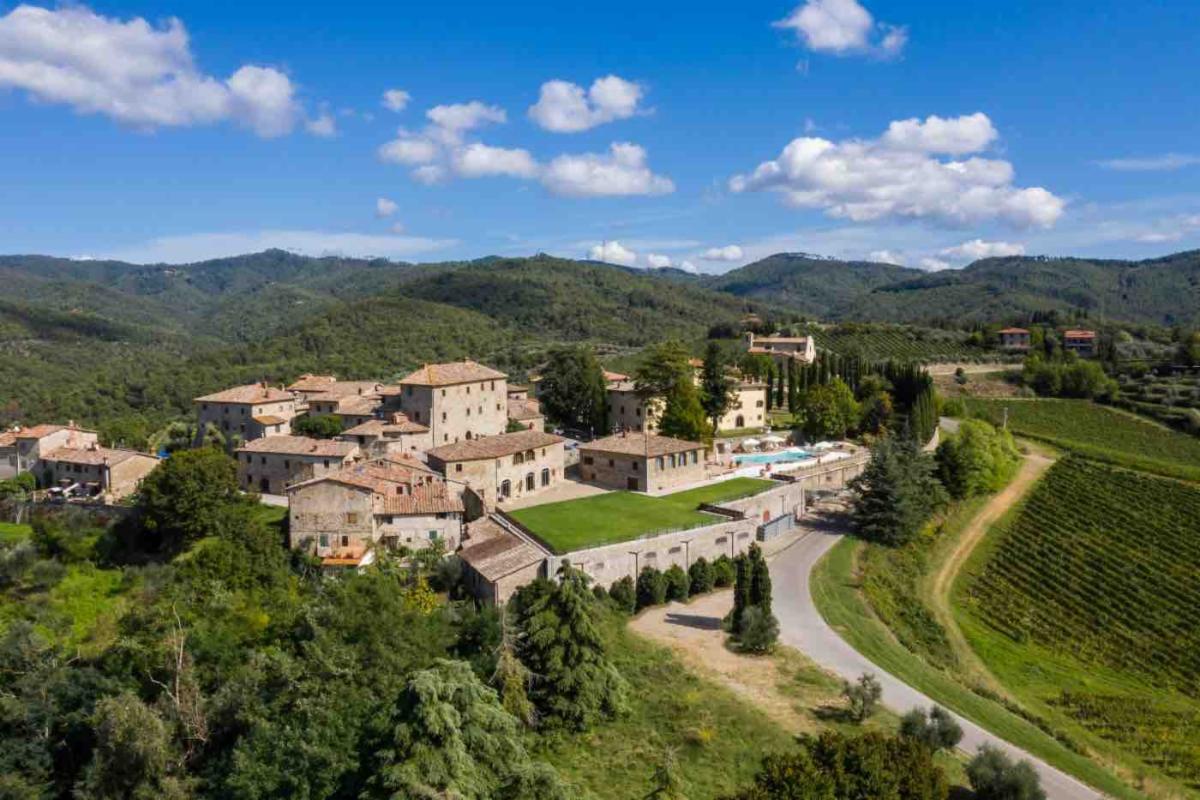 &nbsp
The various expressions of perfection that characterize the Rocca di Castagnoli property in Gaiole in Chianti create an exciting effect. Everyone who visits this place for the first time feels like they have been here before. The restored Medieval fortress, the small Relais for tourists, and the beautiful architecture throughout the village give a solidity to the setting. The wonderful views over the steep hills, including the high elevation vineyards, flowers, and olive trees, put breath into the place. Calogero and Alessandro Cali and the rest of the family bought and restored the entire historic property in the 1980s. They now bottle two wines from their best single vineyards. Current releases are from the perfect 2016 vintage.
The Poggio A Frati vineyard is named after an old monastery on the property. The 2016 Rocca di Castagnoli Chianti Classic Riserva Poggio A Frati is traditional with 90% Sangiovese and 10% Canaiolo. After organic farming and spontaneous fermentation, this old vine wine is aged in large botti. The 2016 Rocca di Castagnoli Chianti Classico Gran Seleccione Stielle is made the same way with 100% Sangiovese. Stielle is the oldest and centerpiece vineyard of the property. Many historical references speak to the special quality wine from this site.
By the way, another facet of the perfection of this village is Il Cellier a Castagnoli, one of the very best restaurants in Tuscany. Max and the staff will take great care of you here. If you care to visit, let me know.
2016 Rocca di Castagnole Chianti Classico Riserva Poggio A Frati: Muted but classic Sangiovese aromas and flavors. With air, the cherry and plum fruit yield flowers and spice. The finish also blossoms to herbs and forest floor with depth and length. Excellent 32/bottle 6 pack $175 (29.16/bottle) Case $326 (27.16/bottle)
2016 Rocca di Castagnoli Chianti Classico Gran Selecione Stielle: Bright ruby. Expressive and substantial dark cherry fruit wrapped in velvety tannin. Hanging spices include cinnamon and clove with notes of olive and bramble. Complete long finish with depth. Outstanding 48/bottle 6 pack $259 (43.16/bottle) Case $489 (39.99/bottle)
&nbsp
Special mixed case: six bottles of each of the above for a special price of $408 (34/bottle)
&nbsp
&nbsp
- Peter Hemenway
&nbsp
---
&nbsp
FREE DELIVERY!
downtown on orders more than $75;
in Greater Boston on orders more than $199
&nbsp