Please note that the browser you are using is either outdated or not supported by this website. For a better browsing experience, try one of the following:
Tenuta Regaleali, Classic Sicilian Reds
2020 Nero d'Avola Lamuri + 2020 Perricone Guarnaccio
March 24, 2023
&nbsp
Free Delivery - see below
&nbsp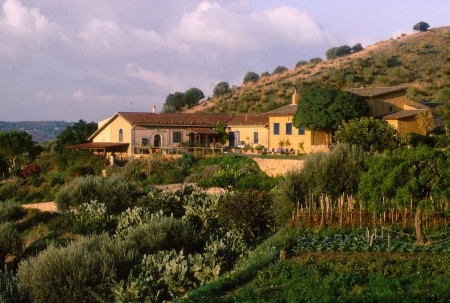 &nbsp
In 1830 the Tasca family founded Tenuta Regaleali in the mountains of central-western Sicily. The family still owns it today and, over the years, has established a stellar reputation for producing some of the best wines in Sicily.
Two classic reds they produce are the 2018 Tenuta Regaleali Nero d'Avola Lamuri and the 2020 Tenuta Regaleali Perricone Guarnaccio. Both are from high-elevation vineyards, which give a longer growing season and fully developed polyphenols. Nero d'Avola offers a richer wine, and Perricone gives a wine with higher tannin.
As you would expect, both of these wines are excellent with food. These are very high-class wines for their price range and are both delicious.
2020 Tenuta Regaleali Nero d'Avola Lamuri: Rich ruby red. Plum, cherry, sweet spices, and thyme. Full body with velvety tannins and expressive grip. Very Good to Excellent $21/bottle, Case 17.99
2020 Tenuta Regaliali Perricone Guarnaccio: Ruby red. Spicy fruit, mulberry, notes of geranium, and eucalyptus. Fresh savory palate and dry, balanced tannins. Very Good to Excellent 21/bottle case 17.99
&nbsp
Special mixed case: six bottles of each for a special price of $215.88 (17.99/bottle)
Arrive next week
&nbsp
&nbsp
- Peter Hemenway
&nbsp
---
&nbsp
FREE DELIVERY!
downtown on orders more than $75;
in Greater Boston on orders more than $199
&nbsp