Please note that the browser you are using is either outdated or not supported by this website. For a better browsing experience, try one of the following:
This Week's Tasting
Talbott Vineyards
July 24, 2019
The famed Sleepy Hollow Vineyard was one of the first to be planted in the cooler climate Santa Lucia Highlands region of Monterey County which has since become one of the most noted in California for producing fine Pinot Noirs and Chardonnays.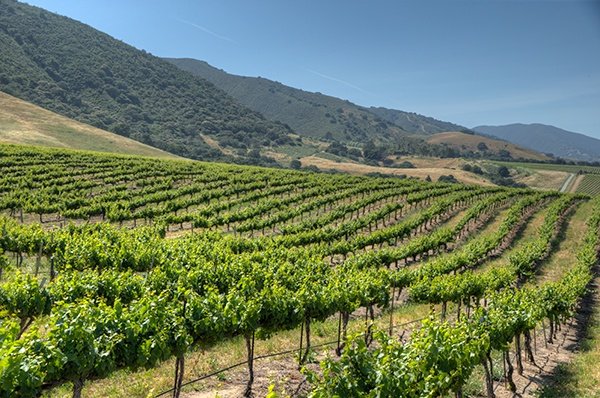 The Pinots, especially there, have a sauvage, savory quality not found in any other part of the state. The Talbott family bought Sleepy Hollow in 1982 and made some distinctive wines in the following three decades, fresh well-structured wines characterized by silky smooth texture.
The family sold the estate to the Gallo's a few years ago. Robert Parker wrote that "Talbott Vineyards… seemed to become complacent and the quality suffered. Things now seem to be back on track and I expect even bigger and better things with the Gallo resources behind this estate."
The wines we will taste, struck me as evidence that Mr. Parker was right in his prediction. They are across the board fruit-filled, precise, and elegant.
The Kali Hart Chardonnay blends Sleepy Hollow with Diamond T, another Monterey vineyard, is the most fruit forward . I found it to be classic Chardonnay at a very good price. The Logan Chardonnay is all barrel fermented and shows pears and tropical fruit. The Sleepy Hollow Chardonnay is at the peak of its drinking, shows a layered richness.
The Pinot Noirs mirror their Chardonnay equivalents. The Kali Hart is the most fruit forward. The Logan, more reserved but gives more with time opened. The Sleepy Hollow was on a fine level, layered, rich, and evocative.
These are excellent wines. They will give a lot of pleasure as you can taste today.
White
2016 Talbott Chardonnay Kali Hart; Aroma: lightly herbal, firm, rather clean, nice mineral acid; Mouth: clean rather rich, juicy, fine acid nice balance, mouth clinging, light clean acidity; Very Good Plus 19.99; Mixed Case, 17.99; Case, 16.99
2015 Talbott Chardonnay Logan; Aroma: light clean rather pretty, fine acid crisp; Mouth: clean rather rich dense, firm, nutty, barrel, reserved, long with a touch of acid on the finish; Very Good Plus25.99; Mixed Case, 23.39; Case, 22.09
2014 Talbott Chardonnay Sleepy Hollow; Aroma: rather oaky rather dense, heady rich rather old style California, fragrant; Mouth: juicy, sweet rather full, juicy candied, rather full, herbal, fine acid, rather clean; Very Good - Excellent 37; Mixed Case, 33.3; Case, 31.45
Red
2016 Talbott Pinot Noir Kali Hart; Color: heady dense, rather bright pretty; Aroma: heady dense, rather bright pretty, firm, rather plummy; Mouth: some clean rather sweet fruit, firm, tannins, luscious & long; Very Good Plus 23.99; Mixed Case, 21.59; Case, 20.39
2016 Talbott Pinot Noir Logan; Aroma: sweet oak, rather dense fleshy, juicy, pretty; Mouth: sweet fruit, rather crisp, leanish, light oak, sweet back, clean pretty fine; Very Good Plus 29.99; Mixed Case, 26.99; Case, 25.49
2014 Talbott Pinot Noir Sleepy Hollow; Aroma: rather pretty, rather fine, elegant, fresh, mineral, intense, long; Mouth: light pretty rather clean, fine acid lifted elegant, very pretty, fine, long acid finish, sweet finish; Very Good - Excellent 44; Mixed Case, 39.6; Case, 37.4
7-24 Talbott Case: Special, two each of the above wines - $299
7-24 Talbott Pack: Special, one each of the above wines - $159
Or mix any 6- 11 above wines for 10% off
any 12 or more for 15% off
Order by phone at 617.367.8605, or reserve here: order@federalwine.com
Please pass this on to any friends who are wine enthusiasts!
&nbsp
- Len Rothenberg