Please note that the browser you are using is either outdated or not supported by this website. For a better browsing experience, try one of the following:
This Week's FRIDAY Tasting
Robert Foley in person
June 17, 2022
Not Just Pretty Cabernets
&nbsp
Federal WineLine

FRIDAY TASTING

Friday, June 18, 5 - 6:30

Robert Foley in person

&nbsp
---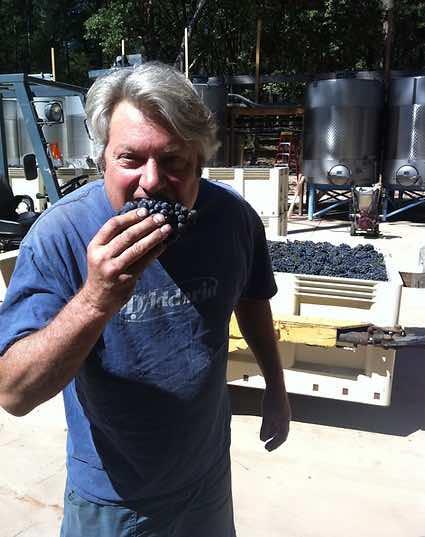 To make great art you have to really know your material
&nbsp
Bob Foley is one of the foremost winemakers working in Napa Valley Cabernet Sauvignon. He has an impressive resume having worked since 1977 with Heitz, Markham, Pride Mountain, Hourglass, Switchback, and Paloma.
More important, he is one of the pioneers of and now among the best winemakers making the newer style of Napa Cabernet, that impresses the palate with a paintbrush rather than a sledgehammer. That impression is reinforced by the Foley practice of keeping wines back until they are near ready to drink. This is not to say that a bit of airing doesn't help, but you don't need to wait hours or days
I strongly recommend his two versions; the 2016 Napa Cabernet and the 2016 Claret, the latter his rendition of a Bordeaux blend. Both were outstanding. Both are more precise, complex, and interesting than many similarly priced cliches brands featured in expense account steak house chains. The claret was the finer for my palate, a wine of somewhat more delicacy and nuance. That is not to say that the Cabernet was rough-hewn. It was equally complex and will appeal to those who like bolder flavors.
The Charbono grape is an under-priced, under-the-radar stunner. From Savoy, in the French Alps, the grape is related to those of the lighter-bodied Jura that have been so popular of late. Once it was important in Napa Valley, the 1968 Inglenook Charbono was a famous benchmark for Napa Valley red. Few vineyards remain. Most have been transplanted to higher-priced cabernet.
The Foleys have the most important, the one that was once Inglenook. Their 2016 Charbono is medium-bodied; it has a beautiful spice that makes it great complement to hot weather barbeque.
I really liked the 2021 Foley Hawksbill Rose. Cabernet gives it structure, Merlot breath, pinot noir spice, and delicate fruit. They all work together to give a broader richer wine that is by no means lacking in interest. It won't arrive in Boston until next week. We hope to have it to taste. Even if we don't, it is well worth your consideration.
Like the claret, the Foley Griffin is a blend of grapes but somewhat more eclectic. It is Petit Sirah, Syrah, Pettit Verdot, and others. Like the Charbono, it is an interesting and spicy wine for summer barbecues. And very reasonably priced.
We will also taste the Foley Merlot. Best described, it is a California take on a Pomerol. It is highlighted by light touches of oak. The fruit is rounded but not cloyingly cherry-berry. There is enough tannic structure to balance it nicely.
2019 Robert Foley Chardonnay; Mouth: Dry clean firm, properly California but nicely solid dry restrained; Very Good - Excellent 43; Case, 36.99
2021 Robert Foley Hawksbill Rose; Color: Very pale pink; Aroma: Fresh lilting clean acid, light touch of Meyer lemon; Mouth: Clean, dry solid center dry very n ice breadth, fine acid, nice length; Very Good Plus 29.99; Case, 24.99
2017 Robert Foley Charbono; Color: Very dark black; Aroma: Spicy oak deep oak melange of oak & acid spice; Mouth: Clean deep, firm, lifted, a cedar edge clean and lithe; Excellent 43; Case, 36.99
2017 Robert Foley Griffin; Color: Very dark black intense; Aroma: Heady dense, clean spicy & rich; Mouth: Clean light, smooth, firm, light on its feet for Napa, fine acid rather long clean edgy lower toned; Very Good - Excellent 48; Case,39.99
2016 Robert Foley Merlot; Color: Dark purple edge; Aroma: Fresh, lively, full restrained plum, fragrant, Deep rather full, smooth; Mouth: A grace note of wood direct, plummy, but opens to fine tannins, lean; Very Good - Excellent 65; Case, 54.99
2016 Robert Foley Cabernet Sauvignon; Color: Almost black; Aroma: Very dark, very reserved, mocha, almost black tasting less lifted than claret; Mouth: Smooth, very dark, notes, thick and intense clean dark-hued, a fine acid edge; Outstanding 99; Case, 84.99
2016 Robert Foley Claret; Aroma: Very deep reserved, of a piece, some bright nose, precise; Mouth: Precise, smooth textured ripe, lifted, excellent, smooth light are, fine, fine acid, weights; ess, rather intense, very refined; Outstanding$145; Case, $123
Mix any six bottles or more at the case discount price
Signed bottles available at the tasting or by pre-request
Order by phone at 617.367.8605, or reserve here: order@federalwine.com
&nbsp
Please pass this on to any friends who are wine enthusiasts!
&nbsp
- Len Rothenberg
---
&nbsp
FREE DELIVERY!
downtown on orders more than $75;
in Greater Boston on orders more than $199
&nbsp