Please note that the browser you are using is either outdated or not supported by this website. For a better browsing experience, try one of the following:
This Week's Tasting
Red Bordeaux
October 30, 2019
Chateau Puyanché is better than its simple Bordeaux appelation. When I tasted this wine last June I was immediately struck by how much character its 20% Cabernet Franc gives to the Merlot grape. Eminently quaffable, it was a steal and is now an almost giveaway.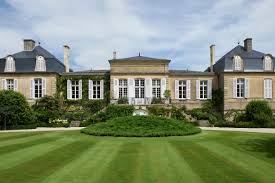 Philippe Faure of the noted St., Emilion family, owns Ch. La Caze Bellevue in the southeast of the appelation. The soils are a mix of clay limestone and sand and gravel. , the grape mix four fifths Merlot to one Cabernet Franc. Last June it struck me as more as a wine more of finesse and elegance then the power but it may well have opened up since then. I was certainly impressed by its poise and delineation.
Deyrem Valentin is a small family-owned Bourgeois Cru in Margaux It has been on an upswing since they brought on Henri de Bouard from Ch Angelus as a consultant. Half each Merlot and cabernet, the 2015 was praised on both sides of the Atlantic. Last year France's Hachette Guide:"the nose releases with aeration aromas of red and black fruits (cherry, blackberry), complete with a light oaky vanilla. Ample and generous, the palate seduces with its fruity flavors, while some tight tannins need a little time to round." We shall see how rounded they have become.
Bostonian Phil Edmundson and partner Eric Remus bought a prime part of Ch. Lescours in 2007, and enlisted the aid of ace oenologue Stephane Derenencourt to craft the wines. The sand and gravel of the soil makes for fine and savory Cabernet Franc. We have been fans of the wine since then. The 2015 might be the best yet.
Two forward 2016s from St. Julien that paradoxically are also under the radar even if in plain sight.
Ch. Gloria is a relatively recent creation of the then Major of St. Julien, Henri Martin. It has been getting steadily better. Vinous called it one of the stars of the 2016 vintage. The Revue du Vin de France thought it "a major success for the property. Superb with added definition and profundity." It is certainly not one of the most expensive.
Langoa-Barton is a third growth . its more famous sibling Leoville Barton shares its cellar, wine making team, and methods and has appropriated Langoa's picture for its label. Langoa is very much a lighter version of Leoville, sometimes as in 2016, very close to it in quality at half its price. Antonio Galloni called it a sleeper of the vintage. The RVF was struck by its "grandeur" and said that it is "very close in fruit to Leoville Barton and is very juicy with an immediately seductive side. Drinkable right away."
Red Bordeaux
2015 Ch. Puyanche (Bordeaux); Color: very dark; Aroma: heady nicely ripe , very pretty fruity with fine acidity, ; Mouth: smooth clean, nicely herbal, good character from the Cabernet Franc ; Very Good 15.99; Mixed Case, 14.39; Case, 13.59
2015 Ch. La Caze Bellevue (St. Emilion); Aroma: elegant very pretty fresh, fresh rather clean; Mouth: smooth very pretty nice delineation, sweet acid, clean, elegant, lighter bodied; Very Good Plus 19.99; Mixed Case, 17.99; Case, 16.99
2015 Ch. Deyrem Valentin Margaux Neal Martin "an intense bouquet with powerful black cherry and raspberry fruit, a light graphite and marine influence surfacing with time. The palate is medium-bodied with soft tannin, here a mixture of red and black fruit, quite corpulent in the mouth but with a very pure and lightly spiced finish. This is another impressive wine from this estate that deserves a higher profile." $39; Mixed Case, 35.1; Case, 33.15
2015 Edmus (St Emilion Grand Cru) Antonio Galloni "racy, sensual and beautifully expressive. Silky tannins give the 2015 much of its refined, elegant feel. Freshly cut flowers, sweet red berries, mint and anise are all nicely expressed. This is one of the more delicate, feminine St.-Émilions of the vintage"
Guide Hachette Starred - a very successful wine "A good example of the 2015 vintage…. Intense young color. Airing releases pleasant scents of candied fruit, prune, underlined with a wood Finish. The maturity of the fruit is confirmed in a fleshy mouth with firm tannins and well-integrated oak. Pleasant and tasty to drink young, it has enough structure to age well." $48; Mixed Case, 43.2; Case, 40.80
2016 Chateau Gloria, St. Julien Antonio Galloni "one of the undisputed stars of this vintage. Rich, deep and explosive, the 2016 possesses tremendous intensity in all of its dimensions. Sweet red cherry, tobacco, menthol, licorice and dried rose petal all add complexity. In 2016 Gloria is a real head-turner. It should be a fabulous value as well." $58; Mixed Case, 52.2; Case, 49.3
2016 Chateau Langoa Barton, St. Julien Antonio Galloni "succulent, racy and inviting, with striking textural richness and depth. Ripe dark plum, tobacco, cedar, licorice and spice are all generous in this racy, pliant Saint-Julien. The 2016 is an especially fine edition of Langoa-Barton and one of the sleepers of the vintage." $67; Mixed Case, 60.30; Case, 56.95
10-30 Bordeaux Case: Special, two each of the above wines - $422
10-30 Bordeaux Pack: Special, one each of the above wines - $224
Or mix any 6- 11 of the above for 10% off
any 12 or more for 15% off
2016 Bordeaux
We have the wines below in bottle quantity only. They are well priced compared to the current market and can be combined with the wines above at a 10% discount when ordering at least 12 bottles.
2016 Chateau Les Grands Chenes Medoc $29.99
2016 Chateau De Fonbel St. Emilion $35.00
2016 Chateau Taillefer Pomerol $38.00
2016 Chateau Barde Haut St. Emilion $50.00
2016 Chateau Prieure Lichine $55.00
2016 Chateau La Lagune Haut Medoc $64.00
2016 Chateau Rouget Pomerol $66.00
2016 Chateau Branaire Ducru St. Julien $68.00
2016 Chateau La Dominique St. Emilion $75.00
2016 Chateau Giscours Margaux $77.00
2016 Chateau St. Pierre St. Julien $86.00
2016 Chateau Brane Cantenac Margaux $96.00
2016 Ch. Clerc Milon Pauillac $99.00
2016 Chateau Pavie Macquin St. Emilion $99.00
2016 Vieux Chateau Certan Pomerol $400.00
2016 Ch. Mouton Rothschild Pauillac $750.00
2016 Ch. Margaux, Margaux $799.00
2016 Chateau Lafite Rothschild Pauillac $799.00
Order by phone at 617.367.8605, or reserve here: order@federalwine.com
Please pass this on to any friends who are wine enthusiasts!
&nbsp
- Len Rothenberg