Please note that the browser you are using is either outdated or not supported by this website. For a better browsing experience, try one of the following:
Poggio La Noce
Crazy Tuscan Wine and Olive Oil
December 4, 2019
&nbsp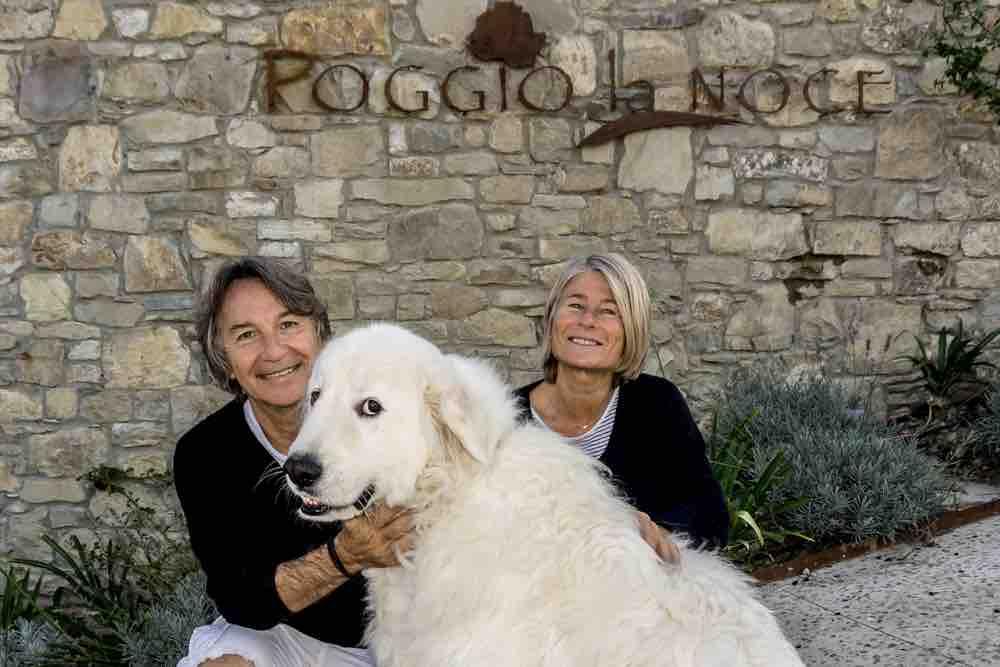 &nbsp
Partners Enzo Schiano and Clair Beliard are very hard workers who are following their dream and having a crazy good time. They bought an old vine Sangiovese vineyard just outside of Florence on very steep hills with perfect rocky soil. They also planted some new vineyards including Colorino and Canaiolo. Everything is farmed organically. They built a winery that is entirely underground and began bottling different interpretations of Sangiovese with crazy labels.
They have a great team of people running the operation with them. However when you visit it is clear that the true leader of the show is Marcellino, the Maremma sheep dog. As a matter of fact it is increasingly true that when I visit people like Enzo and Clair, the real reason I am there is to visit the dog. According to Marcellino, everything done here is traditional.
The 2016 Poggio La Noce Gigetto is Sangiovese with a bit of Canaiolo and Colorino and made with the younger vines on the property. It is very rich and tasty and comes across as much more expensive than it is. The 2015 Poggio La Noce Gigio is from the old vine Sangiovese with some Colorino. This is a wine of great style and class.
In addition, those of you who were here for Enzo's tasting last year will remember the Extra Virgin Olive Oil he makes. The olive groves are right next to the winery and the press. The olives are organic and pressed within minutes of being harvested. The 2019 Poggio La Noce Organic Extra Virgin Olive Oil will be coming and today we are taking pre arrival orders on this absolutely amazing product.
The wines will arrive tomorrow, the olive oil in a couple of weeks.
&nbsp
2016 Poggio La Noce Gigetto: Red fruits, spice and flowers as you would expect. Also exhibits great balance and texture that is playful in the finish. Unique and surprising. Very Good to Excellent 27/bottle 138/six pack (23/btl)
2015 Poggio La Noce Gigio: Dark cherry and flowers with just the right spice. Layered and textured richness which tastes ancient and modern at the same time. Excellent to Outstanding 65/bottle 332/six pack (55/bottle)
&nbsp
Pre Arrival:
2019 Poggio La Noce Organic Extra Virgin Olive Oil: Fruity, nutty with a blast of spice on the end. Superb 28/bottle Net (500ml)
&nbsp
Order by phone at 617.367.8605, or reserve here: order@federalwine.com
&nbsp
- Peter Hemenway
&nbsp