Please note that the browser you are using is either outdated or not supported by this website. For a better browsing experience, try one of the following:
New From Dievole
2016 Dievole Vigna di Sessina Gran Selezione + 2016 Dievole Chianti Classico Tocca Stelle + 2018 Dievole Campinovi Bianco Toscana - Divine Wines from a Magical Place
August 9, 2021
&nbsp
Free Delivery - see below
&nbsp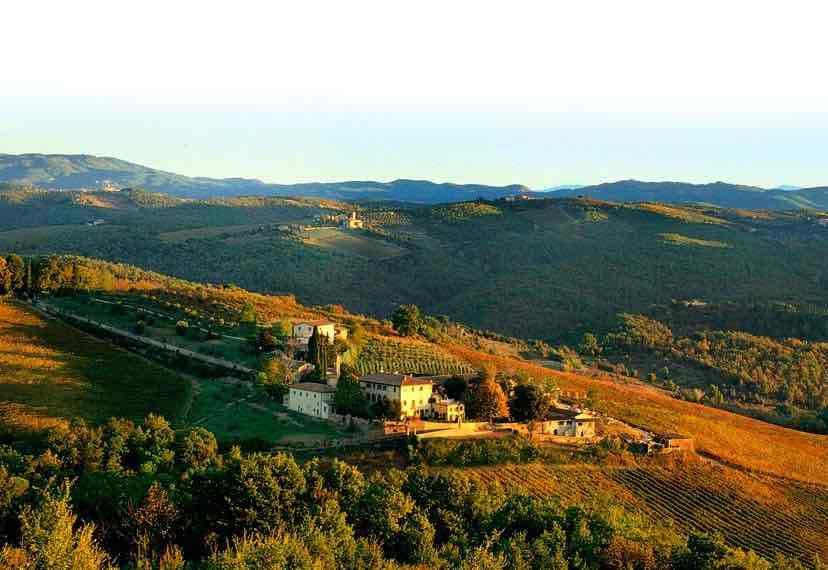 &nbsp
"Wine is sunlight held together by water."
"Wine is the blood of the Earth. It is a liquor of the highest magisterium made of mood and light by whose virtue the mind becomes eminently clear, the soul expands, spirits are encouraged, and joy is multiplied."
Galileo Galilei; now the philosophy of Dievole
&nbsp
It was love at first sight when I first visited the Dievole estate in 1992. Dievole, "Divine Valley," is a property on the border between Castelnuovo Berardenga and Gaiole in Chianti Classico. It was founded in 1090 by fourteen Etruscan farming families. The Villa and winery sit in a gorgeous amphitheater of vines, flowers, animals, and forest, including many ladybugs who protect the vines. I got to know everyone and eagerly came back the following year.
On that trip, I helped Paolo and Dino plant a new vineyard called Vigna Sessina on what seemed to be a magical piece of ground. At first, its grapes went into both the Chianti Classico and the Novecento Riserva bottlings. The 2016 Dievole Vina di Sessina Gran Selezione is its second bottling as a single vineyard Chianti Classico. Its soil is a unique mix of fossil-rich macigno with limestone and albarese, a perfect location for its 100% Sangiovese vines. Gran Selezione is a designation first put in place with the 2010 vintage and indicates the estate's finest wine
Alejandro Bulgheroni, a man with substantial resources who loves wine, now owns Dievole. His head winemaker Alberto Antonini has become a leader in the movement to make wine only traditionally. They decided to bottle a single-vineyard Chianti Classico to show that the Dievole vineyards each have their terroir. The 2016 Dievole Chianti Classico Tocca Stelle is a rich ebullient style of Sangiovese with everything in place. Tocca Stelle means "touchstar." The name embodies the ancient Etruscan concept "in our stars and in our roots," meaning the energy in the vines and the energy in the surrounding stars are directly linked.
The success of these reds of expressing place inspired Dievole to do the same thing with an excellent white. The 2018 Dievole Campinovi Bianco Toscana is a single vineyard Trebbiano aged in large untoasted French oak for 12 months. This wine is different with its gentle honey notes in the crisp finish. It finely portrays the Dievole area from a different perspective.
All three of these wines are made with spontaneous fermentation and fermented in concrete vats. All of the aging is in large neutral oak barrels. These are all organic.
&nbsp
2016 Dievole Vigna Sessina Gran Selezione: Organic Ruby red. Dark cherries and red fruit aromas with dried violet and spiced fragrances. Rich, round, age-worthy with freshness and excellent mature tannin. Real depth in the well-balanced long finish. Outstanding 68/bottle six-pack $367.20(61.20 Special case $$69.60 (57.80)
2016 Dievole Chianti Classico Tocca Stelle: Organic Bright ruby. Rich ebullient flavors. Dusty cherry balsam. Roses with spicy almonds and white pepper. Everything in perfect place with vibrant acidity. Excellent 42/bottle six-pack $226.80 (37.80) Special case $428.40 (35.70)
2018 Dievole Campinovi Bianco Toscana: Organic Straw yellow with gold highlights. Intense and refined bouquet with white flower, acacia, chamomile, apple, and pear. Elegant with gentle honey notes in the finish. Crisp and savory. Excellent 34/bottle six-pack $183.60 (30.60) Special case $346.60 (28.90)
&nbsp
Special mixed case: 4 bottles of each of the above for a special price of $588 (49/bottle)
&nbsp
This is a Pre-Arrival offer. The wines will arrive in three weeks.
&nbsp
Order by phone at 617.367.8605, or reserve here: order@federalwine.com
&nbsp
- Peter Hemenway
&nbsp
---
&nbsp
FREE DELIVERY!
downtown on orders more than $75;
in Greater Boston on orders more than $175
&nbsp