Please note that the browser you are using is either outdated or not supported by this website. For a better browsing experience, try one of the following:
This Week's Tasting
Morgenster: Classic Wines, Everyday Prices
October 2, 2019
We are happy to welcome Jason de Beers of South Africa's Morgenster Estate this Wednesday. Morgenster – the name means Morning Star in Afrikaans - was one of the more quietly impressive properties that I visited in South Africa last winter.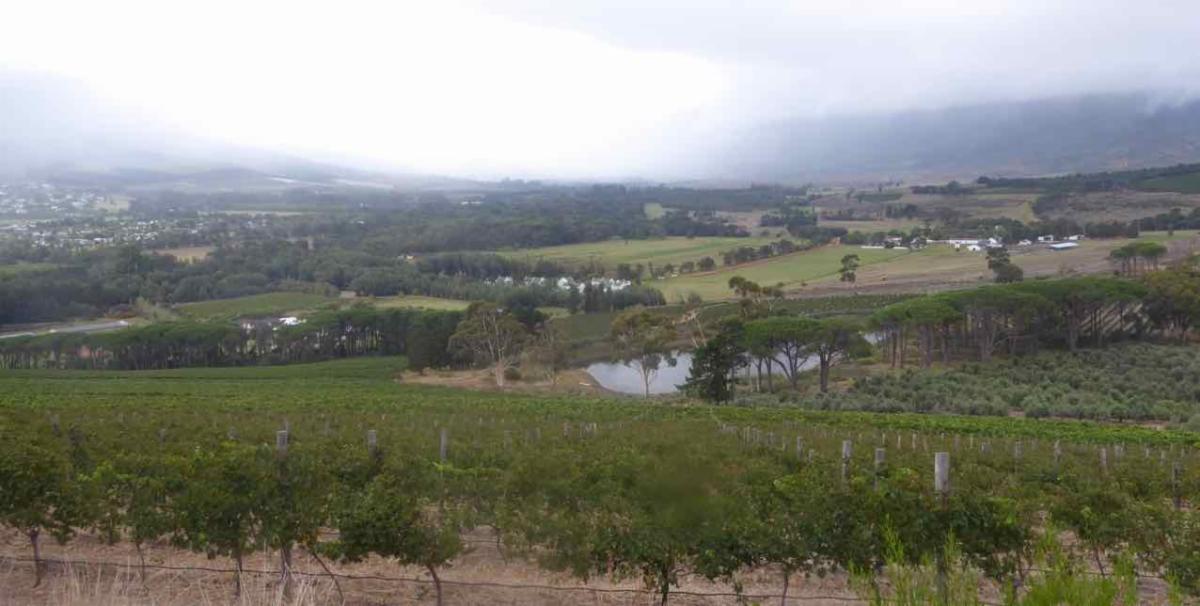 Under the coastal fog
It dates back to 1786 but owes its quality to its purchase in 1992 by Giulio Bertrand, a Piemontese businessman with extensive interests in South Africa. Since his death last year, it is run by his two daughters, Federica and Alessandra.
Its Stellenbosch region near Cape Town is like a larger version of Napa Valley. Morgenster lies in its its cooler part, close to False Bay, cooled by breezes from the Southern Ocean, much as Napa's Carneros is by San Francisco Bay fogs. This makes for lighter, crisp and well-defined wines of purity and precision which are much better than their modest prices. All four wines we taste taste have a cool climate elegance and precision.
The Sauvignon Blanc is crisp and linear, as much Loire-like as it is New World. The Cabernet Sauvignon is firm with light dusty tannins. The Cabernet Franc has a lithe delicacy that is more Bordeaux then Loire, with the same precision is the Cabernet.
The 2010 Laurens River Valley, a blend of half Cabernet Franc, a third Merlot with Cabernet Sauvignon and Petit their dough, is extraordinarily finely sculpted wine for a very reasonable price. It has become a staple here since we first showed it last winter.
Giulio Bertrand also saw the potential at Morgenster for producing olives, and imported some of the finest cultivars he could find in Italy to plant at Morgenster. Their Extra Virgin Olive Oil is fine also. I have been enjoying the bottles I brought back with me. We have secured a small amount for the tasting.
White
2019 Morgenster Sauvignon Blanc; Aroma: fresh rather clean, light tropical note; Mouth: clean sweet acid rather pretty, clean, light spritz, fresh, light pretty fine acid, clean long fresh, light clean long lemon; Very Good Plus 16.99; Mixed Case, 15.29; Case, 14.44
Red
2016 Morgenster Cabernet Franc; Color: dark opaque, medium depth; Aroma: heady sweet , herbal acid fresh fruit; Mouth: clean light sweet acid, fine tannins, herbaceousnesss nicely balanced, light smokiness that air turns clean & light, finely tuned; Very Good Plus 15.99; Mixed Case, 14.39; Case, 13.59
2014 Morgenster Cabernet Sauvignon; Color: Deep dark; Aroma: Heady rather sweet plummy, spicy acid s]edge; Mouth: Clean acid rather finer, , bright firm, well structured precise; Very Good Plus 15.99; Mixed Case, 14.39; Case, 13.59
2010 Morgenster Lourens River Valley; Color: medium dark rather dense; Aroma: heady sweet clean, clean rather herbal clean, lightly pretty, heady fine acidity, rather firm; Mouth: clean spicy acid, bright clean rather fine aid, pretty medium bodied, clean long; Very Good - Excellent 19.99; Mixed Case, 17.99; Case, 16.99
OIl
Morgenster Extra Virgin Olive Oil importer's notes"An intensely fruity oil tastes of artichokes, green apples and almonds followed by a long, peppery finish." 21.99
mix any 6- 11 of the above for 10% off
any 12 or more for 15% off
Order by phone at 617.367.8605, or reserve here: order@federalwine.com
Please pass this on to any friends who are wine enthusiasts!
&nbsp
- Len Rothenberg