Please note that the browser you are using is either outdated or not supported by this website. For a better browsing experience, try one of the following:
Justin Girardin's 2018 Old Vine Maranges
The Best Under $30 Burgundy We've Found
November 4, 2020
&nbsp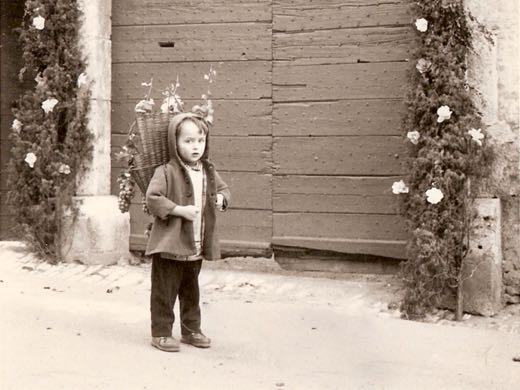 Justin age 5 - "Help, the press room door is too big for me to open."
&nbsp
---
&nbsp
We didn't have much of the last vintage of Justin Girardin's Maranges . There was no need to tell anybody. Friends told friends and word got around about what great value it was, so like all good things, it disappeared too quickly.
Maranges is a commune at the tail end of the Cote d'Or, south and a little bit east of Santenay and Chassagne. Like Marsannay at the north, it was the source of lighter, second-rate wines that at best went into basic Cote de Beaune Villages or simple Bourgogne. Marsannays are congenitally prettily fruited and soft. They easily please those looking for real if simple burgundy at a bargain prices. Now they are better made and not such great valuie some now command the prices of formerly asked for the major village wines.
On the other hand Maranges remained obscure because its wines were by nature thin often sauvage with rough and rustic tannins; eager but not ready for prime time.
Enter young Justin Girardin, an avatar of the modern generation in Burgundy. He came from a centuries' old family of vignerons (Vincent is his uncle and Jacques his father) and built on it with experience making wine in many parts of the New World, especially Australia.
Using the modern back-to-tradition methods of organics and biodynamics in the vineyards, he has learned how to get the best ripeness out of his grapes. Using indigenous yeasts for fermentation and meticulous control of cold soaks and aeration of the fermenting must, he moderates the tannins in the wine. From 50-year-old vines he has produced a 2018 that is if anything more pleasing than last year's 2017 . It has a bit more weight and concentration with the warming gloss of caramelized leather that is the mark of very ripe grapes
&nbsp
The 2018 Justin Girardin Maranges is the best value out of many that we have tasted in this era of high-priced burgundy still coming in at the price of many humdrum New World Pinots. We are happy to have it and took in all there was to be had, but that is just a few cases more than we had of he 2017.
2018 Justin Girardin Maranges Vieilles Vignes; Color: very dark, black ; Aroma: plump, but reserved, heady & old viney, surmature, dense ; Mouth: rather juicy, clean, thick a light note of white peppers, smooth, bright acid, berry, dark cherry compote, creamy smooth with rich fruit, racy and round, nice soft grip on the finish; Very Very Good Plus $29.99;
&nbsp
Special Case price 299.88. (24.99)
In stock now - don't miss it
&nbsp
Order by phone at 617.367.8605, or reserve here: order@federalwine.com
&nbsp
- Len Rothenberg
&nbsp
---
&nbsp
FREE DELIVERY!
downtown on orders more than $75;
in Greater Boston on orders more than $175
&nbsp