Please note that the browser you are using is either outdated or not supported by this website. For a better browsing experience, try one of the following:
Holiday Specials
Delicious Wines for the Holiday Table, from Bargains to Luxe
November 21, 2021
Some of this year's favorites to enhance your holiday meals. Some wines are in limited quantity and subject to prior sale. Buy singly, or mix any 12 or more of these wines at their case discount or net prices
&nbsp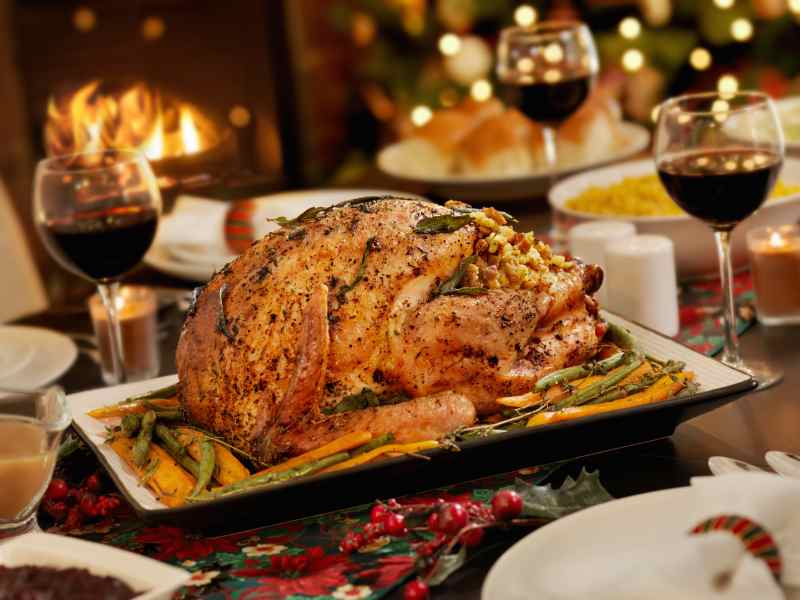 FOR A CROWD
Lighter Reds
Old vines from a master – more evocative & layered than its label or price
2020 Terres Dorees (Brun) Beaujolais l'Ancien; Color: very dark rathr intense deep; Aroma: heady and grapey, , mineral ,very deep, layered; Mouth: bright mineral fresh, very rich, very deep, long fat, and forward; Very, Very Good Plus 19.99, in a case of 12 16.99
2019 Golden West Pinot Noir; Color: medium dark, unfiltered; Aroma: heady and full of fruit rather dense clean firm ; Mouth: juicy dark, rounded fruit nicely offset by a nice acids core rather long; Very Good Plus 19.99 in a case of 12 16.99
2012 Bodegas Conde Valdemar Rioja Reserva: Deep ruby. Aromas and flavors of cherry and raspberry with a deep center framed by Asian spice and a nice touch of vanilla oak. Long balanced finish with well-integrated complexity. Excellent 19.99, in a case of 12 16.99
A Little Italian spice
2018 Ca Viola Barbera d'Alba Brichet: Ruby red. Aromas and fresh plum and pomegranate flavors with wildflowers and roses, with spicy notes of clove and cinnamon. Notes of mushrooms in the completely balanced finish. Excellent 21, in a case of 12 17.99
Richer Reds
.
Bright and Solid Sierra Zinfandel
2018 Andis Old Vine Zinfandel Painted Fields Color: very dark black; Aroma: earthy, deep, light wood notes, rather deep very full, very ripe; Mouth: classic, sweet on the attack, rich, blackberry-plum clean, bright firm, balanced on a base of fine coffee-inflected tannins; Very Good Plus; 22.99, in a case of 12 19.99
White
2019 Montenidoli Vernaccia di San Gimignano Tradizionale: Straw yellow. Penetrating aromas and flavors of apple pear and almond, Alpine flowers, and herbs with mineral and a touch of honey. Concentration and complexity with a layered texture.Very Good-Excellent $21, in a case of 12 $17.99
Riesling is great company for a bird. These are extraordinary values for their money
2018 Burklin-Wolf Trittenheimer Apotheke Kabinett lush and sweet Very Good Plus 17.99, in a case of 12 14.99
2018 Clemens Busch Marienberg Kabinett Mosel more lush than sweet Very Good-Excellent 26.99, in a case of 12 22.99
2019 Georg Breuer Riesling Sauvage Rheingau dry and broad Very Good Plus 26.99, in a case of 12 22.99
Turkeys & Hams Love Rose
2020 Peyrassol Cotes de Provence Cuvee des Commandeurs; Aroma: heady and sweet very dense precise rose-floral notes, clean & firm, heady tropical flowers; Mouth: juicy, intense nice weight nicely forward, some Rolle gives it a crisp acid cut, rich and complete; Very Good Plus 23.99, in a case of 12 $19.99
2020 La Spinetta Il Rose di Casanova: Bright salmon rose. Aromas of cherries, strawberries, and roses. The flavors are bright and balanced and invite a second glass. Very Good to Excellent 18.99, in a case of 12 15.99
You Deserve to Treat Yourself
Lighter Reds
2017 Johan Estate Pinot Noir Nils Vineyard; Color: very dark not quite so opaque; Aroma: fine oak, lightly perfumed elegant, refined, hard-edged, light wood notes, creamy later develops a floral note; Mouth: clean lighter Volnayish, very fine, pure & elegant, dark fruit in the middle, with fine-grained tannins, subtle wood note of the finish; Excellent $45, in a case of 12 $38
2016 Rasa Syrah Veritas Sequitur ; Aroma: Heady sweet rather debate , very pretty, very modulated, soft white bacon, lovely; Mouth: Absolutely lovely, smooth, a vin du reve, poised very pretty an Impressionist Syrah, ; Outstanding 125 Net
Richer Reds
2017 Snowden Cabernet Sauvignon The Ranch; Color: very dark semi-opaque; Aroma: heady dense, rather bright well-integrated oak, rich and fruity, light cedar. With time open deeper fuller more rounded with plum notes; Mouth: sweet relatively clean finely structured acids and tannins acid, lovely berry fruit over a firm back, poised and elegant very pretty; Very Good - Excellent $59 Special Sale $49 Net
A mature Piemontese classic
2006 Fratelli Grasso Barbaresco Vallegrande: Ruby garnet. Complex and characterful. Rose petal, cherry, cassis, cedar, and forest floor notes with a touch of espresso and truffle. What a pleasure. Outstanding. 79, in a case of 1 $67
2009 Lopez de Heredia Rioja Reserva Vina Tondonia: Bright ruby with garnet rim. Elegant savory blend of Tempranillo, Garnacha, Mazeulo and Graciano. Summer berry fruit and plum with racy acidity and granular tannins. Truffles, flowers, licorice and smoke in the balsamic undertones. Lots of balance, definition and precision in the long finish. Outstanding $59, in a case of 12 $50
White
2019 Domaine Ninot Rully Gresigny 1er cru; Color: light gold green; Aroma: starts closed, then opens heady ripe & creamy very rich and dense, firm. lemon curd edged with wood; Mouth: starts lean with firm structure, fine acid tannic structure, fattens nicely with air to show hints of guava and white peach, very good length; Very Good - Excellent $40, in a case of 12 $34
A tangy white from the Italian Alps
2019 Grosjean Petite Arvine Vigne Rovettaz Valle d'Aosta: Bright straw with green highlights. Red grapefruit, waxy lime in a dry textured extract highlighted by wisteria and fennel. Bracing acidity and solid structure with real complexity. Surprising undercurrent of salinity in the finish. Outstanding $32, in a case of 12 26.99
A fine dry Riesling
2015 Maximin Grunhauser Riesling Abstberg GG $53, in a case of 12 $45
Rose
The Classic
2019 Ch Simone Palette Rose $79 , in a case of 12 $67
Dessert
2017 Inniskillin Vidal Ice Wine $69, in a case of 12 $ $59
Mix any 12 or more of the above wines at the case or net prices (subject to prior sale)
---
Order by phone at 617.367.8605, or reserve here: order@federalwine.com
&nbsp
These wines (except futures) and any wine in stock assort as follows:
For 12 or more bottles of the same wine, take 15% off.
For 12 or more bottles of various wines, take 10% off.
Wines marked "net" help assemble cases but don't discount themselves.
We Deliver!
&nbsp
Please pass this on to any friends who are wine enthusiasts!
&nbsp
- Len Rothenberg
---
&nbsp
FREE DELIVERY!
downtown on orders more than $75;
in Greater Boston on orders more than $175
&nbsp