Please note that the browser you are using is either outdated or not supported by this website. For a better browsing experience, try one of the following:
2018 Hamilton Russell Pinot Noir + 2017 Hamilton Russell Pinot Noir
Don't Miss them. There will be no 2019
December 11, 2019
&nbsp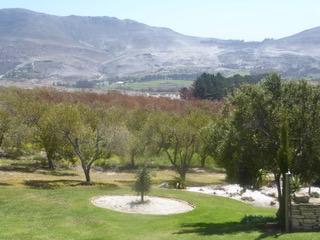 &nbsp
I visited Anthony & Olive Hamilton Russell at their vineyard last March, roughly at harvest time. It was just after their vineyard had a near brush with a disastrous wild fire, like the ones you might have read about that devastated some Sonoma vineyards.
Anthony was hopeful that his pinot noir vines be subject to little or no smoke taint so he might have enough 2019 Pinot Noir grapes to meet his standards. He was disappointed with what he tasted in barrel, so there will be no 2019 Hamilton-Russell Pinot Noir - it will be sold off in bulk.
But the 2018 I tasted there is very, very good. Both we and the importer are getting as much of it as we can, but expect that it will not be available much longer. It has a lot of forward fruit, and can be drunk right away, and will last for several years in the cellar.
2018 Hamilton-Russell Pinot Noir- Organic; Color: Black hue rather dark, medium depth; Aroma: Dark rather plummy rather deep, Rich but reserved; Mouth: Sweet forward, bright acid, clean young and vibrant ; Very Good - Excellent 53; Case of 6 $275
Neal Martin "perfumed, quite floral nose of brambly red fruit infused with pressed rose petals, although it is not quite as delineated as other recent vintages that I have encountered. The palate is medium-bodied with supple tannins that frame the mulberry and crushed strawberry fruit, and tertiary notes plus a touch of white pepper toward the gentle finish. It should drink well with just a year in bottle and then continue on to give a decade of pleasure."
The still-available 2017 Hamilton Russell Pinot Noir is more a wine of finesse and delineation; potentially finer but will require longer cellaring. When I tasted it for the second time at the winery last March , it was still tight
2017 Hamilton-Russell Pinot Noir- Organic; Aroma: Plummy deep, rather fullish, tight acid steely, fine acidity, elegant mineral notes; Mouth: Rather fine elegant tight sweet fruit, lean, composed flesh, deep, rather tight firm, rich, resilient; to age 2 - 15 years; Excellent 53; Case of 6 $275
&nbsp
Neal Martin – "a light red currant and cranberry bouquet with just a hint of rooibos in the background, the oak nicely integrated. The palate is medium-bodied with slightly grainy tannin, crisp tart red cherry mixed with raspberry fruit and a nicely structured finish. Fine."
&nbsp
James Molesworth "Offers a lovely mix of gently steeped cherry, plum and raspberry fruit flavors, infused with singed anise, black tea and incense notes. A light mineral edge underscores the finish and the acidity is finely beaded. Drink now through 2021"
&nbsp
&nbsp
Order by phone at 617.367.8605, or reserve here: order@federalwine.com
&nbsp