Please note that the browser you are using is either outdated or not supported by this website. For a better browsing experience, try one of the following:
This Week's Tasting
Grill Wines From All Over
June 12, 2019
Whether you call it BBQ, le grilloir, la griglia, ökörsütés, or braai, barbecue is all around the world. This week six wines from five countries.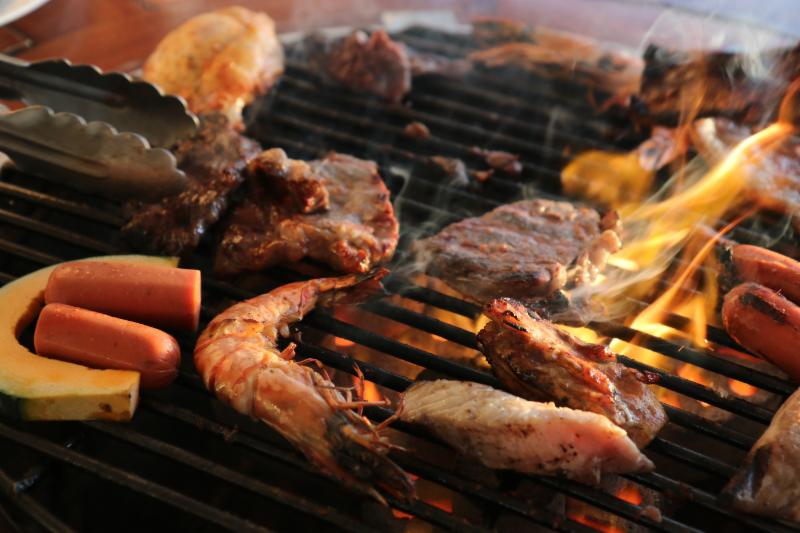 "There are few wines I would push people to seek out…. it's important for anyone who appreciates the efforts that go into making wine to try and track down a few bottles of Sijnn. There are few projects that epitomize such a soulful, pioneering approach to winemaking." James Molesworth, Wine Spectator
Whether you call it BBQ, le grilloir, la griglia, ökörsütés, or braai, barbecue is all around the world. This week six wines from five countries. To enhance yours
In the long cool summer of 2017, Empire Estate made an extraordinary dry Finger Lakes Riesling. The wine fulfills the promise of the grape in three dimensions; it has a New World ripe fruit, the mouth-watering acid vibrancy of the Old, and a minerality that suggests the Mosel. Its forward spice makes it a a great partner for many spicy marinades on fish or white meat.
We recently featured the 2018 Domaine Henry Pellé Menetou Salon Morugues Rose. It is so good and so versatile, we had to add it to today's tasting. All Pinot Noir, with a Sancerre-like accented savor, It is both mouth-filling and finely edged, great to sip by itself and as a pairing with anything from game fish to red meat.
Jeff Carrel consults with some of the more famous wineries oi the France's south. On his own he makes Lilac a beautifully delicate wine in Roussillon. Mostly Carignan with a quarter Syrah, it has richness without too much weight, and mouth filling flavors.
Piedmont's best Dolcetto grows in the town of Dogliani. There almost everyone thinks Chionetti is the best producer. Quinto Chionetti grew the property into a first quality estate with all of the wines made as single vineyard bottling. His daughter Maria and her son Nicola now run the place. The 2011 Chionetti Briccolero Dogliani shows that Dolcetto is a perfect wine for summer and that, made by the right people, it has great aging potential. Aside from being very fresh and pleasant, these wines have depth and complexity. This is great for both meat and seafood.
Gal Tibor has made a modern reinterpretation of the only satisfyingly hearty wine to come out of Eastern Europe in the time of the Cold War, Hungary's Egri Bikaver, "Bull's Blood of [the town of] Eger."Their2016 Egri Bikaver Titi is mostly Kékfrankos which under the name Blaufrankisch gives a fruity red wine in Austria and Germany. Kadarka, Cabernet Franc, Syrah, and Portugieser give it layering, depth, and complexity of fruit flavors. It has the spirit and essence of the old Egris but is a much better wine, worth experiencing.
The final wine might out-do it. David Trafford has become famous in South Africa for his deep age-worthy Cabernets reminiscent of Randy Dunn's style. In the small town of Malgas under the name Sijnn (pronounced sane) he has created a new wine and even a new region with blends of Mediterranean grapes. His 2015 Sijnn Kingfisher Malgas combines Portugal's Touriga Nacional and Trincadeira with Mourvedre to make a heady complex and layered wine, whose seriousness does not diminish its pleasure.
White
2017 Empire Estate Dry Riesling; Aroma: light refreshing diesel, smoky, rather Mosel-like; Mouth: clean rather bright rather full, spicy acid, dry, clean herbal, long intriguing finish; Very Good Plus19.99; Mixed Case, 17.99; Case, 16.99
Rose
2018 Domaine Henry Pellé Menetou Salon Morugues Rose; Aroma: sweet rather fine acidity, pungent, a light but deep-noted fruit, caressing texture; Mouth: juicy rich & fleshy, fresh, fullish with a deep raspberry plum middle, a crisp finishing note; Very Good Plus 16.99; Mixed Case, 15.29; Case, 14.44
Red
2015 Jeff Carrel Lilac Cotes de Roussillon Villages; Color: very dark; Aroma: herbal, rather dense, fullish, very floral notes, heady lifted very pretty; Mouth: clean smooth, fullish rather dense, spice at the end, clean bright acid with very nicely full, mid mouth, ; Very Good Plus 21; Mixed Case, 18.9; Case, 17.85
2011 Chionetti Briccolero Dogliani: Combination of blueberry, cassis, mint and herbs with depth and complexity. Fresh and pleasant on the palate. Excellent 22.99/bottle 20.69/mixed case 19.54/case
2016 Gal Tibor Egri Bikaver Titi; Aroma: heady, herbal, nutty plum & granite; Mouth: smooth bright texture, clean a nutty under-taste, dimensioned, sweet bright firm, very good layered length; Very Good Plus 21; Mixed Case, 18.9; Case, 17.85
2015 Sijnn Kingfisher Malgas; Aroma: very heady rather dense, very full, very rich, , spicy rather pretty very rich full; Mouth: juicy bright rather dense, full, clean very rich, smoke & spice bright acid, long clean,; Very Good Plus 26.99; Mixed Case, 24.29; Case, 22.94
6-12 Grill Case: Special, two each of the above wines - $220 (18.33)
Instore only 6-12 Grill Pack: Special, one each of the above wines - $117
mix any 6- 11 in stock wines for 10% off
any 12 or more for 15% of
Order by phone at 617.367.8605, or reserve here: order@federalwine.com
Please pass this on to any friends who are wine enthusiasts!
&nbsp
- Len Rothenberg