Please note that the browser you are using is either outdated or not supported by this website. For a better browsing experience, try one of the following:
Greece: Rouvalis Winery, Cool Mountain Wines from a Hot Country
2021 Assyrtiko + 2022 Tsigello Mavrodaphne
May 22, 2023
&nbsp
Free Delivery - see below
&nbsp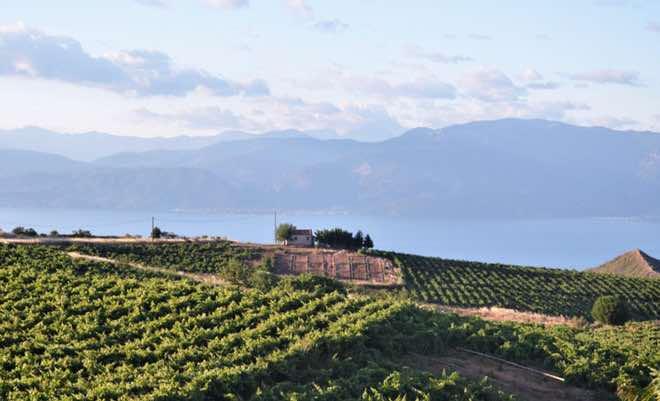 &nbsp
At a recent trade tasting, two wines just arrived from an esteemed Greek vineyard stood out. Although close to the Gulf of Corinth, Rouvalis is high up in the mountains of the Peloponnese, where northern exposure and elevation give the wines cool-climate vivacity.
Theodora Rouvali and her husband, agronomist Antonio Ruiz Pañego, took over a progressive estate founded 30 years ago by her father, Angelo. In the eighties, he had been one of the pioneers to make the fine whites for which the island of Santorini became noted.
There the Assyrtiko grape gets a saline edge-of-smoke character from sea breezes and volcanic soils. Angelo brought the grape to Rouvalis, where he made an impressive version that preserves the rich and lively personality that made Santorini both sought-after and expensive. The Rouvalis version may be the best assyrtiko I have tasted from outside the island.
The Mavrodaphne grape has gone chiefly into sweet wines. Rouvalis crafts a dry red from it. An authentic mountain wine, it is punchy, tangy, and flavorful, with lovely violet blueberry and black pepper. It is graceful but not at all thin. Amphora aging softens tannins to give it a sense of breadth and depth. Drink cool in warmer weather.
The vineyards are farmed organically. In the cellar, they do everything right: low intervention, minimal use of sulfur, moderated filtration, and native yeasts. The result is wines with a lot of character and, so far at least, at very reasonable prices
&nbsp
2021 Rouvalis Assyrtiko, Organic; Aroma: Clean, substantial, heady mineral, and bright with light smoke; Mouth: Clean, light, firm, rounded sweet fruit, slightly smoky, herbal finish, long sweet acid; Very Good - Excellent $23.99; Case, $20.49
2022 Rouvalis Tsigello (Mavrodaphne); Organic, Aroma: Spicy intense, very intense, very rich, intense; Mouth: Very rich and grapey with intensity, fine, soft tannins, bright acid very long; Very Good Plus $26.99; Case, $22.99
&nbsp
Mix any twelve bottles or more at their case discount prices
Wine arrives Wednesday
&nbsp
&nbsp
- Len Rothenberg
&nbsp
---
&nbsp
FREE DELIVERY!
downtown on orders more than $75;
in Greater Boston on orders more than $199
&nbsp