Please note that the browser you are using is either outdated or not supported by this website. For a better browsing experience, try one of the following:
This Week's Tasting
Great Ordonez Spanish Wines
October 9, 2019
Years ago Jorge Ordonez began importing some of the greatest wine estates in Spain. He transformed the market and one began seeing the Ordonez Import name all over the place. Tonight we welcome son Victor Ordonez who will be showing us some of these fantastic estates and wines.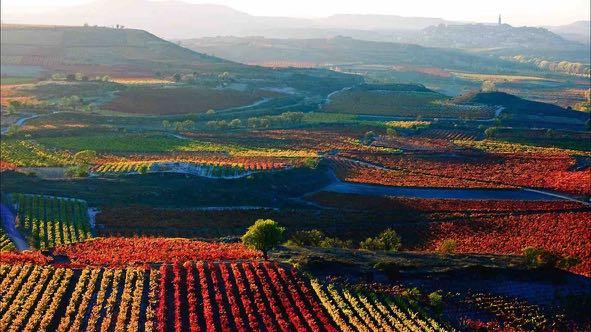 Jorge began with an emphasis on reds. He quickly saw that the best white wines of Spain could do very well here. Avancia is a standout in Valdeorras in the NW province of Galicia, home to the best Godello wines. The 2017 AvanciaGodello is a full bodied and complex white with the ability to age.
The first red, the 2015 Ordonez Toro Vatan is made with Tinto de Toro, what Tempranillo is called in Toro, in this wine from Temparnillo's oldest clone. The vines were planted in 1900 and are prephylloxera. This is grown in very dry mountain steppes climate with major swings in temperature between day and night. At one point the wines of Toro were the most famous in Spain.
The 2015 Bodegas Breca Brega. is Jorge and Victor's project to produce the best Garnacha in Spain. This is truly an amazing wine from vineyards planted in 1900 and 1911. Its Garnacha de Aragon clone is the oldest in the world. The vineyard is on very steep mountainous terrain in Calatayud infar Northeast Spain. The viticulture and winemaking are natural and the resulting wine is intense (in a good way).
The 2016 Senorio di San Vincente Rioja is a special project from a winery owned by the Eguren family who also own Sierra Cantabria. The wine comes from a single clone of Tempranillo grown in the high altitude La Canoca vineyard. At the time they did this such a project was unheard of in Rioja. This is a very special and unique wine.
. Muga has been one of the best and most famous wineries in Rioja for many, many years. In my opinion the 2011 Muga Prado Enea Gran Reserva is their best wine. It is made with spontaneous fermentation in large barrels and aged for three years in wood then three more in bottle before release. This is 80% Tempranillo with Garnacha, Mazuela and Graciano. Amazing texture.
We'll step back a few years with another wine from the Eguren family and why not? All they do is make great wine. The 2006 Vinedos De Paganos El Puntido Rioja Gran Reserva is 100% Tempranillo from a high altitude single vineyard with chalky soil. The Egurens call this Tempranillo's most mineral expression. The wine has all the complexity you would expect from a great wine with some age.
Since Victor is here, I thought we should throw in a bonus wine. The Alvear 1927 Solera Pedro Ximinez is a marvel of sweet concentrated Montilla-Moriles, Spain's Mediterranean answer to Atlantic sherry. Its aged in a solera begun 90 years ago. There is so much going on here it stops you in your tracks.
White
2017 Avancia Godello: Straw with gold highlights. Apple, peach and pear notes with a touch of cedar. Green herbs show up in the full bodied layered texture and long finish. Excellent 34/bottle 30.60/mixed case 28.90/case
Red
2015 Ordonez Toro Vatan: Bright ruby. Cherries, forest floor and asian spice in a wine that is just starting to open up. Admirable concentration and a long floral finish. Excellent 48/bottle 43.20/mixed case 40.80/case
2015 Bodegas Breca Brega: Deep Ruby. Rich aromas and flavors of raspberry, truffle, kirsch and lavender. Textured layers of fruit and balsa and a full flavored finish. Excellent 48/bottle 43.20/mixed case 40.80/case
2016 Senorio di San Vincente Rioja: Deep cherry. Spicy and floral deep red fruit. Good intensity and fresh powerful structure. Long finish. Excellent 64/bottle 57.60/mixed case 54.40/case
2011 Muga Prado Enea Rioja Gran Reserva: Ruby. Blackberry and forest fruit with plums and toasty tobacco. Fresh well integrated acidity, a very pleasant mouthfeel and a lingering complex finish. Excellent to Superb. 86/bottle 77.40/mixed case 73.10/case
2006 Vinedos De Paganos El Puntido Rioja Gran Reserva: Ruby with tan rim. Complex aromas including fresh fruit and balsam. White pepper, lavender and flowers blend with herbs and toast. Very long fresh finish. Excellent 64/bottle 57.60/mixed case 54.40/case
10/9 Spanish case: Two bottles of each of the above for a special price of $585
10/9 Spanish pack: One bottle of each of the above for a special price of $310
Sweet
Alvear Solera 1927 PX : Excellent 32/bottle 28.88/mixed case 27.20/case
Order by phone at 617.367.8605, or reserve here: order@federalwine.com
Please pass this on to any friends who are wine enthusiasts!
&nbsp
- Len Rothenberg