Please note that the browser you are using is either outdated or not supported by this website. For a better browsing experience, try one of the following:
2015 Giovanni Rosso Barolo + 2016 Giovanni Rosso Etna Rosso
Table For Two?
November 23, 2020
&nbsp
Free Delivery - see below
&nbsp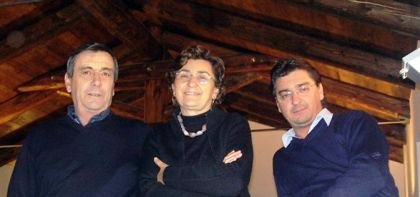 &nbsp
Etna Rosso has gained in reputation and demand over the last twenty years or so. Every wine writer out there, including me, has said that these amazing wines are a cross in style between fine Burgundy and Barolo. With this offer you get to find out.
Giovanni Rosso in Serralunga d'Alba is one of the finest producers of Barolo period. The 2015Giovanni Rosso Barolo is a wine of character and power. Meanwhile Giovanni and his son Davide have acquired a property on Mount Etna in Sicily. The 2016 Giovanni Rosso Etna Rosso is their first release. This is a wine of great style and elegance from the Montedolce contrada, subregion.
Giovanni Rosso is a small family-owned winery that has been farming these vineyards since 1890. They were among the first to recognize the value of expressing terroir in their wines . In both Barolo and Etna everything is organic and sustainable with natural fermentation.
The similarities in these two wines are the deep, bright cherry fruit, minerality and spice. The Barolo is more powerful. The Etna Rosso is more subtle and speaks with a quieter voice The Etna could easily be mistaken for a richer styled Cote de Nuits Burgundy or a lighter style La Morra Barolo.
&nbsp
2016 Giovanni Rosso Etna Rosso: Violets, bergamot, cherries, wet stones and forest floor with a touch of white pepper. Soft tannins and vibrant acidity with a neat and savoury finish. Excellent 48/bottle
2015 Giovanni Rosso Barolo: Balsamic violets and roses. Bright cherry with a touch of raspberry and Asian spice. Seamless tannins and a long balanced finish. One of those that makes you sit up and notice. Excellent 48/bottle
&nbsp
Special six pack: Six bottles of either wine for a special price of $259 (43/bottle)
Special mixed case: 6 bottles each of both for a special price of $489 (41/bottle)
&nbsp
Wines will arrive Tuesday
&nbsp
Order by phone at 617.367.8605, or reserve here: order@federalwine.com
&nbsp
- Peter Hemenway
&nbsp
---
&nbsp
FREE DELIVERY!
downtown on orders more than $75;
in Greater Boston on orders more than $175
&nbsp