Please note that the browser you are using is either outdated or not supported by this website. For a better browsing experience, try one of the following:
This Week's Tasting
Light Fresh and Deeply Savory Jura Wines
October 25, 2023
Don't Miss! With importer Peter Brunet
&nbsp
This Week

Wed Oct 25, 2023

France's Jura wines are in vogue for their purity and expressiveness.

with importer Peter Brunet

In-store, 5:00 - 6:30pm

&nbsp
---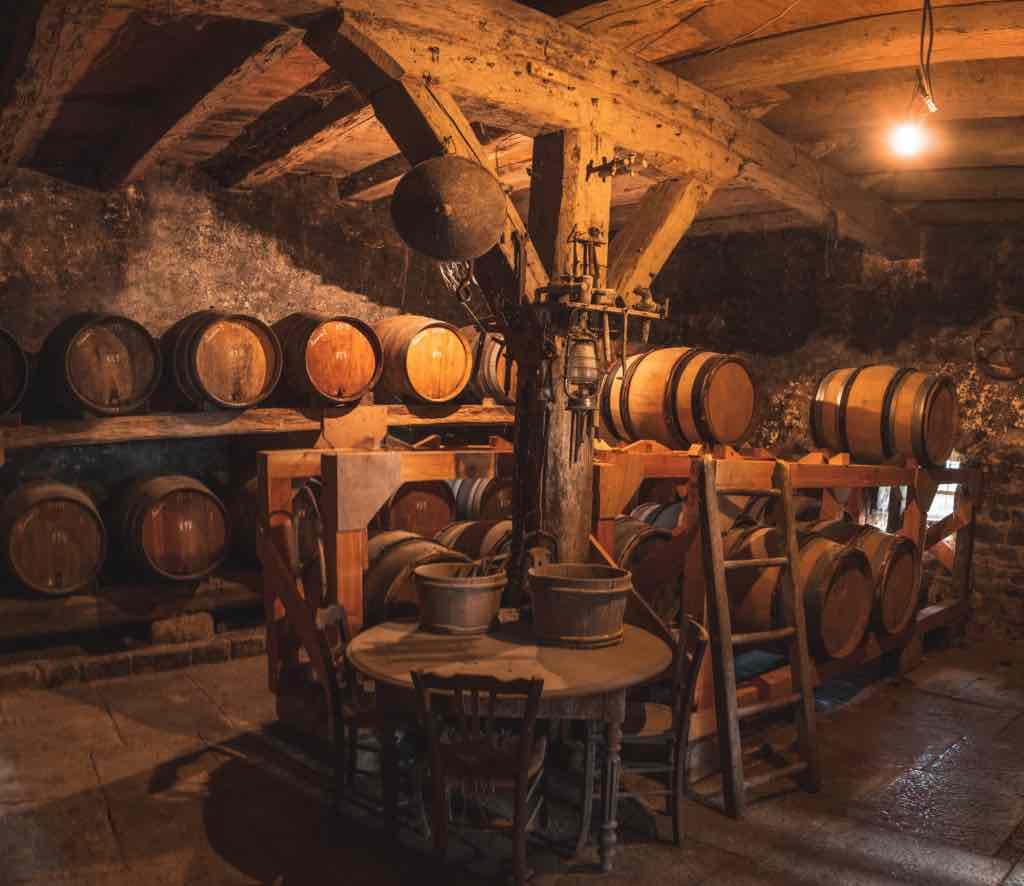 aging nicely in the Vandelle cellar
More and more, people are asking us for wines, lighter both on the palate and in their alcohol. Pinot noir is all the rage.
Wines from eastern France's Jura mountains fill that bill. Pinot Noir and Chardonnay are grown here, but the most interesting and characterful wines come from indigenous grapes like Savagnin, (not to be confused with Sauvignon) and the red Poulsard and Trousseau (definitely NOT your mother's trousseau) Grown in the cool Jura, white grapes can make Chablis-like wines, but with different, more intriguing flavors.
It's a region of small farms and small farmers. The family of Philippe Vandelle has been making wine there since 1880 and makes excellent examples of classic Jura wines, often overlaid with a refreshingly modern sheen of ripe strawberry and raspberry.
Their reds are lighter and caress the palate more than their whites. The thin-skinned Poulsard makes a wine that is almost a very dark rose. It shows a lot of berry flavors and is pleasingly light on the palate. Drink it cool with grilled salmon or roast chicken.
The Trousseau has the same inviting cherry-berry fruit. Still, on the lighter side, it has more heft and structure. Drink it with lighter meats.
The other Vandelle wines come from their vineyard in the commune of Etoile and bear that name in addition to their traditional Jura designation.
With a short time in oak barrels, the Etoile Chardonnay has a floral aroma, with brioche and salinity, like a focused Chablis, but with a different, flintier mineral.
While not heavy the Savagnin wines are bolder with deeper overtones from what the Jura calls the veil that forms on the surface of the wine in a partially filled barrel. In France, this is unique to the Jura but is the flor that gives fino sherry its distinctive nutty character. Veil wines pair well with spicier, stronger meat and fowl dishes. Some people become devoted to it; some others will find it not to their taste.
It takes time in the barrel for this flavor to infuse the wine, so they can not be inexpensive. The Etoile Savagnin spends three years in the barrel. The veil just tints the wine. It is delicately spicy on the nose, powerful and mineral on the palate with a finish of fresh nuts. It goes well with spicy dishes and creamed white meats. It mirrors gruyere or comte, either on a plate or in fondue.
Vin Jaune, yellow wine, is the summit of the Jura and is difficult to categorize. Vandelle's comes from their best vineyard in Etoile. It gets at least six years under veil. Sherry is fortified with brandy. Vin Jaune is not., so is of of medium weight. It will last and improve for decades. Aged bottles are highly sought after, and very expensive. You must taste it to appreciate it. It is worth the effort.
Red
2022 Domaine Philippe Vandelle Cotes du Jura Poulsard; Color: medium lightly red black; Aroma: very pretty, ripe clean, ripe and ready, juicy ripe clean light very fresh, clean; Mouth: clan fresh, ripe black cherry, clean long; Very Good Plus ∫ˆ $26.99 Case, $22.99
2022 Domaine Philippe Vandelle Cotes du Jura Trousseau; Color: Very light red with some depth; Aroma: Fresh light a touch of very fresh and light, p[raspberry and earth; Mouth: very pretty and light fresh berry, light fine tannins, earth on the finish,. poised and finely wrought; Very Good Plus $26.99; Case, $22.95
White
2020 Domaine Philippe Vandelle Etoile Chardonnay; Aroma: light pretty, fresh, elegant with a limestone granite, very fresh and clean, mineral; Mouth: fresh and ripe fullish, fat in the mouth but nicely dry and mineral, firm taut finish; Very Good - Excellent $28.99; Case, $24.99
2017 Domaine Philippe Vandelle Etoile Savagnin; Aroma: Funky., very rich heady, and full, a bracingly large macintosh apple, lightly fino sherry; Mouth: clan broad in the middle, nice lift and flow, fat, with strong acid very long; Excellent $47; Case, $39.99
Other
2016 Domaine Philippe Vandelle Vin Jaune de L'Etoile; Aroma: Herbal, rather smoky, very rich poised, and balanced; Mouth: Clean bright forward, bright acid, a note of freshness over a complementary sherried note, powerful and complex, very long; Excellent $94; Case, $79.95
Order any twelve or more bottles at their case prices
People who come to the tasting can purchase any bottle(s) at their case prices
&nbsp
&nbsp
Please pass this on to any friends who are wine enthusiasts!
&nbsp
- Len Rothenberg
&nbsp
&nbsp
FREE DELIVERY!
downtown on orders more than $75;
in Greater Boston on orders more than $199
&nbsp