Please note that the browser you are using is either outdated or not supported by this website. For a better browsing experience, try one of the following:
Flavien Nowack Assemblage S A Extra Brut
One of the Brightest Stars of Champagne's Newest Generation
May 10, 2021
&nbsp
Free Delivery - see below
&nbsp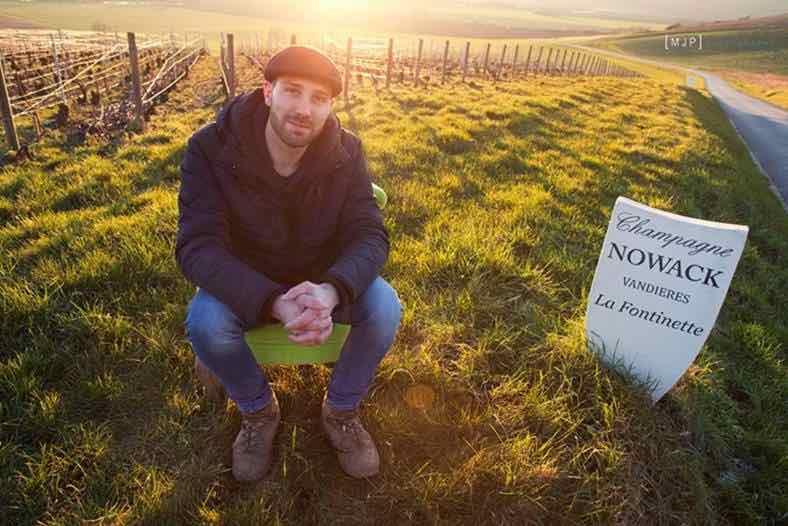 &nbsp
---
&nbsp
"One of the brightest stars among the newest generation of Champagne's vignerons"
-Peter Liem, Champagne, The Essential Guide
&nbsp
There was a buzz at the Printemps de Champagne, the 'state fair' for champagne growers. Dozens of them show hundreds of champagnes at various locations in and around Reims. Critics, merchants, amateurs, all busy bees flit from one to the other to discover their favorite nectar.
Perhaps fueled by Peter Liem's praise, the buzz was about a young winemaker with the improbable French-unFrench name of Flavien Nowack. It said his wines were exemplary. Tasting at his table, I had to agree. Nowack farms organically and naturally in the Marne Valley village of Vandières. His single parcel – single varietal Pinot Noir, Pinot Meunier, and Chardonnay each expressed their grape with precision and balance.
There was only one disappointment – he had no importer here.
This last winter, I was happy to find out that there would be. The marvelous single parcels that had so impressed me in Reims were sold out until next release, but Flavien's new wine, his expression of the village that he christened Assemblage S A (Sans Annee, i.e., non-vintage). Based on the quality I had tasted in Reims, I took a chance and ordered some.
I'm delighted I did.
It arrived in Boston just last week. We could not wait to open a bottle.
At the pop of its cork, despite its fine mousse, it seemed like most wines tired from its transatlantic voyage, Domaine Nowack Assemblage was shy and curbed. But with air and time, it bloomed in the nose and filled out in the mouth with a flavor that for lack of better, I can best describe as if in sort of synesthesia you could taste the color copper, not the metal itself – but its warm, burnished golden brown color. Expressed just as obliquely, it reminded me of a sort of dry baked apple
These were the scent and savor of ripe Pinot Meunier, bolstered and rounded with a slight citric note of equally ripe Chardonnay.
More fine than flashy, it showed a just-so quality. Flavor and texture are in outstanding balance and tension. There is at first a slight line of acid & tannin that will ensure that the wine ages nicely over the next few years.
I look forward to it. If you can't resist the urge to open it right away, keeping it a month will accomplish the same as opening it ahead at table.
The Back Story
Flavien's ancestors left Bohemia for Champagne at the time of the French Revolution. They became growers in the mid 19th century but only began to bottle themselves in the 20th. Flavien started in 2011 and immediately moved to more natural and, at the same time, traditional practice. He uses organic and biodynamic practices and thins his crops for riper grapes. He uses native yeasts and avoids malolactic fermentation. He neither fines nor filters. The wine spends several months in old wood barrels and stainless and then at least two years on its lees.
The base year is 2017, with a high proportion of reserve wines back to 2012. Disgorgement was in January this year with a minimal dosage of 1.5 g.
&nbsp
Domaine Nowack Assemblage S A Extra Brut Excellent
Usually $60, This week only $49 Net – open quantity
&nbsp
Arrives in store mid-week
&nbsp
Len Rothenberg
&nbsp
Order by phone at 617.367.8605, or reserve here: order@federalwine.com
&nbsp
---
&nbsp
FREE DELIVERY!
downtown on orders more than $75;
in Greater Boston on orders more than $175
&nbsp