Please note that the browser you are using is either outdated or not supported by this website. For a better browsing experience, try one of the following:
This Week's Tasting
Fine Wines Under $30
October 23, 2019
Len writes, "You don't have to spend a lot of money to buy a fine wine, but if you want to find a one of great quality for the money you have to go off the beaten path to discover really fine wines that have new flavors or are variations on the old."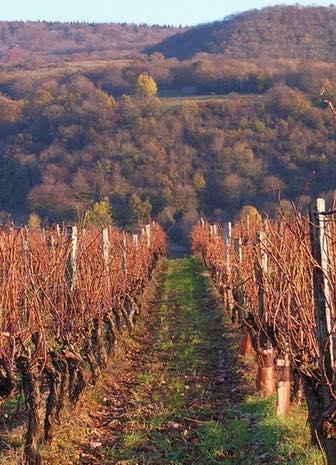 Len continues,
This week six wines that particularly struck us for their originality and/or striking combination of flavors. All of them are around the $30 mark. If you take our mixed case or any 12 they will average just a bit over $25.
One man made two of them. Claude Joly is a third-generation grower in Rotalier in the mountains in France's Jura. His hillside vineyards are made of the same limestone and clay as you find in Burgundy and some terroirs of Champagne. Two of his wines evoke those regions' quality and complexities.
The sparkling Domaine Joly Cremant du Jura is a chardonnay Blanc de Blanc, enriched by 18 months aging on its lees, the same as many familiar champagnes. It has more character, complexity and intensity than many of them., Toasty Chardonnay, rich yeastiness, and firm minerality swirl over the palate. It is much more serious than you would expect from its region or price.
Joly's single-vineyard 2014 Cotes du Jura Pinot Noir Les Soupois is the same. Much more than a pretty strawberry pinot, it is deep and layered, a terroir driven wine for those who love old style burgundy but are put off by its price. Informed by terroir, it is broadened by almost two years in old oak barrels. It's layered and deep, reminiscent of a tad more rustic, (but not harsh) Nuits St. Georges or Fixin in a warmer vintage. We found it fascinating.
Greg Brewer dropped on us recently. His Brewer Clifton pinots and chardionays are still at their usual high level, but we were captivated by his new 2018 Diatom Chardonnay Bar M We felt it was the most intriguing and greatest value. Grown in marine sedimentary soils in Santa Barbara, it has the saline green apple quality of Chablis, but a ripeness that you only find in sunny California. Piquant and forward, it will be great with seafood
Peter writes,
The Tasca family in Sicily transformed its wines here from quantity to quality. The estate has grown to include five separate properties all of Sicily. On Salina in the Aeolian islands off the coast of Messina we find the Capofaro resort and winery. The 2018 Capofaro Malvasia Bianco Secco Didyme is a wonderfully aromatic wine perfect with seafood.
The Allegrini family have been important players in Valpolicella's commune of Fumane since the 16th century. In the 1960s Giovanni Allegrini took these to the next level, identifying and bottling the best single vineyards. La Grola is the most important. The 2015 Allegrini La Grola is a beautifully flavored wine made principally with Corvina and Corvinone grapes. It is approachable now and will age for many years as well.
Back in 1984 two good friends Claudio Conterno and Guido Fantino got together to create a Barolo winery in Monforte d'Alba. The wines have been stellar ever since. The 2015 Conterno Fantino Langhe Nebbiolo Ginestrino is made in a rich balanced style with great freshness. Excellent value.
Sparkling
Domaine Joly Cremant du Jura; Aroma: dusty rather clean pretty, toasty rather nutty herbal; Mouth: clean toasty rather herbal, fresh fruit, complete; Very Good Plus 26.99; Mixed Case, 24.29; Case, 22.94
White
2018 Diatom Chardonnay Bar M ; Aroma: rather firm, , green apple acid, , very full, ; Mouth: very smooth, light green apple, clean muted rounded acid, mouth filling, , very ripe but fine acid finish; Very Good - Excellent
Wine Advocate "an open nose of quince, warm hay, green apple and pear, baker's yeast, acacia and dried chamomile with white peach and nectarine plus hints of lime peel and crushed stone. Light to medium-bodied, it has a wonderful core of spicy fruit and wicked minerality in the mouth, amplified by juicy freshness and a long, energetic, layered finish. Yum!" 29.99; Mixed Case, 26.99; Case, 25.49
2018 Capofaro Didyme Malvasia Bianco Secco: All kinds of things happening in this one. The fruit bounces from peach to apricot and lemon with an amazing sea breeze of salinity. There are white flowers, white pepper and an accent of nuts. This defines minerality and balances it all with fresh appetizing acidity. Excellent 26.99; Mixed Case, 24.29; Case, 22.94 LIMITED
Red
2014 Domaine Joly Cotes du Jura Soupois Pinot Noir; Aroma: fresh very pretty rather , floral, autumnal, , light fresh juicy fruit, dried cherry, lightly herbal, lilac; Mouth: clean very pretty and pure, lighter in body, clean slightly saline, fine acid pure, tight; Very Good - Excellent 26.99; Mixed Case, 24.29; Case, 22.94
2015 Allegrini La Grola: Bright ruby. Aromas and flavors of dark cherries, balsam, herbs and spice. Medium body and textured with complexity in the finish. Very Good to Excellent 32/bottle 28.80/mixed case 27.20/case
2015 Conterno Fantino Langhe Nebbiolo Ginestrino: Bright ruby, light rim. Fresh aromas and flavors, re berries and dark cherries. Quite spicy with notes of bitter herb and forest floor. Just now ready to drink with a long finish. Very Good to Excellent 34/bottle 30.60/mixed case 28.90/case
$30 Fine Wines Case: Special, two each of the above wines - $303
Instore only $30 Fine Wines Pack: Special, one each of the above wines - $161
or mix any 6- 11 above wines for 10% off
any 12 or more for 15% off
Order by phone at 617.367.8605, or reserve here: order@federalwine.com
Please pass this on to any friends who are wine enthusiasts!
&nbsp
- Len Rothenberg