Please note that the browser you are using is either outdated or not supported by this website. For a better browsing experience, try one of the following:
This Week's Tasting
Revelations in Dry German Wines
February 26, 2020
German wines are a blank slate for many people., in no small part because the labels are anything but. They can be multi-word and polysyllabic with more information than most people want or need, and in a language you don't understand. That's too bad because people miss out on some of the best white wines being made in the world today.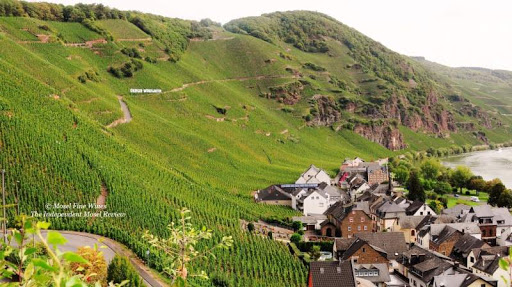 "If I had to choose one wine to show how great dry German Riesling can be I would choose a Keller Riesling. Those wines are the German Montrachets" –Jancis Robinson
&nbsp
A major misconception is that they are all sweet. That was pretty much true a generation ago. But global warming and better vineyard practices have enabled the country to make some very fine dry whites that rival fine white burgundy in nuance, power and complexity. That is what this tasting will be about.
Will feature a traditionally styled, just off-dry kabinett paired with a fully dry wine each from two young growers who are considered among the best of the current crop.
We will start with wine from a grape we seldom think of as from Germany. The Sauvignon Blanc is native to Bordeaux and latterly to the Loire in France, but The Pfalz is warm, and there the wonderful von Winning estate makes a Sauvignon Blanc they call II. It has the finesse and dryness of a Sancerre or Pouilly Fume, but is deeper, more assertive and, also, less expensive. We loved its power and intensity.
In the warm Rheinhessen Klaus Peter Keller has become one of the most famous and sought after wines in less than a decade, Some of his single vineyard wines command some of the highest prices for dry wines in Germany. He makes wines of incredible density and power; in a form that is beautifully elegant, and finessed. We will taste his 2018 Limestone Kabinett that John Gilman called "glorious" and, very dense and barely off dry as well as his dry Von der Fels. It comes from grand cru sites. Gilman called it "magnificent" and "probably the very finest bargain in the universe of dry Rieslings in all of Germany in this vintage!" Exclamation point his.
The Saar is a less well-known part of the Mosel region. Its greatness is in the intensity without weight, austerity coupled with delicacy and extreme finesse, an incomparable bouquet Florian Lauer's focus is on dry-tasting Rieslings as opposed to the traditional residual sugar wines. Employing natural-yeast fermentations, Peter Lauer wines are textural, and deep with a singular balance and energy in pure, precise and rigorous wines.
Then there is Ernie Loosen and the vintage is the ripe 2015. Urzig is the town, the vineyard is the aptly named Wurzgarten, "spice garden" the designation is GG, "grand cru". The vineyard's sweet wines are sumptuously rich, deeply heady and fruity. Ernie made something parallel to it in this dry version, This barrel aged wine is extraordinary, and the Riesling has the richness and complexity of chardonnay in premier cru or grand cru burgundy sites. Don't miss it, particularly at the price.
&nbsp
White
2018 Von Winning Sauvignon Blanc II; Aroma: Clean rather fine, pretty, fresh, lifted clean; Mouth: Juicy bright rather forward, strong, intense juicy needs a time open, flinty and very rich; Very Good Plus 21; Mixed Case, 18.9; Case, 17.85
2018 Keller Riesling Limestone Kabinett; Aroma: flinty, light flinty, bright acid; Mouth: just off dry, clean nice minerality, fleshy articulated; Very Good - Excellent 35; Mixed Case, 31.5; Case, 29.75
2018 Keller Riesling von der Fels; Aroma: bright white peach and acid, light flint, coiled intensity; Mouth: thick rather firm mineral, tight acid dense, firm acid, very textured; Excellent 45; Mixed Case, 40.5; Case, 38.25
2018 Peter Lauer Riesling Kupp Kabinett Fass 8 John Gilman "just beautiful, delivering a marvelous bouquet of tangerine, pink grapefruit, chalky minerality, citrus zest, apple blossoms and an esthery topnote of bee pollen. On the palate the wine is pure, delicate and medium-full, with lovely filigree and grip, great focus and balance, electric acids and a very, very long, complex and dancing finish. A glorious Kabinett!" $37, $33.30, $31.45
2018 Peter Lauer Ayler Riesling Senior Saar, Gilman essentially a dry wine, but not under the Trocken threshold. It is a fine wine in the making, offering up a complex nose of green peach, orange peel, salty minerality, dried flowers and plenty of upper register smokiness. On the palate the wine is crisp, fullish, and beautifully pure on the attack, with vibrant acids, good focus and grip, plenty of mid-palate depth and a long, complex and very classy finish. This is a fine, fine value! $29.99, $26.99, $25.49
2015 Dr. Loosen Urziger Wurzgarten Fischerei GG Riesling; Aroma: Clean very dense rich red slate, deep, ; Mouth: Fine rather rich, Fine mineral, edgy, bright, a very nice tension between mineral and fruit, open and rich with ages to go; Excellent - Outstanding 40; Mixed Case, 36; Case, 34
&nbsp
2/26/20 Dry German Case: Special, two each of the above wines
2/26/20 Dry German Pack: Special, one each of the above wines
Or Mix any 12 for 15% off
Any 6 for 10% off
&nbsp
Order by phone at 617.367.8605, or reserve here: order@federalwine.com
&nbsp
- Len Rothenberg