Please note that the browser you are using is either outdated or not supported by this website. For a better browsing experience, try one of the following:
2016 Dievole Chianti Classico + 2015 Dievole Chianti Classico Vigna di Sessina Gran Selezione
A Magical Place in the Tuscan Hills
October 22, 2019
&nbsp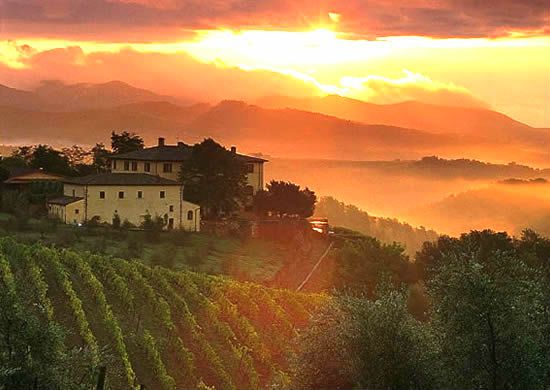 &nbsp
Welcome to Dievole where the wine is made by the ground, with a little help from the wind, the sun, the amazing birds and the magic. The 2016 Dievole Chianti Classico is a model of the ancient Etruscan tradition of fine wine. When you arrive at the Villa you immediately know you are in a very special place. The Dievole estate dates back over 900 years when nine Etruscan families got together to form it. Today ancestors from those same families still work here but the property itself has had many owners.
I first visited in 1992. In 1993 I came back, friends with Mario the owner. He let me help plant a special new vineyard he was very excited about called Sessina. In 2015 the current owners bottled the first ever 2015 Dievole Chianti Classico Vigna di Sessina Gran Selezione. This is 100% Sangiovese, all traditional, and I feel some connection to it.
These are great wines from a magical place. You can sense this mystical aura every time you taste them. These are also great vintages which these days are not unusual. The land here at Dievole always makes sure that the wines are better than good, no matter the vintage or who makes the wine.
&nbsp
2016 Dievole Chianti Classico: Pure expression of Chianti Classico. Like going bird watching in the mountains on a sunny, breezy day. Very Good Plus to Excellent 21.99/bottle $119/six pack (19.80/bottle) $225/case (18.75/bottle)
THIS WINE IS HERE
&nbsp
2015 Dievole Chianti Classico Vigna di Sessina Gran Selezione: A more powerful expression from older vines that evoke the single vineyard character. Like going rare bird watching in the mountains on a sunny, windy day. Excellent to Superb 68/bottle $367/six pack (61/bottle) $694/case (58/bottle)
THIS WINE WILL BE HERE IN TWO WEEKS
&nbsp
Mix and match
10 percent any six bottles
15 percent any twelve bottles
&nbsp
Order by phone at 617.367.8605, or reserve here: order@federalwine.com
&nbsp
- Peter Hemenway
&nbsp