Please note that the browser you are using is either outdated or not supported by this website. For a better browsing experience, try one of the following:
This Week's Tasting
Cool Cool-Climate Pinot Noirs
March 4, 2020
Pinot Noir is one cool grape. It is at its best when there is a delicate balance between its succulent fruit and the spice and mineral that make for lift and complexity and reveal what site and season contribute to the wine. When the vineyards are too warm, you get the fruit, not the complexity.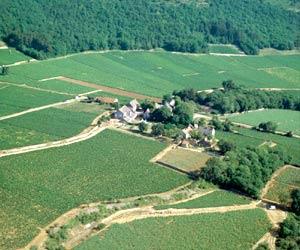 Blagny, you might have blinked and missed it.
Cooler Climate pinots are easier on your palate, because they are lower in alcohol, and with appetizing acidity; friendlier to Spice, and elegance takes the lead over dense fruit.
This week, five Willamette Valley Pinots along one fine red Burgundy to tantalize your pallet.
A Budget Pinot That Gives More Than its Price
There have been a lot of Pinot plantings in Oregon which means there is a lot of juice available for people who know how to pick it and what to do with it. Chehalem Vineyards certainly knows how to do that as evidenced by their Chemistry which I think is a rather coldly passionless name for a warm and entrancing wine. From the warm 2017 vintage, it tastes of ripe strawberry and has a surprisingly dense and supple mouth feel for a wine of its price.
2017 Chemistry Pinot Noir; Color: light vivid red black; Aroma: clean light rather mineral, , pretty, an herbal note; Mouth: juicy nicely intense fine, acid, rounded thick textured, plum, fine acid tannins, young; Very Good Plus 16.99; Mixed Case, 15.29; Case, 14.44
Two from a Partnership of French & American Visionaries
Mark Tarlov is a Willamette Valley Visionary. The Rose & Arrow single vineyard Pinots that he makes in conjunction with legendary Burgundy winemaker Louis-Michel Liger-Belair are extraordinary in their definition and precision and have won accolades from the wine press.
They make Maison l'Envoye wines for more every day use, and they stand out from others for their quality at a price. Both have been favorites here for a few years now. The Two Messengers is light, friendly, and forward easy drinking, a very engaging wine perfect for lighter meats, salads, and even some simpler fish dishes. The Attaché is denser, richer, with more, although very well integrated new oak. It's a solid wine, whose density does not detract from its gracefulness.
2017 Maison l'Envoye Pinot Noir Two Messengers; Aroma: plump rather dense very sweet , heady rather dense, fullish; Mouth: smooth clean rounded fullish, nicely crisp, juicy & firm firm, Higher toned but soft; Very Good Plus 29.99; Mixed Case, 26.99; Case, 25.49
2014 Maison l'Envoye Pinot Noir The Attaché; Aroma: very dark, rather dense, full, heavy lightly aromatic oak, , lightly heady ; Mouth: juicy rather dense, bright acid, clean, firm, dense, nice depth, bright acid rather clean, dense ; Very Very Good Plus 40; Mixed Case, 36; Case, 34
A Boutique Winery's Reserve Pinot at great price
We loved Collene Clemens reserve Margo Pinot Noir when we first tasted it a year or so ago. When we had the opportunity to buy some more at a reduced price we jumped on it. This is mature Willamette Pinot at a wonderful price.
2014 Colene Clemens Pinot Noir Margo; Color: light red black; Aroma: pretty, very intense on the attack, very concentrated, blackberry plump, resolves into linear, direct ; Mouth: clean very juicy & ripe pretty & lifted , lithe and quick, long ,leaves an almost sweet impression on the finish; Very Good Plus Was $37 Now, 29.99; Mixed Case, 26.99; Case, 25.49
Great deal on a Willamette Classic
In January we offered to taste the can write Pinot to a very good reception from the tasters at a reduced price. We were able to get a few cases more and even more reduced price for this tasting. It is classic single vineyard Pinot from a master, drinkable now with some airing will, but will improve at least five years more years in the cellar.
2016 Ken Wright Pinot Noir Savoya; Aroma: spicy wood, very heady, rich intense, spicy & rich, very concentrated; Mouth: thick to the palate, nicely extracted with fine wood notes, thick finish wood with some wood tannins; Very Good - Excellent Was 49; Mixed Case, 44.1; Special Case of 6 39.99
A Fine Burgundy 1er Cru Hiding in Plain Slope
Burgundy is the epitome of expressive, sensual Pinot Noir. There the village of Blagny lies astride some of the Cote de Beaune's finest premier cru vineyards but it is unknown even to many lovers of red Burgundy. The reason? The vineyards that surround it are mainly white - the town's white wines are labeled Puligny or Meursault. There is only a small amount of red Blagny and it is very fine indeed. We were able to get a couple of cases of Thierry Matrot's very fine 1er cru 2016 Blagny La Piece Sous Le Bois at an incredibly low price considering the Burgundy price levels. Approachable now, it will get better over the next few years. Our price is as best we can tell, the best in the country.
2016 Matrot Blagny La Piece Sous La Bois
Neal Martin, Vinous "a gorgeous, beautifully defined bouquet with brambly red fruit, mulberry, faint seashell scents and a touch of pot pourri. This is very complex. The palate is medium-bodied with fine tannin, supple and beautifully focused with real weight and density towards the finish, allied with unerring elegance that does this appellation proud.
William Kelly Wine Advocate – "wafting from the glass with aromas of sweet cherries, redcurrant, candied peel and warm spices. On the palate, it's medium-bodied, with the chalky tannins and tangy acids that distinguish this site, concluding with a saline, mineral finish."
Was $90 , Now $59 Net 2 cases only
3-4 Cool Pinot Case 2 each of the above wines $399
3-4 Cool Pinot Pack 1 each of the above wines $215
Or Mix any 12 for 15% off
Any 6 for 10% off
(Blagny can mix but does not discount)
&nbsp
Order by phone at 617.367.8605, or reserve here: order@federalwine.com
&nbsp
- Len Rothenberg