Please note that the browser you are using is either outdated or not supported by this website. For a better browsing experience, try one of the following:
Boston's Best Holiday Champagne Tasting 2021
Tuesday, November 30th Reserve now! Please note - Some important differences this year. Read more...
November 12, 2021
&nbsp
Boston's Best Holiday Champagne Tasting
Omni Parker House, Kennedy Room
60 School St, corner of Tremont, Boston
Tuesday November 30
4:30 - 8:30
Reservations: order@federalwine.com
&nbsp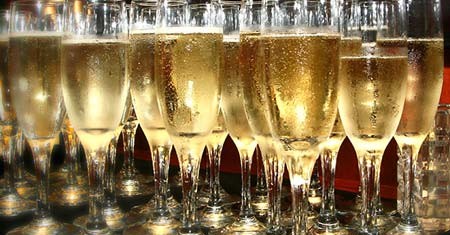 &nbsp
People have been asking me whether we would have our Best-in-Boston holiday champagne tasting this year. We are, with some common-sense adjustments for these times.
Everyone MUST bring proof of vaccination to be admitted, especially you, Aaron Rodgers.
Attendance will be limited to about half the previous number of tasters. We still have a few admissions available after those who have attended in the past have reserved. We expect this tasting to fill up very quickly. There will be no admission at the door.
Tables will be more widely spaced this year, and we ask that people avoid congregating at them to the degree possible.
We will have masks and sanitizing supplies at the door and ask that people use them as much as possible.
The tasting will go from 4:30 to 8:30. We request that you try to arrive as close to 4:30 or 6:30 as possible to have fewer people in the room at one time. We won't require that anyone leave.
&nbsp
Federal Champagne Tasting 2021
This year's tasting will have about 50 selected champagnes from both major houses and estates. They represent what we feel are some of the best and best values on the market today. This year supplies are very limited. Some wines will likely sell out at the tasting, although we will, as usual, have a sale through December.
Some with champagnes will come from the finest major houses. We will again feature Roederer with one of the finest ranges in Champagne. We will also have excellent wines from the highly-rated Deutz. There will also be wines from micro-negociants Ployez- Jacquemart and Leclerc Briant.
Perennial value champagnes Dumont, Moutard, and Le Mesnil, will be joined by a favorite producer from the last tasting. The Nicolas Maillart estate in the Montagne de Reims impressed me on my last trip to Champagne. Their excellent La Platine 1er cru Extra Brut is one of our better reasonably-priced estate champagnes. We will also show Maillarts' fine 2012 vintage and Rose.
Some of our favorite estates will be back: Jose Dhondt, Gerbais, Gimmonet. Hebrart, and Vilmartwill show. Last year's runaway bestseller, our exclusive Labruyere Prologue Extra Brut, will be featured
We will include some excellent wines from outside Champagne, featuring England's Hattingly. The vineyard for Dangin Cremant de Bourgogne is just on the wrong side of the hill that marks the border between Champagne and Burgundy. It is very much on the right side of taste.
We are finalizing our list of champagnes pending some delayed shipments from France and will email it as soon as complete
&nbsp
If you want to come to the tasting, we encourage you to respond as soon as possible. It will sell out.
$55 per person – The admission is applicable to a purchase.
&nbsp
Order by phone at 617.367.8605, or reserve here: Reserve at: order@federalwine.com
&nbsp
- Len Rothenberg
&nbsp