Please note that the browser you are using is either outdated or not supported by this website. For a better browsing experience, try one of the following:
Cain Has Burned
Cain Remains
October 6, 2020
&nbsp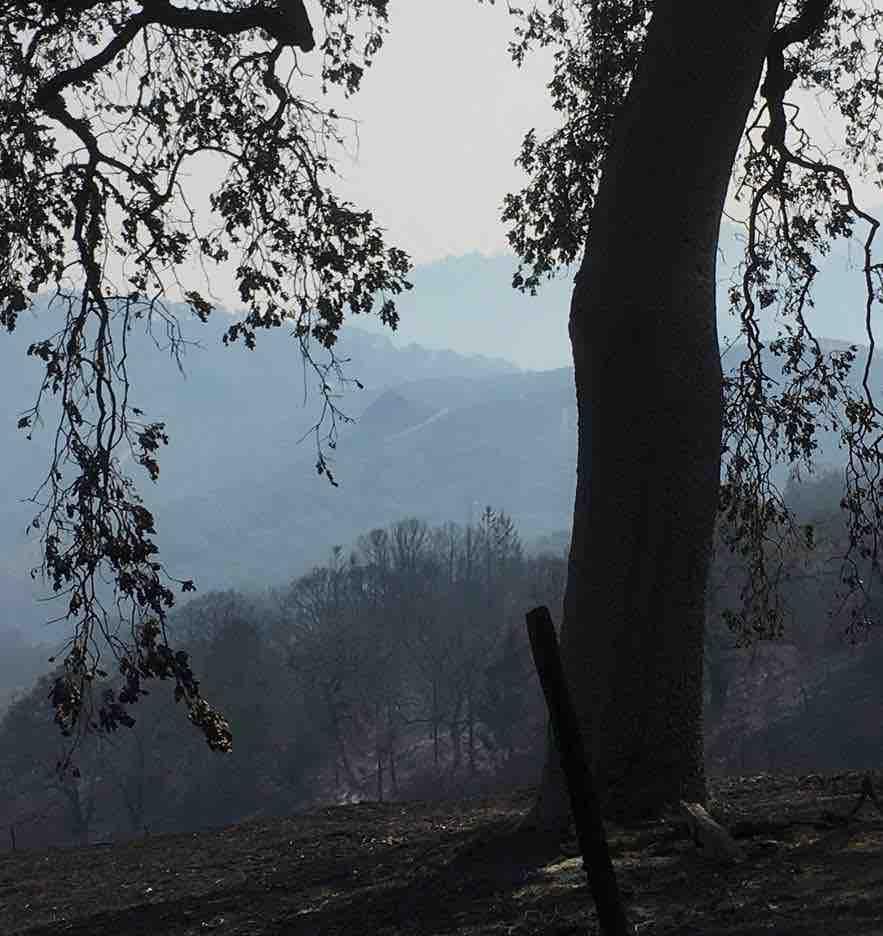 ---
&nbsp
The bad news came on Wednesday in an email from winemaker Chris Howell. It was amplified on Friday in an article by Esther Mobley, wine writer of the San Francisco Chronicle. (You can read her report here)
The Glass Fire had burned Cain Winery down.
They told us that the winery, its stocks of the 2019 vintage and fermenting 2020 are lost, but as Chris wrote "Cain remains."
He meant the vines, the five Bordeaux varietals on their singular site near the rocky summit of Spring Mountain. He meant the various minerals in its clayey soils. He meant the cold wind off the Pacific that gives Cain wines vibrant freshness and drive. He meant the sun that ripens the grapes when some of the valley below is in fog.
These and more are parts of what is called terroir, all those qualities of place that make its wine unique. Their expression is true north for many serious winemakers .
But terroir is no more than the pigments on an artist's palette. Technical winemaking ability is necessary but more than that an artist's sensibility, a vision of nose and tongue, a passion for experimentation, the imagination of what might be.
Chris also meant Cain's people, but he was too modest to mention himself. He has those qualities more than almost any other California winemaker I know.
Time also is needed to express terroir in more than a cursory way. You get one harvest a year to see if the see whether all of the myriad decisions you can make really improve the wine. Some Old World wine regions evolved to greatness in centuries of painstaking evolution. In johnny-come lately New World, some arrivistes claim to don the mantle of terroir in their first vintage.
Aided by modern technology, Chris and Cain have spent 30 years together to create Cain.
You don't have to be a connoisseur to be impressed by the results, as Esther Mobley wrote:
"I love wines from many of the wineries that experienced losses this week, but with Cain I have a special connection. I first encountered the label during my first wine-related job, stocking shelves at a wine shop in Boston. The business favored Europe over California, but when I asked the owner to recommend some California bottles for me to try, he mentioned Cain.
"The Cain Five was like no California wine I'd ever tasted. It was an earthy, savory antidote to the polished, fruity archetype I was expecting. I smelled flower petals and moss, tasted mushrooms and sweet green herbs."
Cain has become an icon for people who appreciate nuance and complexity in taste and texture. its wines are not the most powerful. But it has the concentration, the intriguing warm and heady qualities of a wine that has captivated Mobley and me and a devoted group of people who follow it.
There is no better time than now to experience its magic.
&nbsp
2015 Cain Five; Aroma: Very pretty, , fresh, rather rich and lush, the wood showing, more primary now, long; Mouth: Rich a touch of Brett, herbal, rather rich sweet warm heady depth, very rich; Outstanding Special price 125; Case of 12, 1260 (105), six bottles 660, (110), 3 bottles 345 (115)
2007 Cain Five; Color: medium dark brown; Aroma: heady bright rather herbal, very fine, , lightly herbal, dusty, rather herbal clean linear, firm, fine tannin, herbal, clean , precise lifted, clean, heady and rich, lightly aromatic, ; Mouth: clean smooth, lightly chocolate, sweet round acid, tannin, long; Outstanding 199 Net
&nbsp
Library Magnums
Cain Five is particularly successful in lighter vintages
&nbsp
2005 Cain Five; Color: vary dark deep red; Aroma: clean firm mineral, slightly toasted, very heady sweet; Mouth: firm very racy, sweet, plummy, smooth, light lean very intense, dusty very fine, & elegant; Excellent 395 Net
2000 Cain Five; Color: Rather dark black brown; Aroma: Fragrant prettier than the the prior , rather herbal, , more mushroom, ; Mouth: Clean racy lighter rather clean, linear fine acidity, firm, cooler leaner; Excellent 475 Net
&nbsp
Cain Cuvee
&nbsp
A Merlot strong, two vintage blend of estate and Nopa floor fruit.
This edition is based on the 2015 vintage
&nbsp
Cain Cuvee 15; Aroma: heady & dense, showing some oak, lifted graphite; Mouth: very rich very dense, thick, , very rich and balanced, sweet oak limned, chocolate fruit; Very Good - Excellent ; $40 Special case of 12 $396 (33
&nbsp
Order by phone at 617.367.8605, or reserve here: order@federalwine.com
&nbsp
- Len Rothenberg
&nbsp
---
&nbsp
FREE DELIVERY!
downtown on orders more than $75;
in Greater Boston on orders more than $175
&nbsp