Please note that the browser you are using is either outdated or not supported by this website. For a better browsing experience, try one of the following:
Boston's Best Holiday Champagne Tasting - Full champagne lists here
December 2, 2019 at the Omni Parker House, but sale prices continue until December 31st
December 2, 2019
&nbsp
Boston's Best Holiday Champagne Tasting
Omni Parker House, Kennedy Room
60 School St, corner of Tremont, Boston
Monday Dec 2
4:30 - 7:30
Reservations order@federalwine.com
&nbsp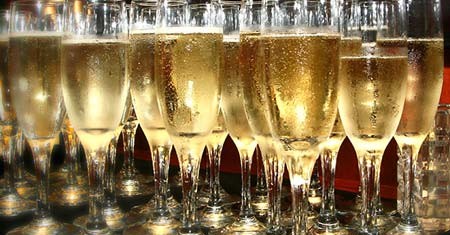 &nbsp
Our 17th annual December Champagne Tasting promises to be the best so far. We will have 65 champagnes and selected sparkling wines from outside the Champagne district. In selecting them from close to 300 tasted, we valued definition and expression over power, and precision over richness. This year, space forced us to exclude other fine ones, which will be on sale on our website. You can taste wines from 6 houses that the Revue du Vin de France rates as the best in France.
You will find some familiar names here. Some of our favorite grands marques – Bollinger, Roederer, Deutz, Taittinger and Pol Roger – are back, the last two featuring their ultra cuvees Comtes de Champagne and Winston Churchill. You will find excellent, small batch champagnes from houses you may be discovering for the first time – Gosset, Philipponat, Delamotte, and Leclerc Briant.
Estate grown wines exemplify hand craft and will make up roughly half the tasting. We have many wines from champagne's premium areas: Montagne de Reims, Cote des Blancs, Vallee de Marne as well as examples from the newer Cote de Sezanne and Aube. Although Champagne's northern wet climate make the process difficult, we have several fine organic wines.
Some notable non-champagnes: Of the new crop of English sparkling wines we like Nyetimber, the choice of the royal court.
Many of these wines come from vineyards of such high quality that they need little or no added dosage or sweetening to make them drinkable. These drier champagnes are labeled Nature, Zero Dosage, or Extra Brut.
The Sale: There is a single bottle sale price and a price for six or more of one wine, both good through December 31. If you can't make it to the tasting, you can order via email.
&nbsp
Grand Marques
The bigger traditional brands. Whether your taste runs to Bollinger's deep richness, Deutz's pretty grace, Roederer's lifted balance, Taittinger's suave smoothness, or Pol Roger's power, one of these will satisfy. WE have a great price on barrel fermented Gosset, and examples of the individualityy of Ruinart, Philipponnat , and Charles Heidsieck
&nbsp
Sale price 6 or more
Sale price 6 or more
Billecart Salmon Brut Reserve 50 43
Billecart Salmon Brut Rose 93 79
Bollinger Bollinger Special Cuvee Brut 69 59
Charles Heidsieck Brut 60 51
Deutz Brut Classic 45 39
Deutz Brut Rose 70 60
Deutz 2014 Brut Millesime 70 60
Louis Roederer Brut Premier 51 44
Louis Roederer 2009 Brut 84 72
Louis Roederer 2011 Blanc de Blanc. 90 77
Louis Roederer 2009 Brut Nature 90 77
Philipponnat Reserve Brut 51 44
Pol Roger Brut Cuvee Reserve 52 45
Pol Roger 2009 Brut 125 107
Pol Roger 2008 Cuvee Winston Churchill 310 264
Ruinart Brut Blanc de Blancs 99 85
Taittinger Brut La Francaise 54 46
Taittinger 2012 Brut Millesime Grand Cru 97 83
Taittinger 2007 Comtes de Champagne 199 169
Small and Craft Negociant
Individuality and character in these smaller production wines. Jacquesson are making some of the finest and richest non-vintage cuvees. Gosset for excellence, breed and power at our reduced prices. Leclerc Briant for power and definition in Pinot Meunier. Dumont, Nicolas Feuillatte, and Moutard are great values
&nbsp
Sale price 6 or more
Dumont Brut 34 29
Dumont Brut Rose 40 34
Dumont Brut magnum 85 73
Delamotte Brut 65 56
Delamotte 2008 Blanc de Blancs 110 94
Drappier Brut Carte d'Or 50 43
Gosset Grand Reserve 51 43
Gosset Grand Blanc de Blancs 90 77
Leclerc Briant Brut Rose 80 68
Nicolas Feuillatte Brut 35 30
Moutard Brut Blanc de Noirs 35 30
Ployez Jacquemart Extra Brut Rose 60 51
Ployez Jacquemart Extra Brut Passion 60 51
>
Estate
Cote de Blancs & Cote de Sezanne
Chardonnay is king here. The wines show great definition in individual styles, and stood out in our tastings for elegance, directness, or power. Le Mesnil delivers a lot of value for the money from one of the Cote's best communes., the breadth in Grongnet, depth in Larmandier Bernier. es
&nbsp
Sale price 6 or more
Jose Dhondt Blanc de Blancs Brut 46 40
Larmandier Bernier Longitude Extra Brut 65 56
Le Mesnil Blanc de Blancs Grand Cru 43 37
Le Mesnil 2012 Sublime Blanc de Blancs Grand Cru 50 43
Varnier-Fannière Grand Cru Brut 69 59
Grongnet Blanc de Blancs 51 44
Montagne de Reims & Massif St. Thierry
More Pinot Noir here. Marguet is organic and biodynamic. LaBruyere is our exclusive highly rated new estate. Fine wine and fine value from Nicolas Maillart. Rich , oak aged Vilmart. Egly Ouriet is a classic.
&nbsp
Sale price 6 or more
Bourdaire Gallois Brut Non Dose 40 34
A. Margaine Traditionelle Brut 55 47
Aubry Fils Brut 1er Cru 45 39
Camille Saves Carte Blanche 45 39
JM Labruyere Prologue Extra Brut 50 42
Marguet Shaman Grand Cru Blanc 2015 74 63
Marguet Shaman Rose 2015 74 63
Nicolas Maillart Platine 1er Cru Extra Brut 36 31
Nicolas Maillart Brut Rose 54 46
Nicolas Maillart 2012 Brut 70 60
Vilmart & Cie Grand Cellier Brut 84 72
&nbsp
Vallee de La Marne
More Pinot Meunier here - Excellent finely delineated wines. Mousse's
&nbsp
Sale price 6 or more
Bedel Origin' elle Brut 60 51
Geoffroy Rose de Saignee 74 63
Jose Michel 2012 Special Club 75 64
Marc Hébrart Blanc de Blancs Brut 59 51
Marc Hébrart Selection Brut 59 51
Moussé L'Or d'Eugene Perpetuelle Bl. de Noirs Brut 56 48
&nbsp
The Aube
We taste rounder fruitier wines from this up-and-coming Champagne area. Mignon makes an elegantly delineated fine wine. Gerbais was one of our most popular wines last year
&nbsp
Sale price 6 or more
Gerbais Grains de Celles Rose Extra Brut 50 43
Mignon Blanc de Noirs Brut Nature 53 46
Other
An excellent sparkling wine from England, a pair from a fine winery in the south of France, and a Cremant from the Cotes due Jura that gives champagne a run for its money, and a fine Spanish non-cava
&nbsp
Sale price 6 or more
Claude Joly Cotes du Jura Cremant 25.99 23
Nyetimber Brut Classic 55 47
J Laurens Brut Rose No 7 22.99 19.5
J Laurens Cremant de Limoux Clos de Demoiselles 24.99 22
J Laurens Magnums 50 43
Raventos L'Hereu 23 20
&nbsp
We hope to see you, but If you can't make it to the tasting you can still take advantage of the special December prices.
&nbsp
&nbsp
Click to Reserve your Place, or Order
&nbsp
&nbsp