Please note that the browser you are using is either outdated or not supported by this website. For a better browsing experience, try one of the following:
This Week's Tasting
Anthony Hamilton Russell
May 11, 2022
Now producing fine wines on two continents. We have worked with Hamilton Russell for thirty years now and are very happy to welcome Anthony and Olive back to the store.
&nbsp
Federal WineLine

TONIGHT

Wednesday, May 11 5:00 - 7:00

Anthony Hamilton-Russell in person

Wednesday, May 18

The May Federal Case

* * *

Bid On Sideways' Paul Giamatti Endorsed Merlot

WGBH Wine Auction Ends May 13
---
Anthony Hamilton Russell
Now Fine Wines on Two Continents
"One of the New World's leading producers of Pinot Noir and Chardonnay."
"Stylistically closer to Burgundy and Oregon, these are classical, intellectual, long-lived wines deserving a place in every cellar. However, these are also wines designed to be drunk and enjoyed." Andy Howard, Decanter
&nbsp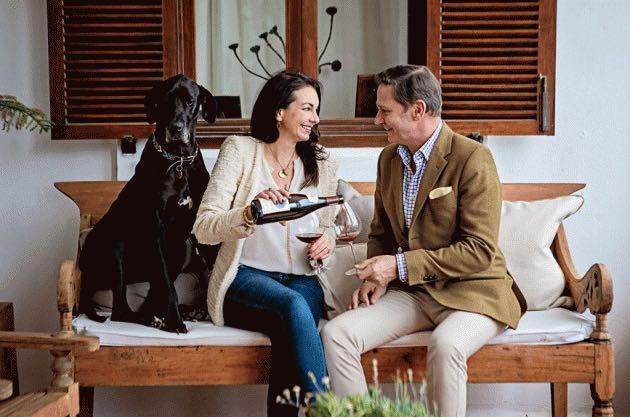 Two out of three's not bad
&nbsp
Len writes,
We have worked with Hamilton Russell for thirty years now and are very happy to welcome Anthony and Olive back to the store.
We are especially proud to present for the first time wines from Hamilton Russell Oregon
Anthony and Olive have added an extraordinary pair of wines sure to enter the pantheon, a single site Chardonnay and Pinot Noir selected from prime Willamette vineyards. They are both classic and, in their balance, both as much burgundy as Willamette.
2019 Hamilton Russell Oregon Chardonnay Maple Grove; Aroma: wants air, very deep and concentrated, light, well-integrated oak, nicely rich; Mouth: dense, very well balanced, bright apple pear, supple, precise, subdued excellent integration of mineral and oak notes into very deep fruit, classic apple-pear, long lightly oak inflected finish; Excellent$79; six bottles or more $68
2019 Hamilton Russell Oregon Pinot Noir Zena Crown; Aroma: heady and deep, starts full with a blast juicy black cherry, later settles to rose petal earth and flint; Mouth: clean, racy even, strong but not overbearing fruit over a nice structure, to drink now, but promises a long future evolution; Excellent - Outstanding $92; six bottles or more $79
We will taste wines from two neighboring properties in South Africa's cool climate, aptly named Hemel-en-Aarde ( heaven on earth) Valley
Hamilton Russell proper is devoted to Pinot Noir and Chardonnay. They are classic expressions of their grapes. The 2020 vintage marks the 40th vintage for Pinot Noir
2020 Hamilton Russell Chardonnay "decades-long a quality beacon, thoughtful terroir expression & vintage barometer. 2020 alluring pear, citrus & starfruit with minerals & bright natural acid. Complex, balanced, alcohol laudably below 13%.John Platter Guide $43; six bottles or more $37
2020 Hamilton Russell Pinot Noir "the best young Pinot Noir release I've tasted from Hamilton Russell. Representing a subtle shift in style towards greater perfume and fruit, this is a detailed, finely judged blend of clones .., with svelte tannins, tidy acidity, rose petal top notes and skilfully integrated oak. Tim Atkin MW
"in a league of its own, surely the finest Pinot in all the Cape and nothing short of a grand cru if such a thing existed in South Africa. It's not just the wonderful fruit, nurtured by long, hot days and cooling sea breezes; it's the structure too. Like a fine Gevrey Chambertin it needs time but, goodness, it's a belter. The Spectator $53; six bottles or more $45
In their Ashbourne vineyard next door, they nod to Bordeaux without losing South African character
There the white Sandstone is an unoaked blend of about half Sauvignon Blanc with the balance of Semillon and Chardonnay matured in amphora. It floats gracefully over the palate.
2019 Ashbourne Sandstone "a fine asparagus and nettle bouquet, becoming quite tertiary with aeration. The Sémillon imparts a light melted wax scent. The palate offers light tropical scents of guava and pineapple, then reins it in toward the finish, where a light saline note comes through. Fine. Neal Martin, Vinous $25.99; six bottles or more $21.99
Ashbourne Pinotage is South Africa's "native' grape vinified and barrel-aged a la cru classe Bordeaux. It has Bordelais structure but with an intriguing overtone that echoes the herbal spice of the surrounding African fynbos the way Chateauneuf du pape echoes Provencal garrigue. It is deliciously sui generis. Very little of it is left.
2018 Ashbourne Pinotage "Savoury & rich 2018 has alluring mulberry, brambleberry & tapenade wafts to match the lush, silky smooth tannins. Wholeberry fermented, portion with wild yeast, 40% new oak (barrels & foudres) for 10 months." Platter SA Guide $59; six bottles or more $50
This week mix any 6 or more bottles at the six or more price
Order by phone at 617.367.8605, or reserve here: order@federalwine.com
&nbsp
Please pass this on to any friends who are wine enthusiasts!
&nbsp
- Len Rothenberg
---
&nbsp
FREE DELIVERY!
downtown on orders more than $75;
in Greater Boston on orders more than $199
&nbsp