Please note that the browser you are using is either outdated or not supported by this website. For a better browsing experience, try one of the following:
2022 Tenuta Delle Terre Nere Etna Bianco Contrada
Fractal Complexity in White Wines
October 26, 2023
&nbsp
Free Delivery - see below
&nbsp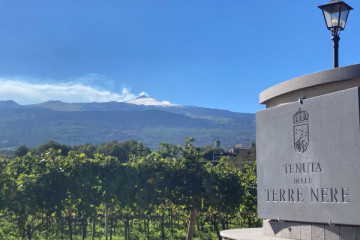 &nbsp
Back in 2000 owner Marco di Grazia shared a 40-year-old white wine made with Carricante grapes with his friend and advisor Don Peppino. He said the wine was so fresh and lively with amazing complexity that he wanted to make something like this.
Today his whites are made from superior vineyard sites on the mountain. All of these wines are 100% native Carricante. This is a grape variety that has been grown for thousands of years in Sicily and can make particularly great wines on Mount Etna. The grapes benefit from high variations in day and night temperatures and a long growing season.
These wines age very well because of their natural high acidity. When young you will find aromas and flavors of green apple, citrus, and salinity. As the wines age the natural minerality increases along with notes of petrol and flavors of ripe peach. I compare the behavior of these wines with the results of the Mandelbrot set. , a fractal equation that generates complex shapes and grow new ones as time passes. These wines show the same behavior. Every time you open a bottle the wine will show new, subtle, and balanced nuance. All of these wines are Excellent.
Very few bottles of each wine available
2022 Terre Nere Etna Bianco Montalto
2022 Terre Nere Etna Bianco Superiore
2022 Terre Nere Etna Bianco Vigna Niche Santo Spirito
2022 Terre Nere Etna Bianco Vigna Niche Calderara
Each wine at $47/bottle
Mix Any Six bottles for a Special Price of $239.70 ( $39.95/bottle)
Tuesday Arrival
&nbsp
&nbsp
- Peter Hemenway
&nbsp
---
&nbsp
FREE DELIVERY!
downtown on orders more than $75;
in Greater Boston on orders more than $199
&nbsp