Please note that the browser you are using is either outdated or not supported by this website. For a better browsing experience, try one of the following:
2019 Ziereisen Gutedel Heugumber
Solid, Seriously Underpriced Dry German White
March 4, 2022
&nbsp
Free Delivery - see below
&nbsp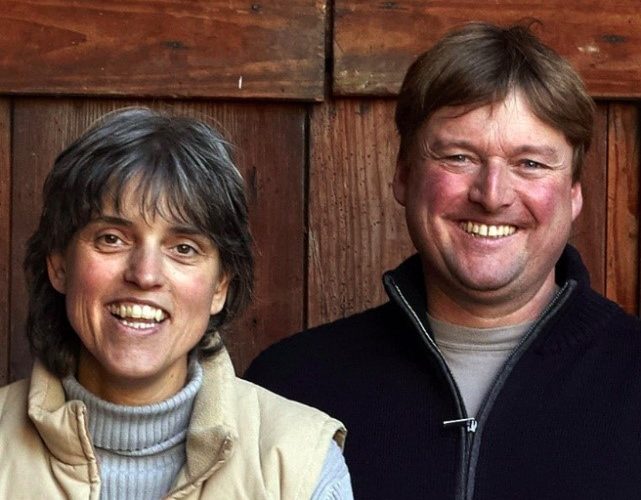 &nbsp
You may not have had the chance to taste the Gutedel grape unless you have been to Switzerland and enjoyed any of its finest whites. Under the name Fendant, little gets abroad. There is barely enough to cover the wants of Zurich bankers, Geneva restaurants, or Davos conventioneers.
Just across the border in Germany, wife and husband team Edeltraud and Hanspeter Ziereisen have imposed on themselves the task to "Make the Gutedel great again." That's not just rhetoric. Although self-taught and without pretension, they are passionate to the point of obsession and have been discovered in Germany as the producers of some of the best Gutedel and Pinot Noir, two grapes that, with care, can make extraordinary wines. Their German accolades now percolating abroad
Like Chardonnay, Gutedel (also called Chasselas in France) tends toward the neutral and is a lens for terroir, particularly in southern Baden, which is like Burgundy in climate and its limestone soils
My German friends in the know had urged me to bring in his wines. When I did, I was hooked. We loved the nutty 2018, which bristled with acid and fruit.
Hanspeter ages his not-so-basic Gutedel in large oak casks for 19 months and calls it Heugumber, grasshopper in German.
That is an appropriate name for his 2019. It's light on its feet with only 11% alcohol. Despite that, it is satisfyingly mouth-filling, with a nutty, herbal dryness, akin to Gruner Veltliner or cooler climate Marsanne, but more graceful.
Our customers voted with their orders that Ziereisen had succeeded in his aim. The ten cases of 2018 Heugumber we offered last summer went very quickly, and we got requests for more. We ordered it, but covid transport delays mean that the 2019 is just arriving now. It is both intriguingly dry and mouth-filling and great value at its price.
Stephen Reinhardt, Wine Advocate " offers a clear and finely aromatic nose. Bottled with 11% alcohol and remarkably fresh acidity, this is a light and crisp yet quite intense, well-structured, stimulating, pure and salty Chasselas with fine, citric grip on the finish."
&nbsp
2019 Ziereisen Heugumber Gutedel; Aroma: heady rather dense, and savory, rich; Mouth: clean, dry firm, light but transparently pretty herbal fruit, long with a touch of salinity; Very Good Plus 19.99;
Special case, 203.88 16.99
&nbsp
Arrives Tuesday
&nbsp
Order by phone at 617.367.8605, or reserve here: order@federalwine.com
&nbsp
---
&nbsp
FREE DELIVERY!
downtown on orders more than $75;
in Greater Boston on orders more than $199
&nbsp