Please note that the browser you are using is either outdated or not supported by this website. For a better browsing experience, try one of the following:
2019 Dyckerhoff Reuilly Blanc
A Bargain in "Sancerre"
November 11, 2020
&nbsp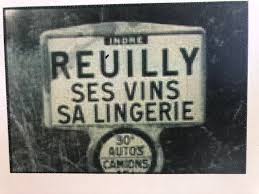 Buy Local
&nbsp
---
&nbsp
Should you be driving 50 miles west of Sancerre you might pass a sign that proudly proclaims that you are entering Reuilly - Its Wines Its Lingerie. Today we'll address a wine.
This has no connection to Rully in Burgundy. Reuilly is in the heart of Berry, the breadbasket of France south of the Loire, Like Sancerre, its white grape is sauvignon blanc. Its soil is limestone, also like much of Sancerre.
The wine is similar also. A good Reuilly can have the cool . lithe grapefruit and lime of a pretty Sancerre.
We found exactly that in the 2019 Dyckerhoff Reuilly Blanc, Its cool anise tinged aromas of lime and grapefruit intrigued the nose. It flowed smooth and lithe across the tongue. It was charming , perhaps a shade lighter than Sancerre, but every bit as harmonious and concentrated as some of the better ones.
Dyckerhoff is a mom & pop operation 20 years old. The name may German in origin, but Christian trained in the Loire and the grapes that he and his wife Benedicte' get from their small estate and their winemaking are totally French.
The 2019 vintage and their craft are top notch, but you will find the price irresistible also. In this time of tariffed and inflated French wine prices, we can still offer this at only 17.99 the bottle, 15.49 by the case. That will get you a glass of more ordinary Sancerre in a restaurant.
Fans of sauvignon blanc will find Dyckerhoff Reuilly a versatile wine for drinking by itself or with white fish dishes. If you are a fan of nuanced sauvignon blanc think seriously of more than one case.
&nbsp
2019 Dyckerhoff Reuilly
Blanc
; Aroma: Very heady dense broad melon, lifted lemon; Mouth: Clean fresh juicy forward rather dense smooth lime and grapefruit, touched with anise surprisingly concentrated;
Very Good Plus
17.99
&nbsp
Even Better by the case 185.88 (15.49)
&nbsp
Order by phone at 617.367.8605, or reserve here: order@federalwine.com
&nbsp
- Len Rothenberg
&nbsp
---
&nbsp
FREE DELIVERY!
downtown on orders more than $75;
in Greater Boston on orders more than $175
&nbsp