Please note that the browser you are using is either outdated or not supported by this website. For a better browsing experience, try one of the following:
2018 Perrachon Julienas Vignes des Centenaires Cuvee Special
Exciting New Vintage of a Fine Cru Beaujolais
September 23, 2020
&nbsp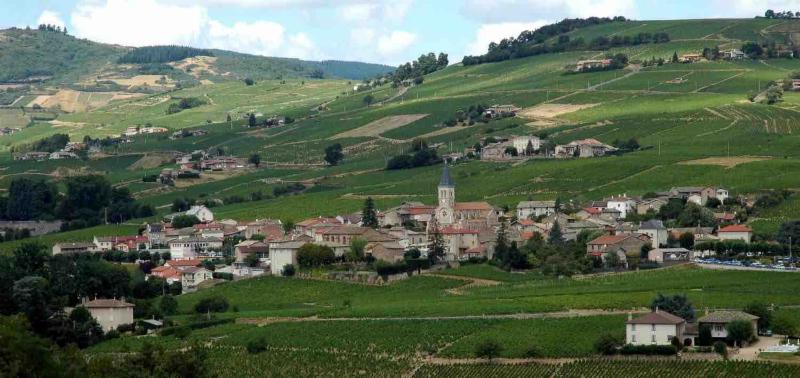 &nbsp
Maxime Perrachon is is the 6th generation of a 26 ha estate going back to 1877. Based in Julienas, they work sustainably and are moving a more organic approach in the vineyards. Their traditionally styled wines have been well received in France. Their "Blue Rock" Julienas was a coup de coeur, a heart throb in the Revue du Vin de France.
But the pride of the domain is their less than a hectare plot of 100-year-old vines in the Julienas hills. From it they select grapes for their their limited Cuvee Speciale Centenaire. It is very, very good. The 2017 vintage was the hit of a last years' tasting of a dozen cru Beaujolais' we held with Maxime and two other growers.
We and our customers were so excited about it that we asked the importer to bring in some of the 2018 for us. When it arrived we were glad we had.
2018 is a wonderfully ample, ripe and fleshy vintage for Beaujolais. Julianas is one of the weightier of 10 Beaujolais crus distinguished for its power, earth, and spice. Julienas wines tend to be less tannic than those of neighboring Moulin a Vent. They are more exuberant in their youth.
Vintage and vineyard make the 2018 Cuvee des Centenaires become Julianas times two. Although Gamay, it has the dark fruit, weight and richness of a Willamette Valley Pinot Noir in a ripe vintage. Ancient vines, schist and granite in the soil add a pronounced underlying stony line that gives the wine character and nicely offsets the fruit.
You can drink this young (It is great for autumn, Thanksgiving too) but, it will improve for up to 10 years like fine burgundy. Once we tasted we feared we hadn't asked for enough, so it is in limited quantity.
2018 Perrachon Julienas Vignes des Centenaires Cuvee Special; Color: Black center ruby edge; Aroma: heady, finely delineated acid over a richly plummy center, nice interplay between granite and fruit; Mouth: clean acid granite drive, fine edge direct, ripe black plum crisp & stony finish, beautifully balanced, long; Very Good – Excellent? 27.99
Special Case 287.88, (23.99)
Order by phone at 617.367.8605, or reserve here: order@federalwine.com
&nbsp
Please pass this on to any friends who are wine enthusiasts!
&nbsp
- Len Rothenberg
&nbsp
---
&nbsp
FREE DELIVERY!
downtown on orders more than $75;
in Greater Boston on orders more than $175
&nbsp