Please note that the browser you are using is either outdated or not supported by this website. For a better browsing experience, try one of the following:
2018 Clos St Fiacre Orleans
An Intriguing Red at a Great Price
September 7, 2021
&nbsp
Free Delivery - see below
&nbsp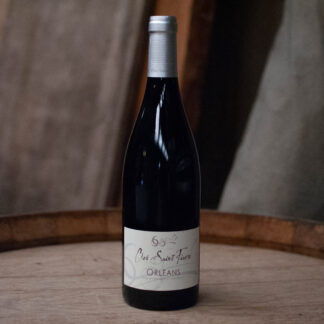 The Saint: Around 628 AD, a monk named Fiacre left Kilkenny in Ireland to become a hermit in central France. he became renowned for the healing herbs he grew there. After his death, he was canonized and became the patron saint of gardeners. He gave his name to a Clos, which is to say a vineyard, and later in the 19th century to a hackney carriage. But that is another story
&nbsp
The Grape: If Pinot Noir is voluptuous grace, Pinot Meunier is its hardscrabble cousin. In champagne, Its tannins add rigor and spice to the usual blend of pinot noir and chardonnay. Valuing it for its elegance, breed, and ageability, some growers now create cuvees of Meunier alone or in which it leads. It's little grown any place else. This is the only one we have seen in the Loire
&nbsp
The Place: Orleans, on a bend of the Loire about 75 miles south of Paris, is most famous as the home of Joan of Arc. There have been vines there since antiquity, but it was not until 2006 that the Montigny-Piel family, who have been farming there since 1635, led a successful campaign to have the area officially recognized. Its mere 200 acres is the only place in the valley where Meunier is allowed.
&nbsp
The Wine
&nbsp
What It is: The lightly austere burr of Meunier tannin is nicely balanced by some Pinot Noir as well as the ripeness of the 2018 vintage. Quiet but assertive, it is a medium-bodied yin and yang of fruit and structure. It is a minor masterpiece, like a short story pared to its essentials or a note-perfect sonata. It stood up to the smoked ribs we had last weekend as well would be a match almost any sort of meat dish that wants a bit of bite. It will respond nicely to a bit of airing and even a couple of years in the cellar. It is far more quietly sophisticated than its price would indicate.
&nbsp
What it is NOT: Bursting with oak and juicy fruit exploding on the palate with lush, extracted flavors. Parker 93
&nbsp
2018 Orleans Rouge Clos St. Fiacre (Montagny-Piel); Color: very dark black-red; Aroma: aromatic, elegant rather fine, deep black fruit Mouth: medium-bodied, mineral, linear but with an intriguing resonance of fruit to tannin, light cherry-plum nice density in a medium body, poised; Very Good Plus; 15.99 Special Case 167.88 (13.99)
&nbsp
Order by phone at 617.367.8605, or reserve here: order@federalwine.com
&nbsp
- Len Rothenberg
---
&nbsp
FREE DELIVERY!
downtown on orders more than $75;
in Greater Boston on orders more than $175
&nbsp