Please note that the browser you are using is either outdated or not supported by this website. For a better browsing experience, try one of the following:
2018 Caravaglio Malvasia Bianco Secco
My Favorite White Wine
July 26, 2019
&nbsp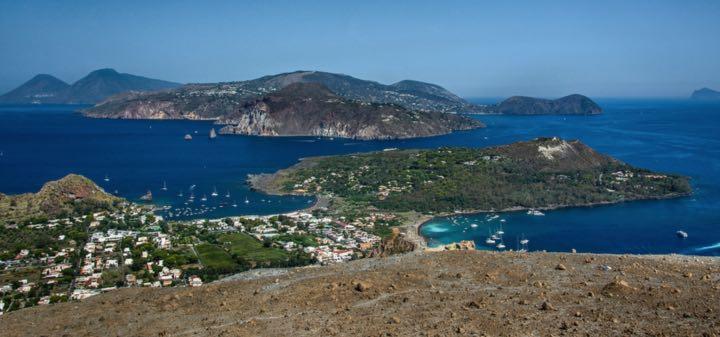 Odysseus was the first of many tourists here
&nbsp
Quite simply, Malvasia Bianco has become my favorite white wine. It is grown on the volcanic Aeolian islands off the coast of NE Sicily. The vineyards for the 2018 Caravaglio Malvasia Bianco Secco are on Salina where the Caravaglio family started making wine 500 years ago. They have been farming organically ever since. Today Antonino, his wife Elisa and daughter Alda run the place.
Just recently I was in Sicily for my nephew's wedding. The couple were going to the Aeolians for their honeymoon. I took them to visit Tenuta delle Terre Nere on Etna and introduced them to owner Marco di Grazia. In the course of the conversation they asked who they should visit on Salina. At the exact same moment Marco and I both said-Nino Caravaglio.
All of the vines are prephylloxera because of the volcanic soil. They are as much as 140 years old. This adds enormous authenticity, complexity and texture to the wine. Nino also farms and produces the best caper berries on the planet.
&nbsp
2018 Caravaglio Malvasia Bianco Secco: All kinds of things happening in this one. The fruit bounces from peach to apricot and lemon with an amazing sea breeze of salinity. There are white flowers, white pepper and an accent of nuts. This defines minerality and balances it all with fresh appetizing acidity. Excellent, only24/bottle
Special six pack: 6 bottles of the above for a special price of: $130 (21.67)
Special case: 12 bottles of the above for a special price of: $239 (19.92)
Wine arrives next week
&nbsp
Order by phone at 617.367.8605, or reserve here: order@federalwine.com
&nbsp
- Peter Hemenway
&nbsp