Please note that the browser you are using is either outdated or not supported by this website. For a better browsing experience, try one of the following:
2016 Lucien Muzard Santenay Les Champs Claudes
A Chassagne by any other Name…
April 9, 2019
&nbsp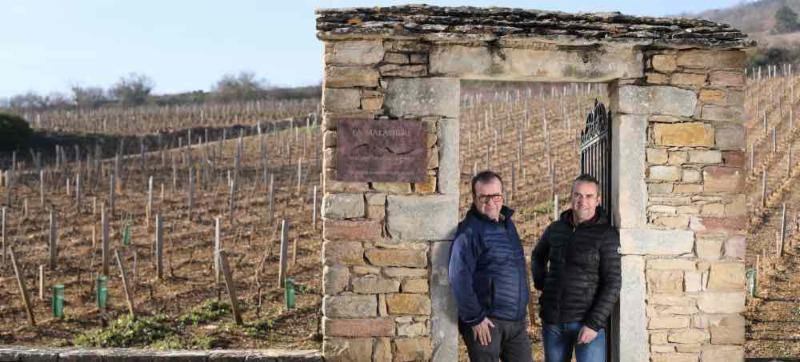 We love white Chassagne Montrachet. Well made, it is the most balanced of the major white burgundies with a fleshy ripe fruit that is especially delicious with a light veneer of wood. But fame, small harvests, and the Chinese market have raised its price immensely. We were just offered a well-known 2017 village-level Chassagne, but would have to price it at $90. No doubt it is very good but not that good.
We have been searching for something we could offer at a more reasonable price. It had to have rich, dense fruit, good food friendly acidity, and the character, even when wood inflected, that distinguish white burgundy from chardonnays from anywhere else.
Then came a wine from grower Lucien Muzard. The Muzard brothers are based in Santenay, hard by its border with Chassagne. They own one vineyard, Champs Claudes in a little tongue of village level Santenay that sticks out below Chassagne's Ier Cru Morgeot. On the map it looks like it should be part of Chassagne, but it is not. Why, only the French gods of appelation controlee can tell.
Though not Chassagne on the map, the 2016Lucien Muzard Santenay Les Champs Claudes is a ringer for it in the mouth. It has the depth, the richness, and the character that you would expect from Chassagne, maybe just a shade lighter in weight than the equivalent 2016 Chassagne might be, certainly on a par with the $90 2017 that we will not offer.
This 'Chassagne' that is called Santenay does smell (and taste) as sweet.
&nbsp
2016 Lucien Muzard Santenay Les Champs Claudes; Aroma: rather oaky, very rich and full, very dense, , finishing in dry wood notes on the end; Mouth: clean sweet fruit, dense fine acid fleshy, balanced, appetizing, poised and dense, long wood finish; Very Good - Excellent40; Mixed Case, 36; Case, 34
&nbsp
Bottles in stock, more coming late this week
&nbsp
Order by phone at 617.367.8605, or reserve here: order@federalwine.com
&nbsp
- Len Rothenberg
&nbsp