Please note that the browser you are using is either outdated or not supported by this website. For a better browsing experience, try one of the following:
2016 Fort Ross Vineyard Pinot Noir
A Savory Paradox
March 26, 2019
&nbsp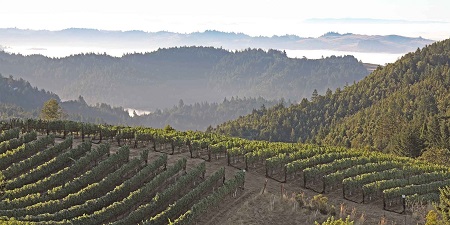 Just yesterday I tasted one of the more extraordinary California Pinot Noirs I have yet come across.
The wine had that savory layered musk, rich without weight, quality that I have tasted only in rather expensive mature red burgundies, never in a California Pinot Noir. It was meat- but-not meat, mushroom-but-not mushroom, all heady, layered umami . I sniffed and tasted, sniffed and tasted again and again, never getting enough. Without any of Burgundy's hard structural acids, it was a wine on two levels, the savory umami and the broad fruit. It was intriguing and seductive. At the same time its fruit was unabashedly New World, fresh, raspberry-inflected.
It comes from an estate in a special sub-region of the Sonoma Coast. That appellation originally meant pinots & chardonnays like those of Flowers and Peay, but winery politics stretched it into a gathering name for too many different microclimates and styles of Sonoma Pinot Noir. So, those in the coolest part, petitioned for their own region which is now called Fort Ross-Seaview. It's denizens, including Flowers, Hirsch, Marcassin and Failla, call it the Real Sonoma Coast.
Fort Ross is the closest winery to the cooling influence of the ocean. Founded in 1988, it now has vines over 20 years old that make for more concentrated wines. Their Pinot Noir and Chardonnay are sumptuous wines but not behemoths. They are refreshingly balanced with moderate alcohols always below 14%.
Lisa Perrotti Brown tasted it 2 years ago. It has fleshed out, gained weight, and matured delightfully since then, now not at all reduced or tarry
"seems just a little reduced/tarry to begin, soon giving way to fragrant raspberries, wild strawberries and underbrush notes with touches of game and lavender. Light-bodied with a silky, sophisticated palate, it delivers lovely energy and lingering earthy flavors."
&nbsp
2014 Fort Ross Pinot Noir FRV; Aroma: very deep "Burgundian", oaky rather dense sweet, heady very fine, very rich & heady; Mouth: clean lifted a touch older, smooth, fresh berry fruit, with older wood back notes; Excellent $49
&nbsp
Special Case of 12 $499 (41.60)
6 bottles $263.94 (43.99)
&nbsp
Order by phone at 617.367.8605, or reserve here: order@federalwine.com
&nbsp
- Len Rothenberg
&nbsp