Please note that the browser you are using is either outdated or not supported by this website. For a better browsing experience, try one of the following:
2013 Azienda Agricola Reale Borgo di Gete
You Need to Pay Attention
August 16, 2019
&nbsp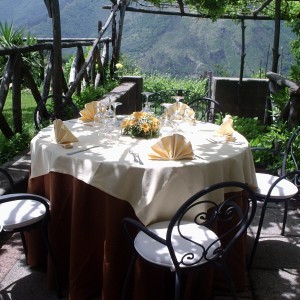 &nbsp
Gigino and Gaetano Reale own and run this unbelievable winery and Osteria on the mountains of Tramonti on the Amalfi coast. The 2013 Azienda Agricola Reale Borgo di Gete in this offer is one of the most amazing red wines we have ever presented to you.
First of all the wine is produced from an ancient variety called Tintore di Tramonti. These are prephylloxera vines over 100 years old growing in volcanic soils. Second this wine is the platonic ideal of the concept of terroir. The biodiversity and the winds of Tramonti come shining through. This is a wine of incredible layering and texture.
The brothers only make about 800 cases a year of this wine and much of that is served in their Osteria to guests enjoying paradise. We have ten cases. Five cases went to California. That's it for the USA. The incredible value of this wine comes from its uniqueness and for all that comes with it, a truly great price.
I recently gave a bottle of this wine to a New Yorker who is in the wine business. This is his email response:
&nbsp
"Madona mia! I discovered a real gem!!!
Thank you Peter! This wine I took home with me and am drinking right now, should have its site protected by UNESCO! What a truly wonderful wine!
It is not very often that I meet a new person who introduces me to "new" wines of such breed.
THANK YOU!!!"
&nbsp
2013 Azienda Agricola Reale Borgo di Gete: The complex floral, fruit and spice aromas are framed by the shimmer of the Amalfi coast way down the mountain. Deep concentrated cherry fruit and spice with layered texture in a warm, familiar and intoxicating atmosphere. Ancient flavors and historic structure. Outstanding 56/bottle
&nbsp
Special six pack:
Six bottles of the above for a special price of: $286
&nbsp
Order by phone at 617.367.8605, or reserve here: order@federalwine.com
&nbsp
- Peter Hemenway
&nbsp